Same-Sex Marriage "No" Campaigner Says Homophobia Doesn't Exist Much In Australia
"I do know what homophobia is, but I don't think it exists much in our country."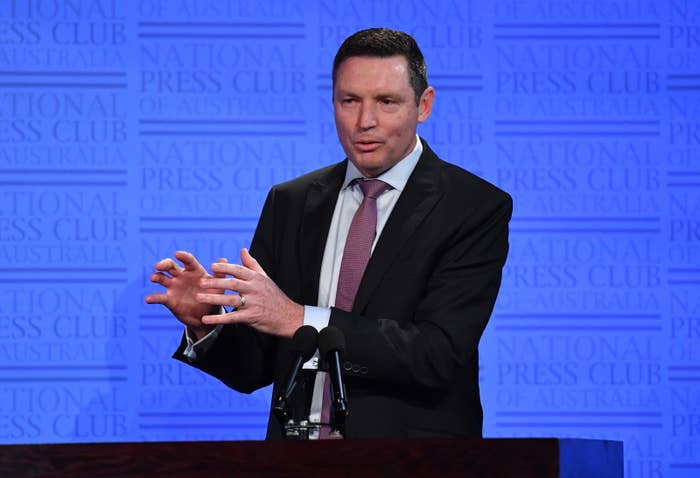 A leading "no" campaigner in Australia's same-sex marriage campaign has claimed homophobia "[doesn't] exist much" in the country, as the first survey forms are returned in the country's national survey on the issue.
Managing director of the Australian Christian Lobby, Lyle Shelton, and vice-president of the Liberal Party, Karina Okotel, put forward the case for voting "no" at the National Press Club on Wednesday.
Referencing the latest Quarterly Essay by writer Benjamin Law about the campaign against the LGBTI anti-bullying program, the Safe Schools Coalition, Shelton said: "Benjamin Law also says that same-sex marriage is far from the last frontier in the battle against homophobia — whatever that is."
Asked by BuzzFeed News what he meant by the "whatever that is" remark, Shelton said he understood the concept of homophobia, but did not believe it was present in Australia.
"I do know what homophobia is, but I don't think it exists much in our country," he said. "Maybe there's some people who have that, but I think the vast majority of people that are engaged in this debate from our side who are concerned don't bear any ill will or animosity towards their fellow Australians because of their sexuality, I certainly don't."
Since the postal survey was announced last month, Australians have seen acrimonious arguments between "yes" and "no" campaigners play out in the media, as well as countless flyers and posters denigrating LGBTI people pop up in city streets and mailboxes.
Shelton claimed that homophobia is a "convenient slur" used to intimidate people into silence.
"If you don't support gay marriage somehow you are a hater, a bigot, you are homophobic," he said. "These words have been used against us in the Australian parliament. We [the ACL] have been called a hate group in the Australian parliament. So I'm quite frankly tired of that sort of rhetoric. I'm happy to engage in a debate, but let's drop the slurs, let's drop the name-calling and let's discuss the issues."
His answer generated lengthy applause from the audience, which included senators Eric Abetz and Matthew Canavan.
Okotel told the room that a few years ago, she was "all for" same-sex marriage.
"I thought if two consenting adults wanted to marry, what business was it of anyone else, and at that time I would have voted yes," she said.
"But the more I've looked into the issue and the more I've observed the experience of other countries which have legalised same-sex marriage, my concerns grew. You cannot, after all, fundamentally shift an institution we've always had that is practiced the world over without there being consequences."

The address came one week after "yes" campaigners Tiernan Brady and Janine Middleton spoke at the NPC.
Brady used the address to argue that the "no" campaign was deliberately muddying the waters to "dehumanise" LGBTI people.
"If you want to discriminate against someone, the first thing you have to do is dehumanise them, you have to stop allowing people to realise this is a 'who', not a 'what' and start pretending it is a strange idea in the corner," he said.
"We have seen that over the last few weeks here in Australia. References to 'political correctness', 'political elites' and 'culture wars'. That's all a very clever strategy because it's all about making us not look like people, to start thinking of it as an alien idea."