1.
Hundreds of abandoned umbrellas lined the streets of Sydney on Tuesday morning.
2.
Utterly defeated by the extreme rain and wind battering Sydney, the umbrellas lay in tatters, rejected by their once-loving owners.
3.
People tried in vain to avoid the downpour under their rapidly disintegrating shelters.
4.
But most Sydneysiders had some variation of this happen to them.
6.
Or even this.
7.
Many umbrellas didn't survive the deluge and were left to ponder their fate on Pyrmont Bridge.
8.
Some people took the opportunity to turn their destroyed umbrellas into art.
9.
While others called for a reinvention of this obviously flawed product.
10.
And some battled on, doggedly ignoring the fact their inverted umbrellas offered little protection from the elements.
11.
Hundreds of people threw out the now-useless contraptions.
12.
They were in heaped piles at train stations.
13.
Shoved into 140 litre garbage bins.
14.
Cuddled up with coffee cups in street bins everywhere.
15.
And tossed away in fits of frustration to lie sodden on the sidewalk.
16.
Picturesque umbrella bins made it to Instagram.
17.
While others were just a tangled mess of metal and plastic.
18.
Ruined umbrellas were around every corner.
19.
Some were elegant in defeat, while others looked utterly destroyed lying prostrate on the pavement.
20.
This umbrella – and probably its owner – will never be the same again.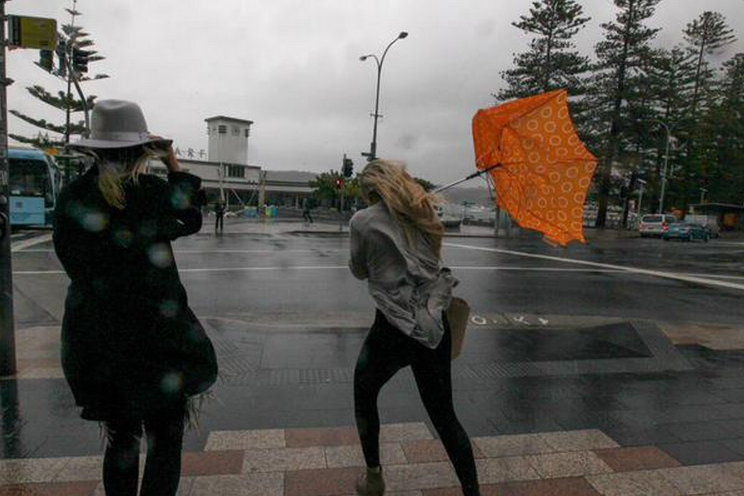 21.
Some had their fabric ripped away entirely, leaving just a skinny metal skeleton.
22.
This umbrella found peace ensconced in a bed of leaves in the gutter.
23.
At Sydney University, bin covers designed to deter ibises were blown off to accommodate the sea of discarded umbrellas.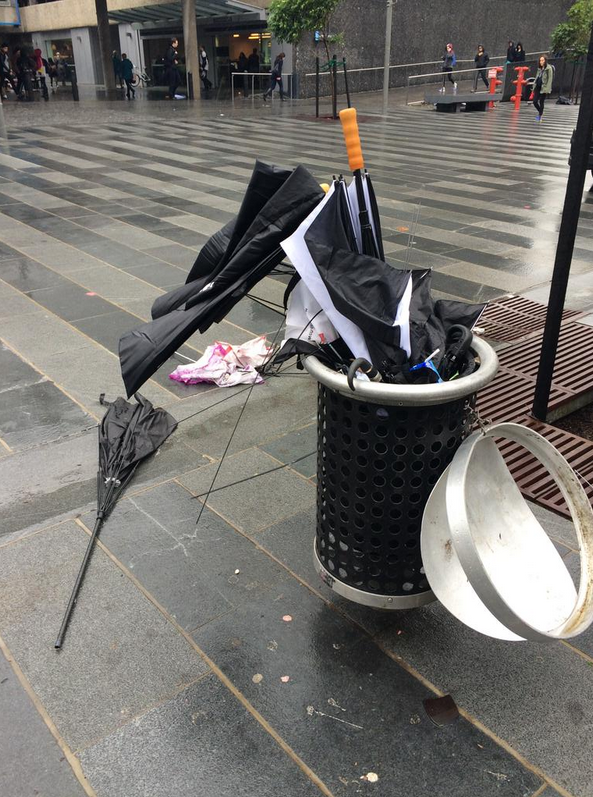 24.
And this umbrella owner probably wasn't singing as they got drenched en route to work.
If it's raining tomorrow, maybe pick up one of these instead.