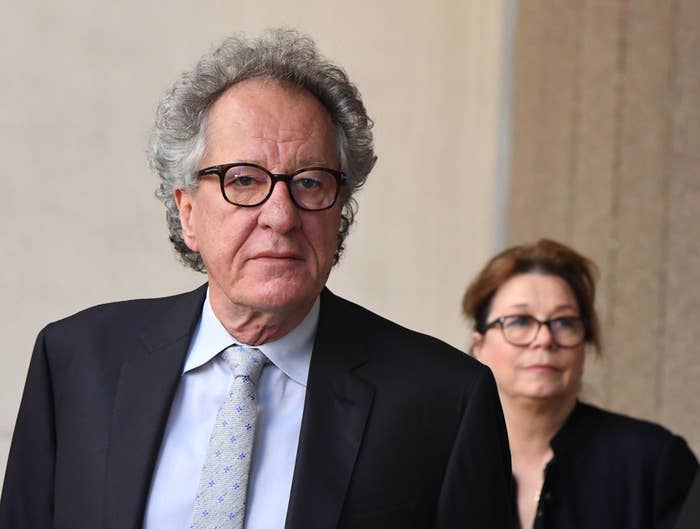 Geoffrey Rush's lawyers have come out swinging in the final days of the high profile defamation trial between the film star and a Sydney newspaper, describing the articles about Rush's alleged inappropriate behaviour as the most "recklessly irresponsible" journalism an Australian court has ever seen.
The actor's barrister Sue Chrysanthou told Justice Michael Wigney he should "nail these lies" and find the incidents alleged by Rush's accuser, 34-year-old actor Eryn Jean Norvill, never happened.
Rush is suing the publishers of the Telegraph and journalist Jonathon Moran, after they published allegations in November 2017 that Rush had been accused of behaving inappropriately towards a female cast member during the 2015-16 Sydney Theatre Company (STC) run of King Lear.

Rush, 67, has strenuously denied the allegations. He claims publisher Nationwide News defamed him in two articles and a poster by painting him as a pervert, a sexual predator, and someone who engaged in inappropriate sexual behaviour and committed sexual assault while acting in King Lear. He also says the articles suggested his conduct was so serious that the STC pledged to never work with him again.
Nationwide News argued a defence of truth based on the testimony of Norvill, who played the role of King Lear's daughter Cordelia in the production and alleges Rush sexually harassed her during the run of the play. Norvill did not participate in the stories and agreed at a late stage to testify for the Telegraph.
Rush's senior barrister Bruce McClintock SC described the articles published by the Telegraph as "the most recklessly irresponsible journalism that has come before the court, or a court in this country".
He said that the Telegraph had been told not to publish by the STC due to the effect it might have on Norvill, who was "fragile" and did not want the complaint aired, and they had also been given a strong denial by Rush's lawyers.
"Did they care? Did they think about what they were doing? The answer is clearly no," he said. "This article is an example of reckless and indeed cruel irresponsibility."
Chrysanthou told the court the case was not just about Norvill's word against Rush, but her word against documents, cast members who gave evidence, the "sea of absent witnesses", and even her own testimony, which Chrysanthou said was "rife with contradictions, inconsistencies and recent invention".
On Wednesday, Nationwide News barrister Tom Blackburn SC argued Norvill was a "fundamentally honest witness" who had wanted the complaint she made about Rush to an STC employee in April 2016 kept confidential.

"The only evidence Your Honour has about Miss Norvill's motive [to lie] is that she didn't have one," he said. "She desperately, desperately wanted to stay out of the limelight. Her concern was, as she said, to make sure it didn't happen again."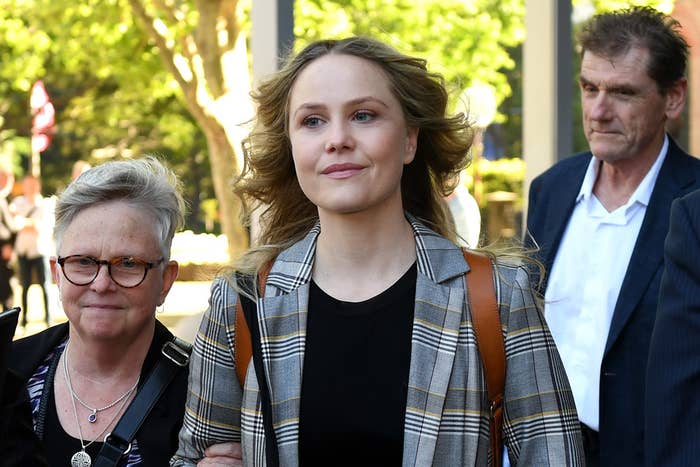 Chrysanthou said Norvill's motive was "irrelevant", asking: "Why should we spend days putting to Miss Norvill what we think her motive is?"
"What could possibly be her motive to lie? Who cares? ... It has nothing to do with anything. People lie. We don't know why," she said.
On the witness stand last week Norvill told the court about an alleged incident in which Rush had made groping gestures over her body as they rehearsed the final scene of the play, in which he, as King Lear, grieves over the body of Cordelia.

She said she had been lying on the floor of the rehearsal room with her eyes closed when she heard "titters of laughter" around her.
"I opened my eyes and Geoffrey was kneeling over me and he had both of his hands above my torso and he was gesturing stroking up and down my torso and gesturing groping or cupping above my breasts," she said.
Norvill also alleged that Rush regularly made gestures towards her to imitate groping her breasts or tracing the curve of her hips in the rehearsal room, and that he told her she looked "scrumptious" and "yummy".
Of these allegations, Chrysanthou said: "Her evidence makes no sense whatsoever and the reason it makes no sense whatsoever is because it's a complete lie."
Chrysanthou said there was "not one person called" to give evidence about Norvill's allegations that Rush regularly harassed her in the rehearsal room, and that it was "rubbish" to argue that generational differences accounted for some members of the cast not thinking there was anything wrong with the alleged behaviour.
She cited evidence given by director Neil Armfield and actors Robyn Nevin and Helen Buday, saying that each of them testified if they had seen Rush doing the things Norvill alleges, "they would have done something about it".
There was simply "no room", Chrysanthou said, for the possibility that some people thought the alleged behaviour was OK and others did not.

She urged Wigney to not just find the Telegraph had failed to prove the rehearsal room incidents happened, but said he should go beyond that and find that they did not occur at all.
Wigney pointed out she didn't have to go that far to win the case, just to persuade him the burden of proof hadn't been met.
Chrysanthou replied: "Your Honour should nail these lies."
She ran through a number of contradictions between Norvill's evidence and an email sent by STC employee Annelies Crowe, saying Norvill had "told so many false stories she can't keep them straight".
She also said Norvill's account of Rush stroking the small of her back on two occasions before he carried her onstage for the grieving scene, and the second time it happened asking him very softly to "please stop that", did not add up.
"Why would he do it twice, over 56 performances? Why would he?" Chrysanthou said.
She said Rush had testified, unchallenged, that the scene was a hugely important one and that if there was any unpleasantness or tension between himself and Norvill that it would have ruined his concentration.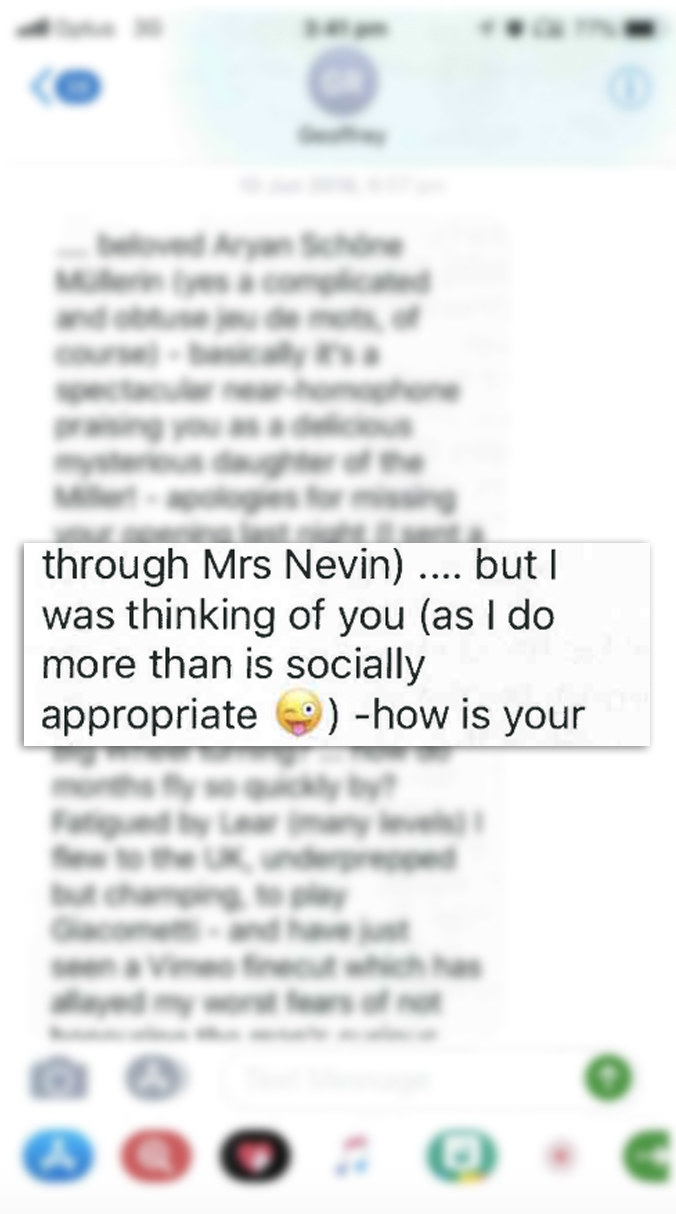 "This is another bizarre contradiction in their case," Chrysanthou said. "The scene wasn't ruined, it ran like clockwork. And she didn't say 'stop that' because he didn't do anything."
Chrysanthou also put to Wigney that there was "nothing inappropriate" about a text Rush sent to Norvill in mid 2016, particularly in the context of the way the pair communicated in other texts and emails.

The text included the line "I've been thinking about you (as I do more than is socially appropriate)" followed by a winking emoji with its tongue poking out.
The text has played a relatively major role in the trial, with the parties at odds as to whether the emoji indicates "panting" (according to the Telegraph) or someone being "crazy" or "loony" (according to Rush).
"If you type "crazy" into your phone that's the emoji that comes up," Chrysanthou told Wigney, who replied that he wasn't sure if he could, legally, take that as a fact in the case.
"I won't be putting panting into my search engine or indeed affixing emojis to any of my texts anymore," he added.
Earlier on Thursday, Wigney told Blackburn that his argument about the articles including strong denials from Rush had "considerable merit", but the addition of headlines, photos and puns are "very large puffs of smoke suggesting there's a fire".
"They just can't help themselves with their bad puns. Bad pun is probably putting it in mild terms," Wigney said of the Telegraph's sub-editors.
"Your Honour is not a newspaper editor, obviously," Blackburn said.
Blackburn also argued that the "King Leer" headline on the first article did not make Rush out to be a pervert, which he described as someone who engages in sexual behaviour that is deviant, bizarre and disgusting.
"One can strongly disapprove of the act of leering, but it just strains the English language to call it a perversion," he said.
The trial is expected to finish this week.