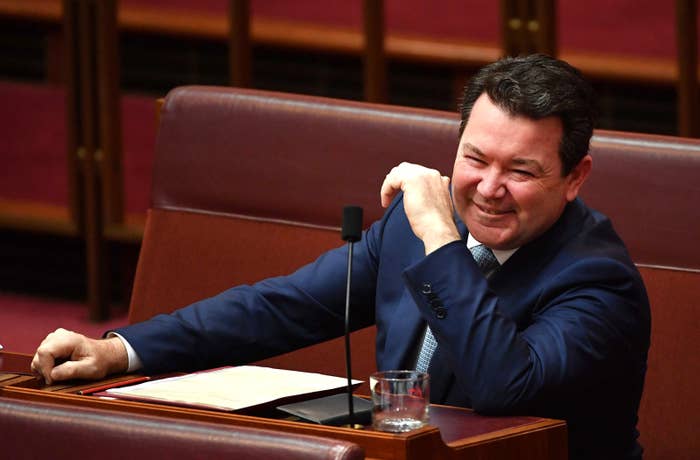 A powerful cross-party group of senators have offered their immediate backing to senator Dean Smith's bill, which will be introduced to the Senate on Wednesday afternoon if a "yes" vote is announced in the same-sex marriage postal survey.
BuzzFeed News understands that a motion to introduce the bill will go before the Senate on Wednesday afternoon if a "yes" vote is successful, with debate planned to begin on Thursday morning.
The motion is signed by Smith, along with Liberal senators Linda Reynolds and Jane Hume, Labor's Penny Wong and Louise Pratt, the Greens' Richard Di Natale and Janet Rice, Skye Kakoschke-Moore from the Nick Xenophon Team and Derryn Hinch. Senators are able to add their names to the bill once it is introduced.
The debate on the Smith bill will carry through to the next parliamentary sitting week, beginning on November 27. Any amendments to the bill will be reserved for that sitting week.

The motion also gives a deadline for the passage of the bill by November 30 – then leaving one scheduled sitting week for it to pass the lower house.
The combination of MPs backing the bill will likely give it the crucial numbers needed to pass the Senate and go to the lower house.

This gives the Smith bill an immediate advantage over its legislative rival, a bill penned by Liberal senator James Paterson.
Smith's bill would continue the current exemption for religious ministers to refuse to solemnise any marriage they want, provide a grandfather clause allowing current civil celebrant to move into a new category that would also have the right to refuse, and allow religious organisations the right to refuse to serve same-sex weddings.
Paterson's bill would allow a wide range of service providers, religious or secular, to turn away gay couples asking for wedding services. It would also provide immunity under anti-discrimination law for people who hold, express, and act on various traditional beliefs about marriage, sexuality, and gender.
Co-chair of Australian Marriage Equality Alex Greenwich praised the senators for "coming together to do something good and make people happy".
"For the first time we have a clear pathway to marriage equality, and this is thanks to powerful political consensus in support of the LGBTI community and a fair go for all," he said.
No notice has yet been given for the Paterson bill.
If a "no" vote is returned in the survey, the motion will lapse and Smith will table his bill at a later date.