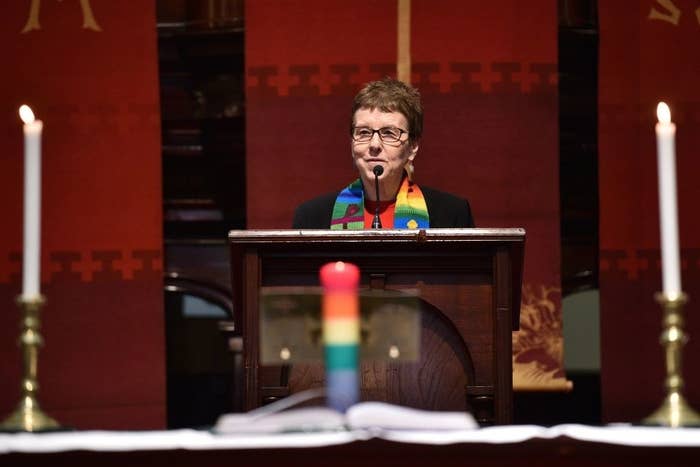 Christians who support same-sex marriage have hit back at prominent "no" campaigner, Australian Christian Lobby managing director Lyle Shelton, over his comments that parents should have the right to send their kids to gay conversion therapy.

Shelton, also a spokesperson for the Coalition For Marriage, told the BuzzFeed News political podcast Is it on? that parents should be able to take their kids to gay conversion therapy.
"Should people be forced to go to conversion therapy?" he said. "No, absolutely not. Now, children — they are under the care and responsibility of their parents, so I think if someone's a minor, it is up to their parents. And I think parental rights should be respected."
His comments came as Australians began to cast their votes in a national postal survey on same-sex marriage.
Reverend Dr Margaret Mayman, chair of Australian Christians for Marriage Equality, said conversion therapy programs are "based on a fundamental lie, and are intrinsically homophobic".

"Sadly, Mr Shelton's comments show that deep aversion to, and a refusal to accept the existence of, LGBTI orientation and identity is at the heart of the opposition to marriage equality for many," she said.
Mayman called on church leaders who are part of the "no" campaign to distance themselves from Shelton's claims.
Pastor Brad Chilcott, from the Pentecostal Activate Church in Adelaide, said the church's involvement in gay conversion therapy is "cause for shame and repentance".
"The church must be a place of welcome and hospitality to all people, regardless of sexual orientation or gender diversity, or else it is not a church of Jesus Christ," he said. "It is time Christians afforded same-sex attracted people the dignity of full humanity and the protection from abuse that comes with it."

Conversion therapy is opposed by the Australian Psychological Society, the Australian Medical Association, and the United Nations, among numerous other professional health and human rights bodies.

A Columbia Law School project collating conversion therapy research found there was "no credible evidence that sexual orientation can be changed through therapeutic intervention" and that there is "powerful evidence that trying to change a person's sexual orientation can be extremely harmful".
Chilcott also accused Shelton of misrepresenting the teachings of Jesus in The Bible.
"The majority of Australian Christians do not feel represented by the ACL and its exclusionary opinions," he said.
Speaking to Is it on?, Shelton said he was "disappointed" by Christians who support same-sex marriage.
"I'm disappointed that there's some people who go under the Christian banner and say they don't agree with Christian teaching on certain issues, whether it's marriage or anything else," he said.
"It's a free country and they're welcome to hold those views. But there's no doubt mainstream Christianity believes marriage is between a man and a woman."