Here's How One Of Australia's Oldest Anti-Gay Campaigners Is Arguing Against Same-Sex Marriage
In a media release, Fred Nile claimed God said that "homosexual same-sex sexual relations" are an abomination that God hates.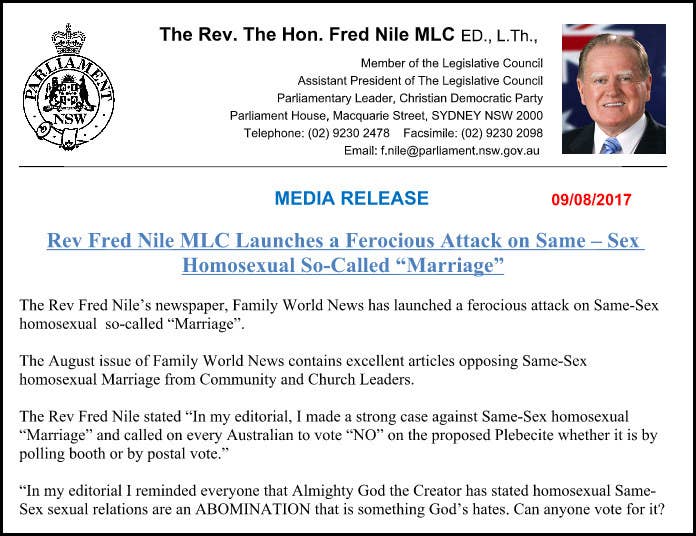 One of Australia's longest-running anti-gay campaigners, Fred Nile, has declared gay sex is an "abomination" and "something God hates" in an edition of his newspaper devoted to same-sex marriage ahead of the national postal survey on the issue.

Nile, who is 82 and a member of the NSW Legislative Council, will be campaigning for people to vote "no" in the survey over the coming months.
In the most recent edition of the Family World News newspaper, which Nile edits, he pens a lengthy editorial about same-sex marriage, starting with: "In the beginning the almighty God created Adam and Eve not Adam and Steve!"
He warned people to obey The Bible, referring in particular to Romans 1:24-32, which is often interpreted as calling for the death of gay people, or saying their acts make them worthy of death.
Under the heading "An Abomination", Nile writes that the current edition of the newspaper carries articles to "warn us" of the "serious consequences of same-sex so called 'marriage' between two homosexual men".
"Homosexual acts between two men are described by Almighty God as an abomination. An 'abomination' is something that God hates — if God hates same-sex relations, and same-sex 'marriage' how can Christians embrace it? Support it?
"Remember the main cause of HIV-AIDS!"

The passage does not mention lesbians.

Nile also called for an "active vocal campaign" defending marriage between a man and a woman.
"We must expose any compromising Organisation, Pastor, Church, etc that avoids their God Given responsibility by falsely claiming that same-sex marriage is only a political issue, NOT a Christian issue; NOT a moral issue," he wrote.
"This is Satan's deception from the depths of hell! We must not allow ourselves!, our churches! Our Pastors! To be deceived by the father of lies – SATAN!"
Nile's office, which supplied a copy of Family World News to BuzzFeed News, described him as "Australia's greatest ever morals campaigner" in the email.

Nile campaigned vigorously against the decriminalisation of homosexuality in NSW in 1984 and played a central role in the Festival of Light organisation, which also campaigned against homosexuality and pornography.
Each year, Nile and his organisation pray that it rains on the annual Sydney Gay and Lesbian Mardi Gras parade.

But his old-school, anti-gay talk of God's hatred and the "abomination" of gay sex is a far cry from how the modern-day "no" campaign is presenting itself.
The Coalition for Marriage — an organisation bringing together, among others, the Marriage Alliance, the Australian Christian Lobby, and leaders in the Anglican and Catholic churches — has taken a less biblical approach in its marketing material.
In a flyer produced for distribution at churches this weekend, the group wrote that same-sex marriage means parents can no longer oppose the Safe Schools Coalition, an LGBTI anti-bullying program that the Coalition claims is a "radical sex education program".
Its website highlights Safe Schools and defending freedom of religion and speech as key tenets in the fight against same-sex marriage.
Prominent Coalition for Marriage figure Lyle Shelton, from the Australian Christian Lobby, also penned an article in Nile's newspaper making similar claims about the Safe Schools Coalition and about religious freedom.
Fred Nile declined an interview request from BuzzFeed News.