Late last month, a young girl was urgently brought to Australia from Nauru, the tiny Pacific island where she was sent to live in offshore immigration detention by the Australian government in 2013.

We don't know a great deal about this girl, due to a court order and her right to privacy. We don't know her name, and we don't know her exact age, other than she is an adolescent; we don't know from which country her family fled before she was granted refugee status.
What we do know is her health started to deteriorate sharply at the beginning of July. On July 9 she cut her thighs with a razor. The next day, she cut her arms and legs, and was taken to the emergency room at Nauru Hospital. She started refusing food and water.
Notes taken by a psychiatrist on July 25 recorded the girl as not having eaten or drunk anything for six days. Her blood pressure was difficult to measure, her muscle tone abnormally low, and she didn't respond to a sharp tap just under her knee bone – a test that should, in most people, cause a reflex jerk of the leg.
The girl was diagnosed with major depressive disorder and with resignation syndrome. The latter is a rare and serious psychiatric condition that is perhaps most widely known as the mysterious illness that sent hundreds of refugee children in Sweden into a seemingly unconscious state.
Dr Louise Newman, a professor of psychiatry at Melbourne University and the convenor of advocacy group Doctors for Justice, explained resignation syndrome as a very serious state of withdrawal that traumatised children can go through when they are "overwhelmed by stress".
"It's usually been found in situations where there's no sense of safety around them and they're traumatised," she told BuzzFeed News. "It's a form of escape or dissociation – they go into a state where they look semiconscious. They might start looking depressed, then they become mute, they stop talking. They withdraw, they don't interact with anyone, they end up taking to their beds and becoming unconscious."
It is an extreme, protective reaction to trauma, Newman said, but also very dangerous, as without care and treatment, kids can die.
"It's like going into hibernation," she said. "The world is too hard."
Multiple sources have told BuzzFeed News there are a number of refugee and asylum-seeker children among those sent to Nauru exhibiting symptoms of this rare syndrome. Along with the young girl, at least one other child with the same diagnosis has been airlifted to Australia for urgent medical treatment.

Taylor*, a health professional who worked recently on Nauru, said she was aware of about six children showing symptoms of the syndrome when she was there.
She said the children seemed to "just withdraw themselves from life".
"They take to their beds and they stop eating, stop drinking, stop toileting themselves, stop talking," she said.
The at-risk kids are in various stages of withdrawal and are living across a number of different places in Nauru, including tents in the camp, the Regional Processing Centre, and in the community, Taylor said.
"It's like when you visit a hospice and you watch people who are dying in a hospice. It's a bit like that. Like you're watching people die.
"There's a young person at the moment who's got really severe muscle wastage from not moving from his bed for a long time. If he was to be taken to hospital now, it would still take a long time for recovery."
Another health care source on Nauru was aware of six cases of resignation syndrome among children in the past eight months.
In response to several questions, a spokesperson for the Australian Department of Home Affairs told BuzzFeed News: "The department does not provide specific details on the health and transfer arrangements of individuals."

In Sweden, resignation syndrome or uppgivenhetssyndrom was diagnosed in hundreds of refugee children facing deportation, who withdrew, took to their beds, and had feeding tubes inserted. In Australia, where these same symptoms are largely identified and diagnosed under the name pervasive refusal syndrome, the condition has been seen both in and out of detention contexts.
"While it's uncommon and severe, it's not unknown," Newman said. "But to see it in this sort of degree in these particular children, and what they saw in Sweden, suggests that one of the triggers is the actual environment and the experiences that these children have.
"This is one way that children will respond in this situation, if it's extreme enough. It's about the severity of the situation that refugees and asylum-seekers face within our system of immigration."
Dr Nick Kowalenko, who chairs the Child and Adolescent Psychiatry international relations subcommittee at the Royal Australian and New Zealand College of Child Psychiatrists, said that environmental features of pervasive refusal syndrome – including trauma, parental mental illness, and a pervading sense of hopelessness – have been the reality for years for the kids on Nauru.
"People can endure difficulties if there's an anticipated hopeful outcome, a light at the end of the tunnel," Kowalenko said. "But the dawning experience on a lot of those families and kids is that's not the case."
This erosion of hope is explained succinctly by Dr Nick Martin, who worked as a senior medical officer on Nauru from November 2016 to August 2017: "They can't come to Australia, they're not allowed to go to New Zealand, they can't go to America, and they're refugees. They can't go home."
Australia's harsh border policy prevents people who arrived by boat since July 2013 from settling in Australia, even if they are found to be refugees. The aim, successive governments have argued, is to stop the people smuggling trade: If there's no chance of getting to Australia, the smugglers flogging a seat on a boat to desperate people have nothing to sell.
An ongoing offer from neighbouring New Zealand to take 150 of the refugees languishing on Nauru and Papua New Guinea's Manus Island has been rejected on the basis it could be used as a backdoor entry to Australia.
And the prospect of a new life in the United States – under a one-off deal prime minister Malcolm Turnbull struck with former US president Barack Obama – has been dashed in recent months for many refugees, primarily from Iran, whose home countries fall under president Donald Trump's travel ban, or who have otherwise been rejected.
As of May 2018, 137 refugee and asylum-seeker children sent by the Australian government remained on Nauru.
"They've got no hope," Martin told BuzzFeed News. "They've got nothing. They just give up. Which is incredible really. In the past they had the American deal, or, 'Come on, let's try and get you learning English, or doing soccer', or anything. There's lots of workers on the island who try and do that. But they're just over it."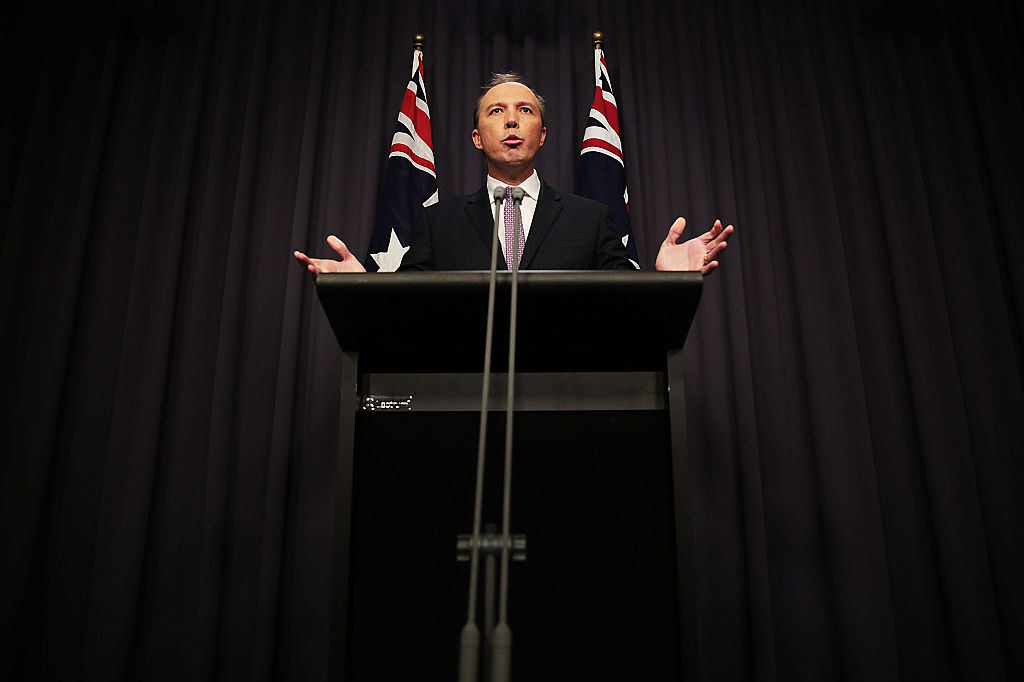 As the young girl's health deteriorated last month, an anniversary passed. July 19 marked five years since the 2013 announcement from then Labor prime minister Kevin Rudd: "As of today, asylum-seekers who come here by boat without a visa will never be settled in Australia."

On July 26, the day after a psychiatrist recorded the girl hadn't eaten for six days, the Australian Federal Court ordered she be brought to Australia for medical treatment as soon as possible.

Newman, who did not assess the girl on Nauru and wrote a report for the court based on medical records, described her condition at the time of the evacuation as "unconscious, not eating, not drinking, unable to communicate in any way, not responding to pain, in a deep state of withdrawal".
A psychiatrist who visited the girl in her home and in Nauru Hospital gave evidence that she would likely soon need to be fed via a tube through her nose.
The government opposed the medical evacuation, saying there wasn't enough evidence of the seriousness of the girl's condition, or the need for urgent treatment.
A psychiatrist working for International Health & Medical Services, the company paid by the Australian government to run medical services for refugees on Nauru, told the court there was "no clear evidence for a depressive illness" and the girl's condition "seems more likely to be a severe reaction to her situation". But, the IHMS psychiatrist added, if she did continue to deteriorate, Nauru didn't have the facilities to care for her.
Federal Court justice Alan Robertson said there was a dispute over the extent to which the girl had stopped eating and drinking and her subsequent deterioration – but ultimately accepted she needed urgent help.
"I also find that the applicant is at serious risk of permanent complications from her current medical situation and find that the applicant appears to be at imminent risk to her health, both in the short term and in the long term," Robertson wrote.
Beyond resignation syndrome, there are well-documented catastrophic mental health problems among refugee and asylum-seeker children on Nauru. It's "very clear" that prolonged detention has a deleterious effect on mental health, Kowalenko said.
Asked to describe her day-to-day working routine on Nauru, Taylor was temporarily lost for words.
"It was ridiculous," she said. "Out of control. I don't know how to explain really. While working in Nauru, I had to support children who were trying to set themselves on fire, cutting their wrists, and hurting themselves daily. The number of children at a serious risk of harm is so great that you couldn't really manage your day in any kind of organised fashion. Some would say it was more crisis management than anything."
Taylor also witnessed firsthand the chaos and trauma in families where both children and parents have severe mental health issues.
"There was a scenario where there was a mother and a daughter who were both trying to stop each other from killing themselves. One day the daughter would be trying to stop the mum, the other day the mum would be trying to stop the daughter."

Faced with these appalling scenes, and an unflinching government, lawyers and doctors have resorted to using the Australian Federal Court as a blunt instrument of extraction – retrieving dangerously sick kids from Nauru one by one.
The first child medical transfer was ordered in December. Since then, the National Justice Project has run about a dozen cases, and a handful more have been run by firms including Maurice Blackburn and Russell Kennedy Lawyers. There are more to come.
The lawyers make the same arguments over and over: The Australian government has a duty of care to these kids, and the medical facilities and psychiatric care available on Nauru are inadequate.
The government has repeatedly opposed the transfers, but so far, it is losing the legal battle. In some cases it has caved at negotiations, and in others, fought all the way to a court order. BuzzFeed News understands that since the cases started flowing against the government, it has provided additional funding to child and adolescent mental health services on Nauru. (Home Affairs did not respond to questions on this.)
Decisions published by the Federal Court offer glimpses into the severity of the situation. In December 2017, the government was ordered to remove a suicidal young girl from Nauru. A suicidal 10-year-old boy followed in March. On July 3 a seriously ill 2-year-old, and on July 11 a suicidal 17-year-old. Then on July 26, the girl with resignation syndrome.

Judges are not mincing words. On March 6, Justice Nye Perram wrote: "I note the next plane out of Nauru is on Wednesday 7 March 2018. To be quite clear, the boy and his mother should be on that plane."
The lawyers running these cases are overworked, frustrated, and angry. George Newhouse from the National Justice Project is scathing of the "ineffective and inappropriate" method to get the kids medical treatment.

"It should not take teams of lawyers rushing up before a Federal Court judge to force a government to provide basic medical care and treatment to vulnerable kids," he said. "There's just no excuse for their dereliction of duty."
Jennifer Kanis, head of social justice litigation at Maurice Blackburn, is angry too. She said the government went to "extraordinary lengths" to prevent the very sick 2-year-old girl receiving Australian medical care, instead sending her to Port Moresby. The court eventually ordered the toddler be brought to Australia.
"It's just really frustrating," she said. "I would have thought test the law once, test the law twice, now there's a body of cases that are all saying the same thing. I'm finding that the government's position on this is baffling."
There is a dearth of lawyers currently doing the grim work, but according to Newhouse the answer does not lie with encouraging more firms to pick up the work pro bono.

"The solution is for the Australian government, and the opposition, to do what is morally and ethically correct and look after the lives of young children," he said.
"It's really not a job for lawyers. I'm happy to do it – actually I'm not really happy to do it – but it's the government's responsibility, and why are we doing it? Because they've abrogated their responsibility to these kids. And if they don't watch out, a child is going to die soon."
Several people involved with the cases and with health services on Nauru tell BuzzFeed News the court-ordered transfers are causing a dangerous game of brinksmanship on Nauru. The approach of delaying or opposing transfers effectively means kids deteriorate until they are so dangerously ill that a court will order them onto the next plane. It also risks contagion. Each medical evacuation sends a bleak message to the children left on Nauru, watching intently what happens before their peers are airlifted to Australia.

"There are kids there now who can see now in the courts, if I try and kill myself maybe that will get my family off," Martin said. "They're kids, the idea of suicide by misadventure they don't really understand. That might get explained away as being coached, but it's not. They genuinely think it's on them to get the family off Nauru."
But the government will not waver from its hardline approach. Home Affairs minister Peter Dutton has argued many times that bringing refugees on Nauru and Manus Island to Australia would undo border policy, resulting in an influx of people smuggling boats and people dying at sea.
"It's essential that people ­realise that the hard-won success of the last few years could be undone overnight by a single act of compassion in bringing 20 people from Manus to Australia," Dutton told the Australian newspaper in June.
As Newman puts it: "You've got the politics of wanting to maintain these situations at all costs because they're seen as deterrence."
The girl diagnosed with resignation syndrome is in Australia receiving medical treatment with a member of her family, according to Natasha Blucher, her caseworker at the Asylum Seeker Resource Centre. Based on the court order, it is likely that the family member is one of her older sisters, with the rest of her family – including her mother – still on Nauru.
Blucher could not say anything else about the girl's situation, due to privacy obligations. But Louise Newman shed some light on what generally has to happen to nurse a child at that stage of resignation syndrome back to health. The priority is simple: Keep them alive.
"These children need to be in an acute medical setting where they've got access to intensive care, they need nasogastric [nose tube] feeding, rehydrations, intravenous fluids, and a lot of nursing care to prevent complications," Newman said. "It's a medical condition initially. Further down the track, some of these children will wake up when they realise they're in space of safety."
Next comes treating their minds. None of this will happen quickly. But what might happen after that doesn't bear thinking about.
"They need intensive psychological treatment to help them cope with the trauma they've been through," said Newman. "Then the politics will be the desire to send her back."
*Not her real name.
If you or someone you know needs help, you can contact Lifeline's 24-hour crisis support and suicide prevention hotline on 13 11 14 in Australia. Trauma resources are available at phoenixaustralia.org. In the US, the National Suicide Prevention Lifeline is 1-800-273-8255. Other international suicide helplines can be found at befrienders.org.