On Saturday night, senator Cory Bernardi told an energised room of around 1,500 people determined to stop same-sex marriage in Australia: "We are on the right side of legal and moral history."

The launch of the "no" campaign for Australia's national postal survey on same-sex marriage, held at the Darling Harbour Theatre at Sydney's International Convention Centre, was centred around a five-word slogan: "It's OK to say no".
Bright blue polo shirts with the Coalition For Marriage logo were on sale for $10 a pop, sitting alongside "It's OK to say no" bumper stickers. Later, high-vis vests with the same five words branded across the back were handed out.
Bernardi and Liberal National senator Matthew Canavan both claimed freedoms are under attack in the same-sex marriage debate — stretching their arguments to include the Orwellian notion of criminalising anti same-sex marriage thought in Australia.
Bernardi was introduced as "a legend" who had created the "stratospheric" Australian Conservatives political party. (The latest Essential poll has other/independent parties, which includes Australian Conservatives, tracking at 6% in Australia.) He took the stage as if a Hollywood celebrity, waving to a cheering, whistling, standing crowd.

"If states redefine marriage, it redefines how you can speak, think, advocate and believe about marriage," he told them, slowly. "That is the very real consequence of what is to come unless we win this battle."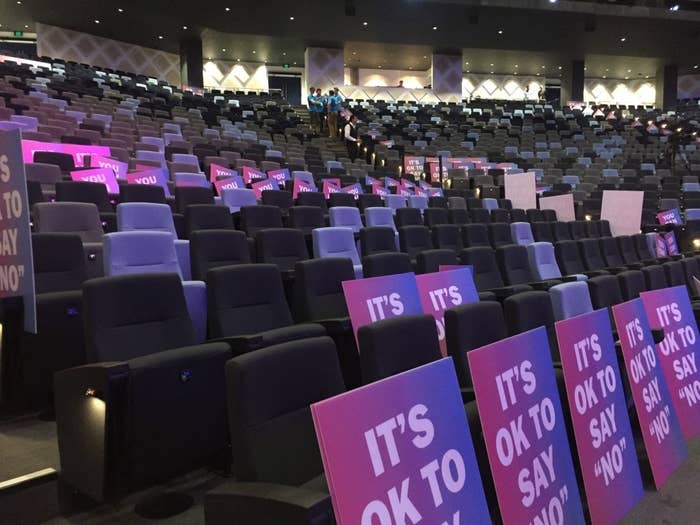 Canavan in his speech claimed the "yes" side wanted "to make it illegal to express a different view on marriage".

But executive director of the "yes" campaign Tiernan Brady told BuzzFeed News the "no" camp was trying to mislead the Australian people with such remarks.
"This is a simple matter of fairness and equality," he said. "It is a matter of whether every Australian and every member of their family is entitled to the same status and dignity in law. Allowing lesbian and gay [people] to get married takes nothing away from anybody."
The theatre, about three-quarters full with a crowd that skewed older, was basked in pink and blue light from an enormous Coalition For Marriage logo on the stage. Corflutes with the "It's OK to say no" slogan and in the same colour scheme dotted the room, but were gone by the end, attendees having taken them home.
The mere mention of several pro same-sex marriage politicians, including Dean Smith, Tim Wilson, Tanya Plibersek, and Clover Moore, evoked cries of "Shame!" and "Boo!" from the crowd.
Other speakers each homed in on a particular aspect of the "no" campaign: Concetta Fierravanti-Wells spoke about multicultural communities, Liberal MP Lucy Wicks about the Safe Schools Coalition, and American Katy Faust, who was raised by lesbian mums, spoke about children.
Keith Mills, a gay man who was part of the "no" campaign in the Irish referendum, told the room that acceptable language in Ireland changed after same-sex marriage was legalised.
"I always refer to a couple in a same-sex relationship as partners, as that's how I see it. But I'm told now I must refer to them as husband and husband, and wife and wife," he said, provoking groans and some loud guffaws at the prospect from the crowd.
"These attacks on free speech and those telling you what you can and can't say, as a gay man that really grates with me."
Mills was criticised in June for an insensitive tweet on the same day Irish politician Katherine Zappone's wife, Ann Louise Gilligan, died. Mills tweeted "Wife? I don't think so." with a link to a story about Gilligan's death.
He later deleted the tweet, saying "I don't usually delete tweets, but I accept that insensitive timing can often distort a perfectly legitimate opinion."
Mills is in Australia for just over a week to tour various Coalition For Marriage events making the case for "no" and telling people what to expect, based on the Irish experience.
"A lot of the experiences the 'no' sides are going through here in terms of the bullying, the biased reporting in the media, the way taxpayers' money is being spent on one side but not the other, that applied to Ireland as well," he told BuzzFeed News.
To end the night, host Sophie York from Marriage Alliance told the room: "The Coalition For Marriage is the antidote to the madness that has gripped the West. Enough is enough. Australia is where we draw the line, and say 'No! No more!'."

Today, the "yes" campaign will hold a series of smaller, less ostentatious launches at post offices around Australia. Politicians, sporting stars, activists and LGBTI people will speak at events in Melbourne, Sydney, Perth, Adelaide, Darwin and Brisbane.

Both the "yes" and "no" campaigns are trying to cut through to the kinds of people who, for example, wouldn't pay to be at the Darling Harbour Theatre on a Saturday night, or who may leave their survey sitting on the kitchen bench before absent-mindedly tossing it in the bin.