An anti-gay flyer condemning the decision of the Marion council in South Australia to fly a pride flag outside its chambers has been referred to police.
Marion council voted 6-5 to permanently fly the pride flag on June 9. It joins the Australian, Aboriginal, Torres Strait Islander, South Australian and Marion council flags.
According to pictures obtained by ABC News, the card-sized flyers show Jack Nicholson as The Joker in Batman next to a pride flag with the slogan "if you don't love it leave!"
The flipside of the flyer accuses Marion council and the media of failing to inform the public about a "health epidemic" experienced by gay men.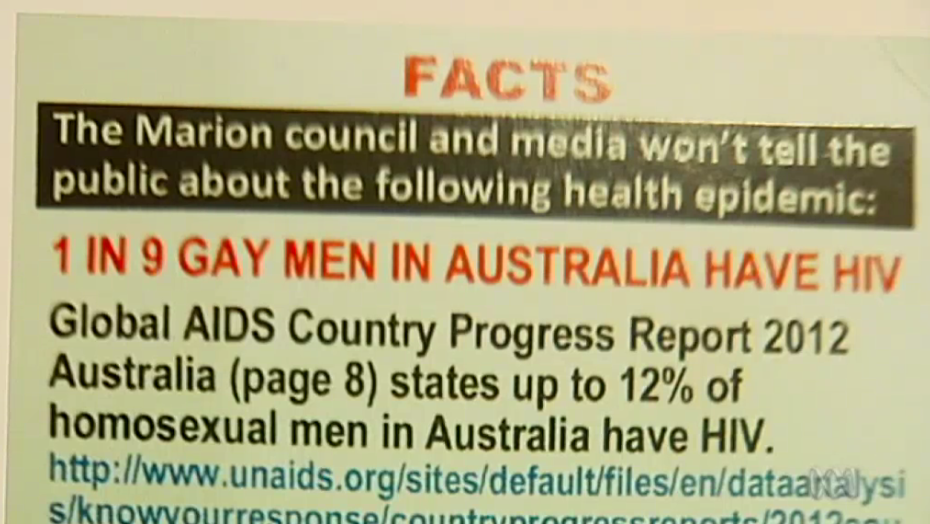 Councillor Bruce Hull, who seconded the motion to fly the pride flag permanently, has referred the flyers to the South Australian police.
They were distributed in the Marion Westfield mall and also placed in letter boxes in the suburb of Warradale.
South Australian Greens MLC Tammy Franks condemned the flyers, labelling them "abhorrent gay hate propaganda".
"The decision by Marion Council to fly the rainbow flag should be celebrated, so it is disappointing to hear that a group of extremists is trying to undo this good work by distributing these materials."
"The materials circulating are offensive and discriminatory."
Meanwhile, councillor Jerome Appleby will move to rescind the flag motion at a council meeting on Tuesday evening, arguing the motion did not comply with meeting procedure.