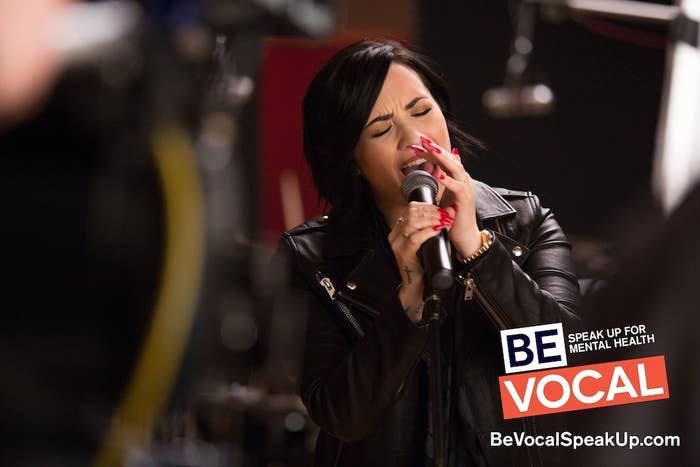 Four years ago, Demi Lovato revealed she'd been diagnosed with Bipolar disorder upon checking into a rehabilitation facility. After staying quiet about her issues with depression, addiction, and mental illness for so long, Lovato is no longer silent. And now, she's making it her mission to know that no one else should be silent, either.
The platinum artist recently teamed up with a new campaign called Be Vocal that is encouraging people to speak out about their struggles with mental illness as a way to eliminate negative stigmas and increase awareness nationwide. The initiative is also lobbying Congress to take legislative steps to help make mental health a part of our nation's larger conversations and laws.
Before heading to Capitol Hill on Monday, Lovato spoke with BuzzFeed on the phone about her journey so far. Here's what she had to say:
BuzzFeed: When was the moment you realized you needed to get help?
Demi Lovato: I basically had a break down, went to rehab, and it was then that I was diagnosed with bipolar disorder. On average, it takes about 10 years for people to get properly diagnosed and find the right treatment plan for whichever mental illness they have. For me, I spent so many years struggling with depression and bipolar depression and I couldn't figure out why I was so sad, depressed, lonely, and just unhappy overall. I was the star of my own TV show and I was on tour; I had this seemingly awesome life but I was still struggling. When I got the right diagnosis it was almost like a relief to me that I could pinpoint what was going on and work on the solution.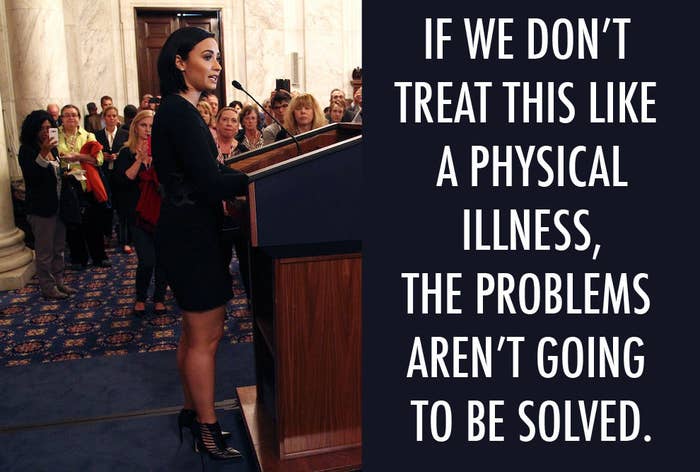 Why is it important for people to start thinking about mental health similarly to the way we think about physical health?
DL: Mental illnesses aren't looked at like physical illnesses and the problem with that is our brain is actually the most complex organ in our body; it's a very important organ and if we don't treat this like a physical illness, the problems aren't going to be solved. It takes a long time to figure out what works best for you, you can't just put a stamp on it. There are insurance companies that only pay for specific coverage plans and for a short amount of time. They fail to think about mental illnesses as if they're causing physical harm, which really only ends up hurting us more.
What's the most meaningful fan response you've gotten from dealing with mental health issues publicly?
DL: There are so many stories that people have shared with me; fans feel like they can confide in me when they feel like they can't confide in other people. The thing that makes me the happiest is when I have fans tell me that they asked for support and they have gone to their parents or to their guidance counselors at school, or whoever it is, that they've spoken out about what they're dealing with and therefore they're able to do what I wish I would've done, which is gotten help sooner.
What have you learned about yourself throughout this whole process?
DL: This journey has been quite a ride. I am very grateful that I have been able to get the help and support that I need, especially since 4 out of 10 people are able to get mental health care. You have to think, what about the other six? The more conversations we have will raise awareness and support; for every story that you tell, the more I've told my story, the more people it's affected in a positive way. Stories inspire people to get help and to look at mental illnesses in a less negative way. It's equally as important to speak up about it as it is to get help.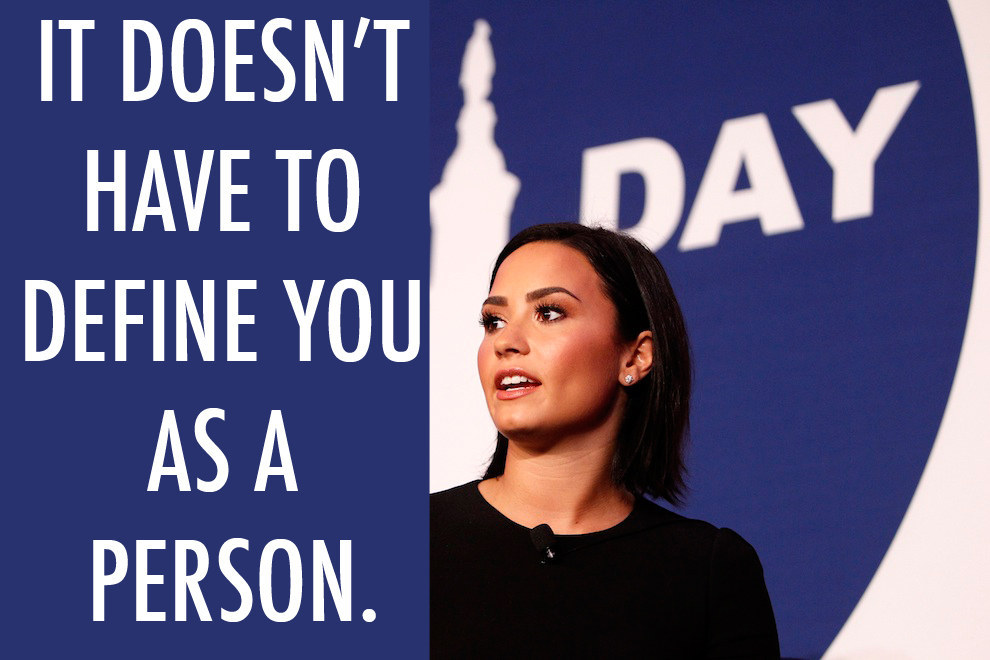 What's something you wish you could tell your younger self about mental health?
DL: I look back and wish I could've been more vocal about it years earlier. I had the opportunity to get help and I knew something was wrong but I didn't specifically know I was bipolar. I feel like if I would've gotten more help sooner and had really been more vocal about it, people would've been able to help me earlier on in my life instead of spending years in pain. I would also want to let my younger self know that it's possible not to have those terrible feelings and thoughts anymore, and you can still live well with an illness. You're only delaying your own happiness. It doesn't have to take over your life, it doesn't have to define you as a person, it's just important that you ask for help. It's not a sign of weakness.
How have your experiences with mental illness influenced your music?
DL: I'm able to get more honest with the lyrics in my songs put more emotion in my songs. I feel like there was a numbness that came to my performances and my writing when I wasn't pouring my heart and soul out into it because I wasn't being honest with myself; I wasn't aware, I was trying to push down those emotion because it was the only way I knew how to deal with it. Now, I get to feel free and liberated with my songs and my music. It's also affected my professional life because I'm able to reach out to more people and hopefully grab their attention.
How do you go about dealing with stress and anxiety? Do you have any favorite tips you can share?
DL: There's a website you can go to, it's called bevocalspeakup.com and it provides a ton of resources for you to not only help yourself and figure out ways you can cope with it, but to also help others. We all know somebody who's dealing with it and you might even be dealing with it yourself, so it's important that you use the resources that are on this website and learn how to live well with whatever mental illness or struggle you're going through.
Why do you think it's important for people to talk about mental health openly and publicly?
DL: I think it's extremely important to speak about all of our individual stories so we can help break down the negative stigmas mental illness has in our society and our world. The more conversations that are raised, the more we can do about it and even start to move toward getting mental health reform. If we raise awareness and start having a lot of conversations, Congress has no choice but to listen.