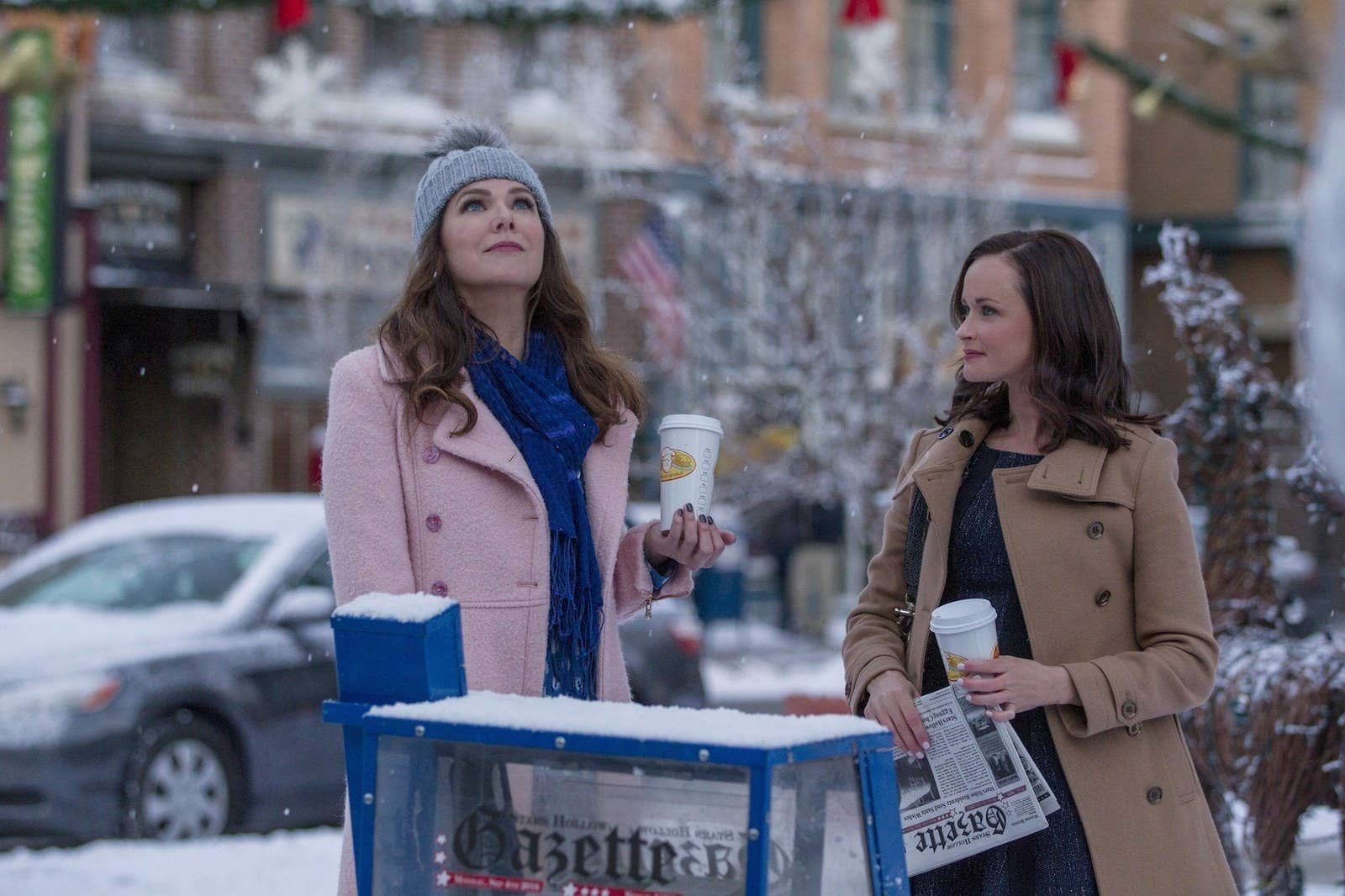 There are six words that mean something extra special to Gilmore Girls fans: "Where you lead, I will follow."
Those six words were heard at the beginning of all 153 episodes of the show over the course of seven years, and they're the six words that symbolize the relationship between its central characters, Rory (Alexis Bledel) and Lorelai Gilmore (Lauren Graham), and between the show and its fans.
They are six simple words with a whole lot of meaning. What became the Gilmore Girls theme song, "Where You Lead," was first introduced to the world in 1971 on Carole King's album Tapestry. But before she revamped it in 2000 with her daughter, Louise Goffin, for the show, where it would come to embody the bond between a mother and daughter, "Where You Lead" was originally about a woman's love for a man.
"It had these kind of 'stand by your man' lyrics and she wasn't feeling it anymore."
Co-written by King and Toni Stern, the original song included lyrics like, "I never thought I could get satisfaction from just one man, but if anyone could keep me happy, you're the one who can."
Goffin told BuzzFeed News in a phone interview that her mother "was not singing that song much anymore because it had these kind of 'stand by your man' lyrics and she wasn't feeling it anymore. She didn't feel like it was an empowering song."
King was not available to be interviewed for this story and Stern told BuzzFeed News she wanted to "keep whatever mystery there is surrounding this song Carole and I wrote together alive." But in a 2004 live performance recorded for the DVD special Welcome to My Living Room, King spoke about why she didn't feel comfortable playing "Where You Lead." "After I recorded it for the Tapestry album, we women decided that we didn't actually need to follow our men anymore," she said. "But then it got a new lease on life."
That new lease came in the form of Gilmore Girls in 2000. Goffin had just become a mother when her own mom called her up to ask if she wanted to re-record the song for a TV pilot. "Gilmore Girls was not even more than a pilot being made at the time," Goffin recalled. "She called up and said, 'Some friends of mine are making a pilot about a mother and a daughter and they asked me if I would sing my song 'Where You Lead' with you.'"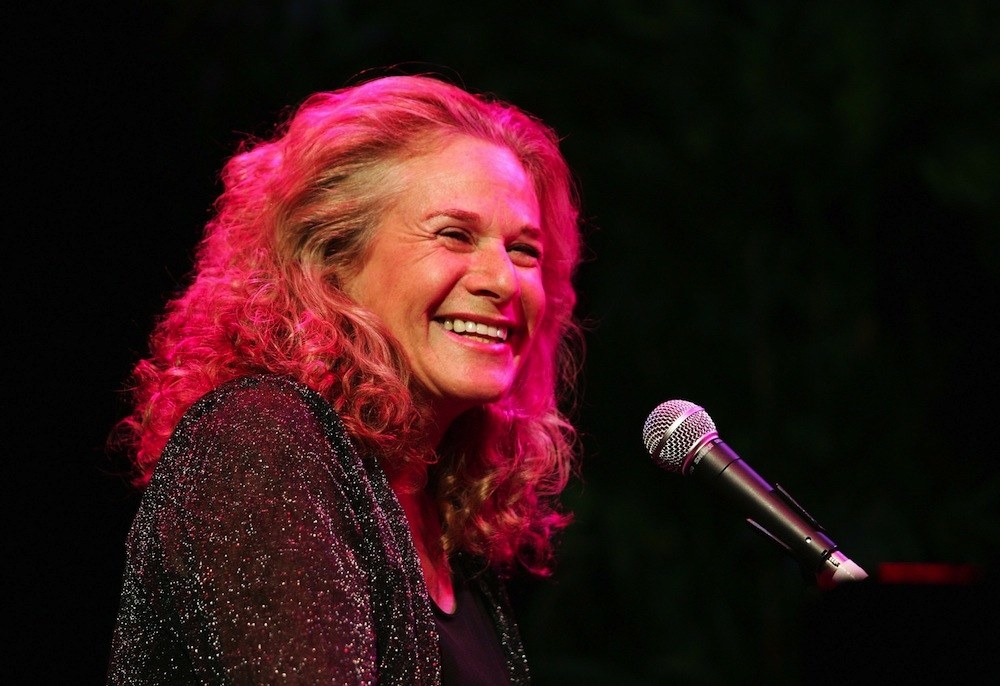 That friend was none other than Gilmore Girls creator Amy Sherman-Palladino. In October 2015 she told Entertainment Weekly that they were looking for a theme song "that felt classic and you just don't get more classic than Carole King."
Though Sherman-Palladino thought there was no way she could get King to sign on — "We're a tiny show, we don't really exist and Carole King is a legend," she told EW — King agreed because she loved the idea of revamping the song into "something more relevant."
Sam Phillips, the show's composer (who's also responsible for all the "la-las") told BuzzFeed News in a phone interview that Sherman-Palladino originally asked King to write the whole score. But they compromised with just the theme song.
Goffin said both she and her mother had absolutely no hesitation about getting involved with the Gilmore Girls universe. They recorded the theme song with new lyrics like "You never know how it's all gonna turn out, but that's okay / Just as long as we're together, we can find a way" in Goffin's former Laurel Canyon home. Goffin had converted an old bedroom into a studio and a former laundry room into a vocal booth after moving out to start a family.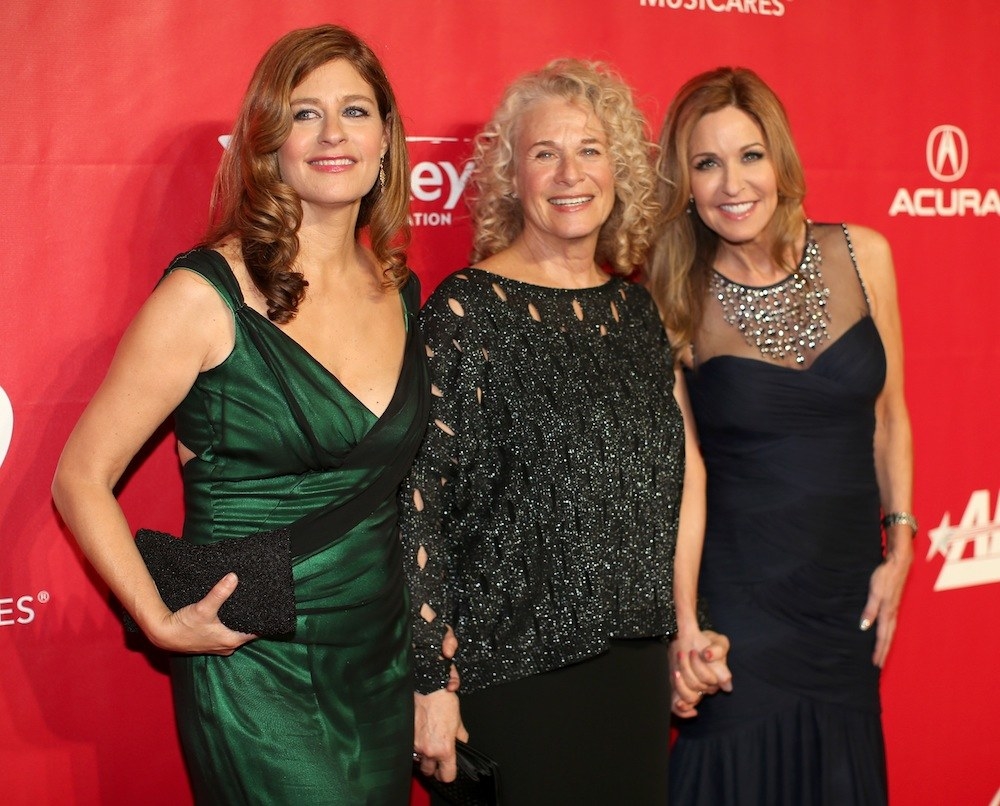 The recording process, Goffin said, was "a family-centered thing in every single way." "I was recording the song with my mother, the father of my child was producing that track, and I was in a house that used to be my home," she said. "It was a nice experience to do it that way."
With a switch of the lyrics, the addition of King's daughter, and the inspiration of Gilmore Girls, "Where You Lead" suddenly had brand new significance. "When she was singing it with me, it just gave it a whole new spin," Goffin said. "She realized she was singing from the point of view from a mother to a daughter rather than a woman to a man."
Instead of being a "stand by your man" ballad, "Where You Lead" became associated with female friendship, sisters, mothers, grandmothers, aunts, and so many other platonic yet meaningful women-centric relationships. To Goffin, the song's now about how "there is no distance that is too far to go be with your child."
"The footage they have in the opening sequence where [Lorelai and Rory] are on the porch in one scene and Rory lays her head down on Lorelai's shoulder, that really captures the song," Goffin added. "It's a very good fit for the show and I think they work together as a whole."
Not only has the Gilmore Girls theme song influenced how people think about the song, but it's also allowed "Where You Lead" to span generations of listeners.
"I had someone singing backup vocals who was a bit younger and I told her I sung on the theme song, and she flipped," Goffin said of the moment she realized Gilmore's reach. "She said, 'What? You are talking about my entire childhood!'"
About a year later, Helen Pai, one of the producers on the show, rang up Goffin to see if she wanted to be involved in the revival, which premieres on Netflix on Nov. 25.
"They said, 'We want to honor our whole family of people who invested in the original series and who was a part of it,'" Goffin remembered. "They told me, 'You're a part of the Gilmore Girls family tree.'"
"Gilmore Girls really is about families and community, and I think that has a lot of importance and resonance today."
Taking part in the show's revival is an experience the singer-songwriter described as "incredibly special."
"I got to meet lots of people who were involved in the show on a personal basis, more of the production people; sitting having lunch in trailers and seeing the behind-the-scenes people who were doing wardrobe," Goffin said. "It was all pretty magical for everyone, and I think a surprise to be called back."
It was also Goffin's opportunity to work directly with Sherman-Palladino for the first time. "I was just blown away at her down-to-earth command, who she is on the Warner Brothers lot, and who she is to Stars Hollow," Goffin said. "It's a massive production and she's just so human standing and directing the cameras and the actors."
In the revival, King reprises her role from the original series as Sophie Bloom, a music store owner in Stars Hollow, and Goffin can be found singing on a street corner in the lovely little Connecticut town; she makes a cameo as the town troubadour's sister.
After being on set for the revival, Goffin said she started rewatching the original series and "completely understood why it was so popular." "The show is so human and so real," she said. "I think it will reach a whole new generation of people."
"Gilmore Girls really is about families and community, and I think that has a lot of importance and resonance today," Goffin explained. "I think it's appealing to see what a tight-knit family and community can be, and to be reminded of that."