It's been a week since Parenthood fans sat down to watch the Bravermans spend their last hour on television doing what they do best: grappling with life's struggles and celebrating its triumphs. While the NBC family drama's series finale was filled with a number of important moments — like Sarah (Lauren Graham) marrying Hank (Ray Romano), Amber (Mae Whitman) settling in with her new baby Zeek, Crosby (Dax Shepard) deciding to keep The Luncheonette open himself, and Max (Max Burkholder) graduating from high school, to name a few — Zeek's (Craig T. Nelson) death was arguably the most resonant of all.
Given his poor health, surgery, and hospital scares throughout the show's sixth and final season, Parenthood fans likely saw it coming, but how the writers would illustrate this end-of-life event remained to be seen until the last 10 minutes of the series. After showing Camille (Bonnie Bedelia) discover Zeek had died while sitting in his chair in their living room, there was no scene depicting an ambulance coming to the house to wheel his body away, there was no scene showing his children and grandchildren receiving the sad news, nor was there a scene of a formal funeral or memorial service in Zeek's honor.
Of course, that doesn't mean those things didn't happen, but the harsh and somber mourning process was not what viewers saw from the Bravermans. Instead, we saw the family members, standing in a circle on a baseball diamond where they spent so much of their time, spilling Zeek's ashes onto center field while Sam Beam and Rhiannon Giddens' cover of Bob Dylan's "Forever Young" (Parenthood's theme song) played in the background. After taking turns pouring out Zeek's ashes, the family runs out onto the mound and cheerfully plays a game of baseball, a passion of the Braverman family patriarch, who considered the sport a religion. There's lots of laughter and joy among Bravermans as they each take their position, go up to bat, and run the bases. For a few moments, you forget that they're playing the game without Zeek because his presence is so strongly felt, and because there is no bitterness in the sweetness of their game.
Not only that, but fans watched them pay homage to Zeek's time on Earth by carrying out his very own wishes: Earlier in Season 6, Zeek told Adam what he wanted the family to do in the event he didn't survive his surgery: "If I die, just take my ashes, you scatter them in center field at Marine Park, and you play a game of baseball over me. 'Cause I'm going out on my terms." And the deliberate choice to show the Bravermans celebrating Zeek's life as he wanted and commemorating him by creating new, happy memories is what made the Parenthood finale so satisfying. It was a very honest look at another side of the grieving process that rarely gets depicted, but one that anyone who's lost someone has experienced.
Last year, my Great Uncle Dan died. Since he and his wife Rose never had any children of their own, he was extremely close to his sister's (my grandmother's) kids. My mom and her siblings grew up across the street from Uncle Din Din, as they called him — they ate dinner together every night and went on vacation during the summer, and he never missed a single holiday or birthday. Given the nature of their relationship, he was essentially like a surrogate grandfather to me and my cousins. Uncle Din Din is a part of every one of my childhood memories — we too ate family dinners together and went on vacation during the summer, and he never missed a single holiday or birthday of ours either.
But after a year of struggling with a weak heart, countless hospital visits, and slowly deteriorating in hospice care, Uncle Din Din's 91-year-old body finally failed him in early January. I was making a grilled cheese sandwich in my parents' kitchen and goofing around with my sister in the middle of the night when my Grandpere called to deliver the news — and I had to be the one to wake up my mom to tell her that Din Din was gone.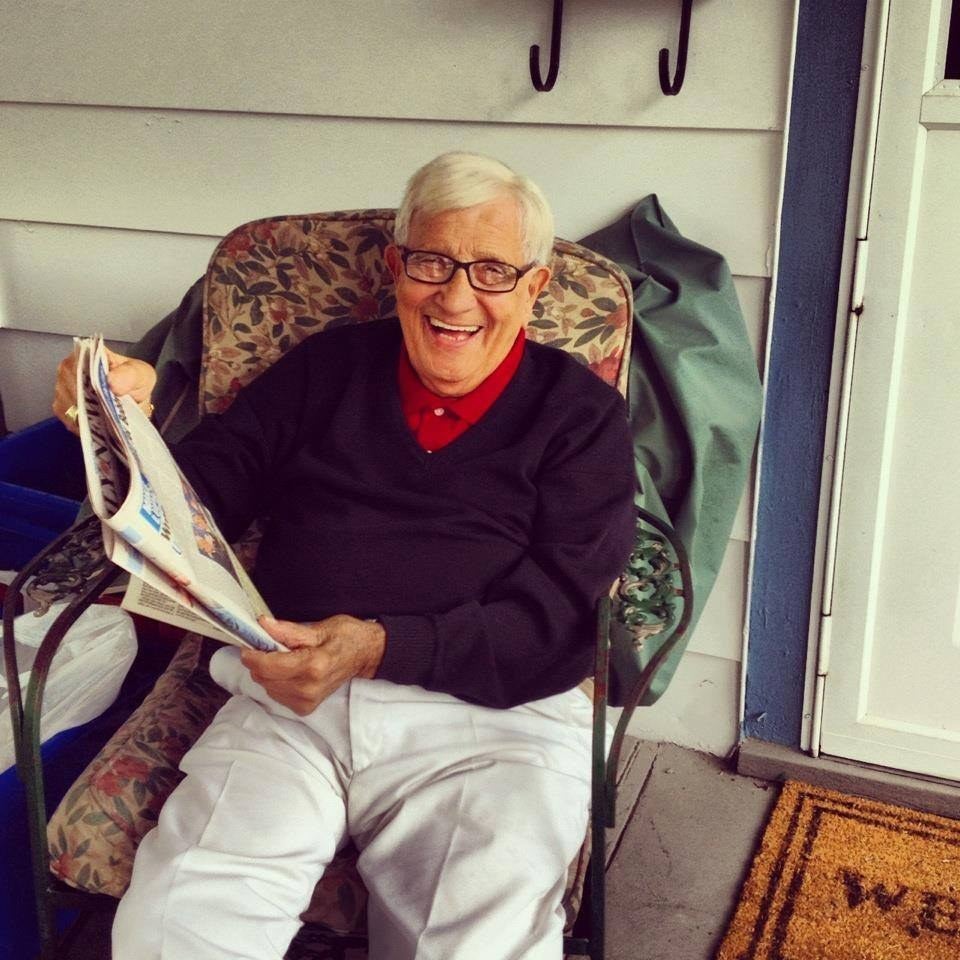 Saying good-bye to someone you've known and loved your whole life is incredibly difficult; going to Din Din's wake, writing his obituary, sitting through his funeral, and burying him at the cemetery was daunting, to say the least. Those days were impossible, filled with pain that felt like it would never end. I cried through it all, as did the rest of my family members.
I loved Din Din like the grandfather I always considered him to be. That's what happens when you come from a big, Italian-Catholic family like mine: The titles and boundaries all blur together, but the love you have for one another is clear. Your cousins feel like your siblings, your aunt feels like your second mom, and that's why it never really felt strange to me that my great uncle felt more like my second grandfather. That's also why losing Uncle Din Din was so heart-wrenching; I'm lucky enough to still have all of my living grandparents, but losing Uncle Din Din was the first time I had to confront the loss of an older, close family member.
The night before his funeral, we honored Uncle Din Din's memory by decorating the chair on his front porch with his San Francisco Giants jacket and hat, a newspaper, and a cigar — some of his favorite things and ones people most associated with him. He sat on that front porch every day for more than six decades, no matter the weather; it was something everyone in the neighborhood could depend on.
Later that night, we also decided to commemorate Din Din by doing the thing he loved most, the thing he lived for, the thing we spent so many years of our lives doing: My parents, siblings, aunts, uncles, and cousins all filled my grandparents' living room — sitting on folding chairs, ottomans, spare spots the floor, and even on top of one another's laps on the couch; basically, wherever we could fit — and drank wine, ate pizza, and devoured all the desserts and coffee that other people had sent to the house. For a couple of hours, we didn't cry or succumb to the sadness we'd grown accustomed to feeling in the days that had passed. Instead, we went around the room and took turns sharing our favorite memories of Din Din; we laughed until our stomachs hurt and smiled in remembrance of his full, bright spirit.
Because that is exactly what he loved — his whole family spending time together, eating delicious food, and enjoying each other's company. Sitting in my grandparents' living room, eating, laughing, and creating memories with his family was his favorite activity (maybe besides watching the Giants play baseball).
So that's what we did. We created new memories in honor of Din Din, we laughed, and we loved each other. When we grieve, it's easy to fixate on the sadness surrounding death. The hard thing to do is find glimpses of happiness and reasons to remember our loved ones through smiles instead of tears. But that's what the Parenthood finale depicted so well: The mourning process isn't just about pain and sadness; it's also about honoring your loved ones and keeping their memory alive. As Zeek and Din Din would have wanted.