Everything You Need To Know About The "Gilmore Girls" Character We've Never Seen
"This was never a job — this was always a labor of love," Sam Phillips, the Gilmore Girls composer, told BuzzFeed News.
There are three tiny — yet powerful — notes that exist in the Gilmore Girls universe, and their cozy familiarity transports viewers right into the fictional town of Stars Hollow. The la las have become more than the average television score; they've lovingly been adopted by fans as another character on the series, right alongside Rory (Alexis Bledel) and Lorelai (Lauren Graham).
"Usually you don't even notice a score, you don't feel that score is personal, you feel like it's background," Sam Phillips, Gilmore Girls' music composer and creator of the la las, told BuzzFeed News in a phone interview. "It's been so touching that the people who love the show named my score 'the la las.' It's such a compliment."
In the pilot episode of the series, Gilmore fans were introduced to the classic la la sound — the upbeat, fast-paced tune follows Rory after her first interaction with Dean (Jared Padalecki) at Stars Hollow High School, indicating something's budding between them.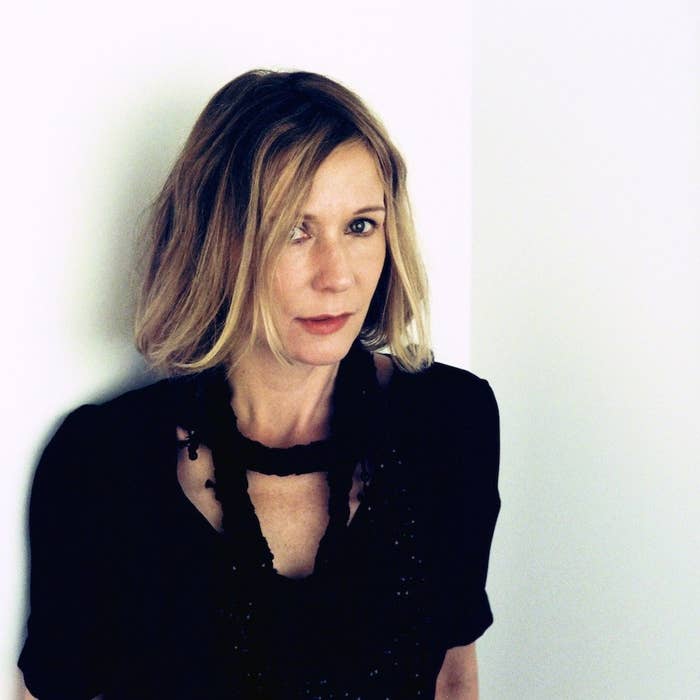 There's also a softer and slower version of the la la featured during more emotional and sentimental situations, like the ones that play as Rory writes the first few chapters of her book at Richards' (Edward Herrmann) desk in the Gilmore Girls revival, the elongated notes signifying a life-changing and important experience.
And there are plenty of other la las in between, providing insight into what Lorelai and Rory are thinking and feeling, and allowing fans to connect to those moments and emotions, too.
When Gilmore Girls was originally airing in the early 2000s, other teen shows like One Tree Hill, Dawson's Creek, Smallville, and The O.C. commonly incorporated popular songs, like the 2000 hit single "Crazy for This Girl" by Evan and Jaron on Dawson's and Jeff Buckley's "Hallelujah" on The O.C. But Gilmore Girls creator Amy Sherman-Palladino wanted to do something unique, and she knew who she wanted to help her make it happen.
Years before Gilmore Girls premiered on The WB in 2000, Phillips had a successful career as a singer-songwriter. She was even nominated for a Grammy Award in the Best Female Rock Vocal Performance category in 1995 for "Circle of Fire," a song from her 1994 album, Martinis & Bikinis. In the late '90s, Sherman-Palladino saw Phillips perform in Los Angeles and asked her to compose for her upcoming Warner Bros. TV series about a mother and daughter.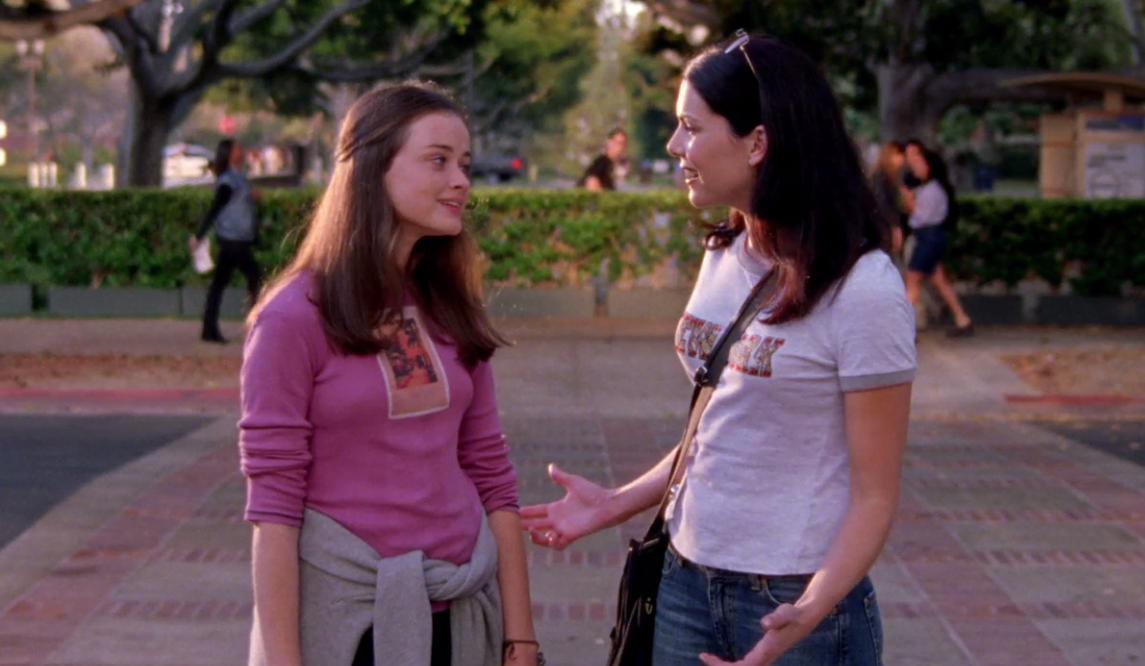 "I hadn't ever thought about doing any TV composing or music for TV. I was really focused on writing songs and performing and touring," Phillips explained shortly before the revival, Gilmore Girls: A Year in the Life, was released on Netflix. "But Amy's show was so charming, and she was really charming."
According to Phillips, Carole King was the first person Sherman-Palladino asked to score Gilmore Girls, but King only agreed to do the theme song, which has gone on to have its own legacy. For Phillips, being next in line to King was "a pretty good second."
"She wanted something different, and she told me she wanted my voice in there as a character in Lorelai and Rory's head," Phillips said of Sherman-Palladino. "I tried writing some lyrics, but because of all the dialogue, that didn't really work."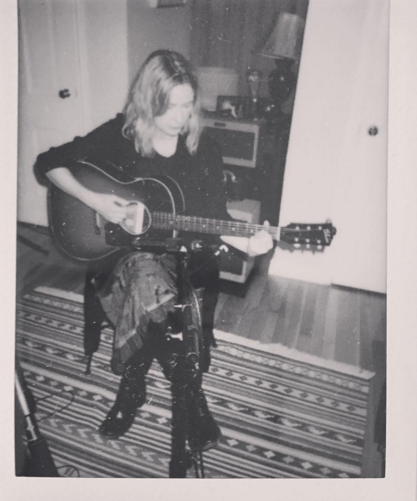 The Gilmore Girls composer said she was ultimately inspired by Harry Nilsson, who worked on the classic TV show The Courtship of Eddie's Father in the late '60s and early '70s. He was one of Phillips's heroes, and had sung background vocals for the show's score.
"For some reason, I went back to that and I was thinking about him, and I started doing these little song pieces that I hadn't finished," said Phillips, who was also inspired by the background vocals of King and The Beatles. Her experience singing backup on her own songs as well as on tracks for other musicians — like "One Headlight" by The Wallflowers — helped Phillips figure out how to "naturally communicate the melody the best."
"I would sing those and play those very simply, and Amy really liked that," Phillips said. "Every time I tried to do a little something like maybe bring in heavy strings or other instruments, she really wanted to go back to that very plain guitar and vocals."
And thus, the la las were born.
Working on Gilmore Girls was emotionally fulfilling for Phillips at a time when her life aligned with what was playing out on screen: The composer became a single mom to her only daughter Simone, who was 7 at the time, after divorcing from her first husband, Grammy- and Oscar-winning songwriter and producer T. Bone Burnett.

"A lot happened during the course of Gilmore Girls. I got divorced, 9/11 happened, and we went through a lot of changes together," Phillips said. "When I watched the episodes each week, I felt like sometimes the writers were reading my mail or something. I felt like a lot of the things that Lorelai went through, I was going through."
"Of all the places I've played around the world, Stars Hollow was one of my favorites."
The Gilmore Girls crew became something of a family behind the scenes as well. At the beginning of the series, Sherman-Palladino would sit in on all of the music spotting sessions with Phillips, where the composer and other crew members would watch what had already been filmed and decide where the music should go. "We would just eat snacks and laugh," Phillips said. "Those are some of my best memories because Amy is truly a funny, great person, and she was great in letting me do what I do, which was just create an odd little score. This was never a job — this was always a labor of love."
It wasn't long before she and Sherman-Palladino became friends. "I appreciated that Amy let me just kind of do something different, and she was always protective of me in terms of getting notes. I just basically did what I wanted to do," Phillips said. "When the show was over, Amy wrote me a very beautiful email that said, 'Thank you for writing these little masterpieces.'" (Eventually, Phillips went on to compose music for Bunheads, another Sherman-Palladino creation, which premiered on ABC Family in 2012.)
In 2004, Phillips met her second husband, Eric Gorfain, a violinist and a music arranger. Coincidentally, Gorfain had appeared in an earlier season of Gilmore Girls alongside the town troubadour. When Phillips and Gorfain started dating, the trusted Gilmore Girls family had Phillips's back. "Amy and our wonderful producer Helen Pai grilled him," Phillips said. "They made sure that he was OK."
Both Phillips and Gorfain also ended up in a scene together in the Season 6 finale, Sherman-Palladino's final episode of the original series. The creator had previously asked Phillips to appear on the show, but she didn't have any interest in being on camera. That changed at the end of Season 6; it was unclear if Sherman-Palladino would come back to the show or not, so Phillips felt "sentimental" about making a cameo in what would possibly be the creator's last.
In Season 6, Episode 22 — aptly titled "Partings" — troubadours occupy the streets of Stars Hollow with hopes of getting discovered after the usual town troubadour joins Neil Young on tour. Phillips plays one of the troubadours who strums on her guitar while standing in front of Luke's Diner.
"It was so funny to be on that side of the camera, and I hear that after they wrapped that scene, there might've been a secret margarita bar somewhere on the lot," Phillips said. "It was a great chance for everybody to really celebrate. Of all the places I've played around the world, Stars Hollow was one of my favorites."
When it came time for Phillips, Sherman-Palladino, and the rest of the Stars Hollow family to reunite for Gilmore Girls: A Year in the Life, 10 years after that Season 6 finale, Phillips said it was clear from the first table read that everything felt like home again.
"We didn't even have to be on the set. They were just sitting, reading the scripts, and you just felt like you were back," Phillips said. "You were back in Stars Hollow."
"It was kind of getting our little music gang back together."
For the sake of nostalgia, Phillips recorded some new la las at the home studio she and Burnett had built when she first started on Gilmore Girls. She even called up Mike Piersante, her recording engineer from back in the original Gilmore days, to help her out with the music for the revival.
"It's fun because it's like a family where we all love the show and we've all worked on it for years," she said. "It was kind of getting our little music gang back together."
When Phillips originally recorded the score back in the early 2000s, the tight timeline that she had to turn around her music led her to "just go with emotions and instincts." When creating music for the revival, she had the luxury of time on her side and was able to work with the show's sound mixers to get everything right. "I listened to the cues and made sure they sounded good, and I feel that I've come a long way in working on TV music in the last decade," she said. "I was very proud."
For the revival, which consisted of four 90-minute episodes, Phillips also helped compose a number of other cues — including her favorite, which was featured in the scene with Kirk (Sean Gunn) and Petals the pig — as well as the song "Welcome to Our World," which plays in the "Spring" episode when Stars Hollow hosts the Foreign Food Festival.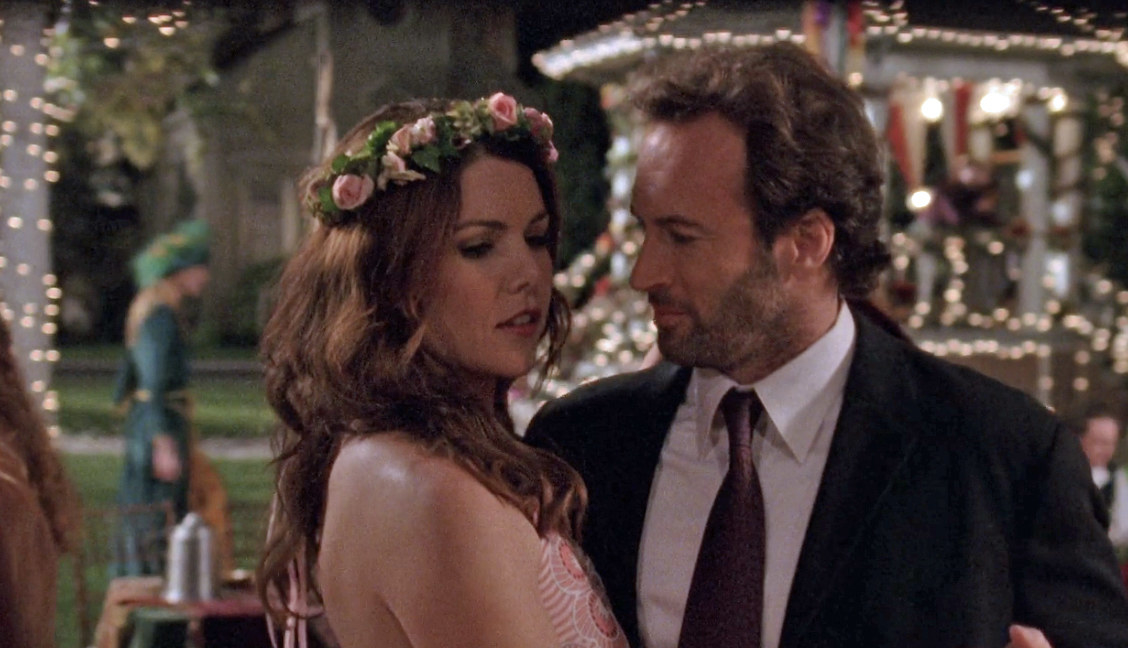 "Reflecting Light" also plays in the background of Luke (Scott Patterson) and Lorelai's wedding montage in one of the last scenes in "Fall." The song was featured on Phillips's album A Boot and a Shoe in 2004, and Sherman-Palladino loved it so much when she heard it that she decided to put it in Gilmore Girls' Season 4 when Luke and Lorelai dance together at Liz (Kathleen Wilhoite) and T.J.'s (Michael DeLuise) Renaissance-themed wedding. So it only made sense that it would play again during their own intimate wedding.
Phillips was on set the night they filmed that montage and saw all of the lights, decorations, and backup dancers. The moment brought her to tears.
"If you do look at the lyrics, it's not exactly the most romantic song," Phillips said. "But Amy loved it, and I was very honored that it had that great place at the end of the last episode in the revival. I thought it was really beautiful."
Earlier this month, it was reported that Netflix is in very early talks with Sherman-Palladino to continue the revival and bring even more episodes to the streaming site. Though nothing is certain, Phillips said back in November that she'd love to compose for more episodes. But she also wants the show to continue because as a fan, she didn't see "an ending, just another chapter."
"We can't leave it
here — there has to be more."
"There are too many questions. It really didn't tie it up for Rory. It tied it up a little more for Emily [Kelly Bishop] and Lorelai in a very sweet way," Phillips said. "We can't leave it here — there has to be more. Rory's life is in such chaos, so I'm crossing my fingers that, if there's enough enthusiasm and people love the revival enough, that they'll all come back and do more."
But if this is where the road ends for Phillips and Gilmore Girls, she has no regrets.
"I've been moved so many times with great music in film and television, and it was a huge challenge for me to compose for TV. Some of the times I got it right, not all the times," Phillips said. "But when it felt like it was the emotion was coming through, those were some of my most proudest moments."