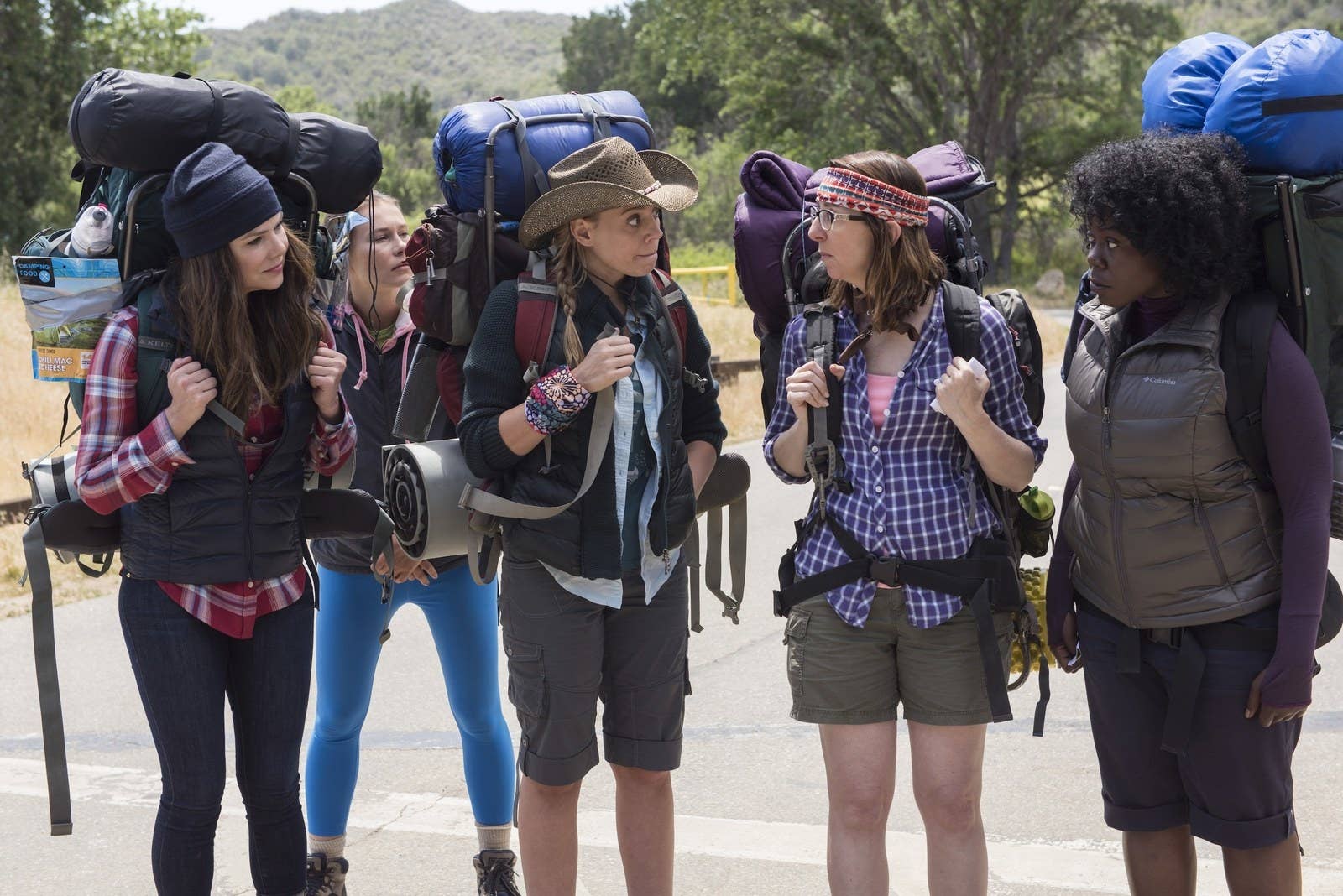 From Richard's (Edward Herrmann) love of reading to Rory's (Alexis Bledel) book obsession, and even Jess's (Milo Ventimiglia) job at a small book press, literature has always played a significant role in Gilmore Girls. But in the recently-released Netflix revival, Lorelai's (Lauren Graham) decision to "do Wild" — aka hike the Pacific Crest Trail like Cheryl Strayed does in her memoir — brings the show's literary inspiration to a whole new level.
"[Wild] was a really great, beautiful platform that was resonating amongst women."
"I just thought [Wild] was a really great, beautiful platform that was resonating amongst women," Gilmore Girls creator Amy Sherman-Palladino told BuzzFeed News in a phone interview with her husband, the show's executive producer Daniel Palladino. "At the heart and soul of Gilmore Girls ... it is a show about women: interesting women, smart women, grappling with more than just romance. They're really grappling with who they are."
In Gilmore Girls: A Year in the Life, Lorelai is coping with the loss of her father with whom she had a complicated relationship, while also dealing with the intricacies of her romantic relationship with Luke (Scott Patterson). Eventually, the stress drives Lorelai to travel from her small town of Stars Hollow, Connecticut, to the Pacific Crest Trail along the West Coast.
"The fact that the writers of this show decided to tell my story within their own story, I feel honored and amazed," Strayed told BuzzFeed News in a phone interview. "Like truly amazed, and deeply flattered."
When she was only 26 years old, Strayed was motivated to hike the PCT while struggling with a divorce, drug addiction, and, primarily, the loss of her mother, to whom she was very close.
Wild, which chronicles her hike, was published in 2012, and two years later, it was adapted into an Oscar-nominated film of the same name, starring Reese Witherspoon. Women were so taken with Strayed's story that they, too, started hiking along the Pacific Crest Trail in huge numbers. Palladino, who's also a writer and director on the show, said when he and Sherman-Palladino read an article on the Wild phenomenon a few years ago, it stuck with them. "It was always in the back of our minds," he said. "When we started talking about [the revival], one of the very first things we discussed was we wanted Lorelai to go on some sort of personal journey to figure out why she's sort of blocked with her relationship with Luke."
"You've gotta get out of your comfort zone."
Gilmore Girls fans know Lorelai is typically less than enthused about anything having to do with nature. Much like Strayed, she lacked the experience and preparation necessary for a huge hike. But Palladino thought that going "on a Wild journey" and doing something that "is so not her personality" would be both funny and important for the character.
"You come to a point in your life where decisions have got to be made and you've got to make a change," Sherman-Palladino said of Lorelai's decision. "You've gotta get out of your comfort zone. People do it in very different ways."
Strayed agreed that sometimes, when you're in search of self-discovery, "you don't know how you're going to find it."
"I love that piece of it, that you always have to find your own way even if others might be helping you along," the author said. "We're always influenced by others, but you have to find your way."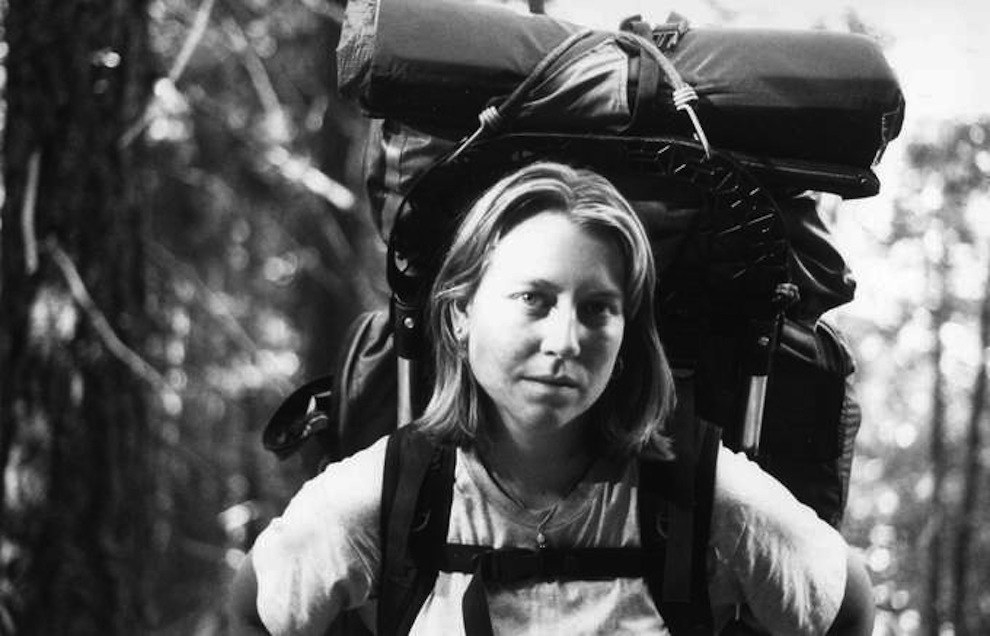 Strayed found out about Wild's role in Gilmore Girls: A Year in the Life the same way everyone else did — by watching the revival on Netflix. She and her 11-year-old daughter Bobbi (named after her late mother) recently started watching the original series on Netflix as their "girl date." (Strayed had always been told Gilmore Girls was "this amazing mother/daughter show.") But when she saw Wild appear in a trailer — in which Lorelai is reading the book poolside — they excitedly decided to skip ahead to the revival. Strayed said she "seriously almost fell off [her] couch" when Lorelai told Luke, "I'm going to do Wild" in the third episode, "Summer."
Lorelai doesn't end up completing her hike on the Pacific Crest Trail. In fact, she doesn't even make it past the park ranger on her second day because she forgets her permit. She does, however, stumble upon a mountain vista that takes her breath away, brings her to tears, and provides her with the clarity she's been looking for.
Even though Lorelai barely makes it to the PCT and Strayed hiked nearly half of the 2,650-mile trail, they share an important commonality: For both women, it was ultimately about the emotional journey, not the physical one.
"There's often truth and poignancy layered among ridiculousness and humor."
"We all want to be so in control of everything, including our own spiritual enlightenments, but the moments that saved me or that changed me were moments I would've never planned or asked for," Strayed said.
The Wild storyline in A Year in the Life is filled with emotion, but in true Gilmore Girls fashion, there are also plenty of lighthearted elements — like all of the women who show up in droves to hike the trail and ask each other, "Book or movie?" as to what inspired them to go in the first place.
"That's one of the things that makes people love Gilmore Girls so much, is there's often truth and poignancy layered among ridiculousness and humor," Strayed said. "That was obviously a spoof or a comic moment, but there were some pieces of real truth in there, too."
That real truth comes in the form of Lorelai calling her mother, Emily (Kelly Bishop), from atop the mountain, where she tells her, through many tears, about her happiest memory with her dad. It was a phone call months in the making, after Lorelai failed to come up with a meaningful memory at Richard's wake, causing the biggest fracture in Lorelai and Emily's already strained relationship. Lorelai's closure relieves Emily as well, finally bringing them both some peace.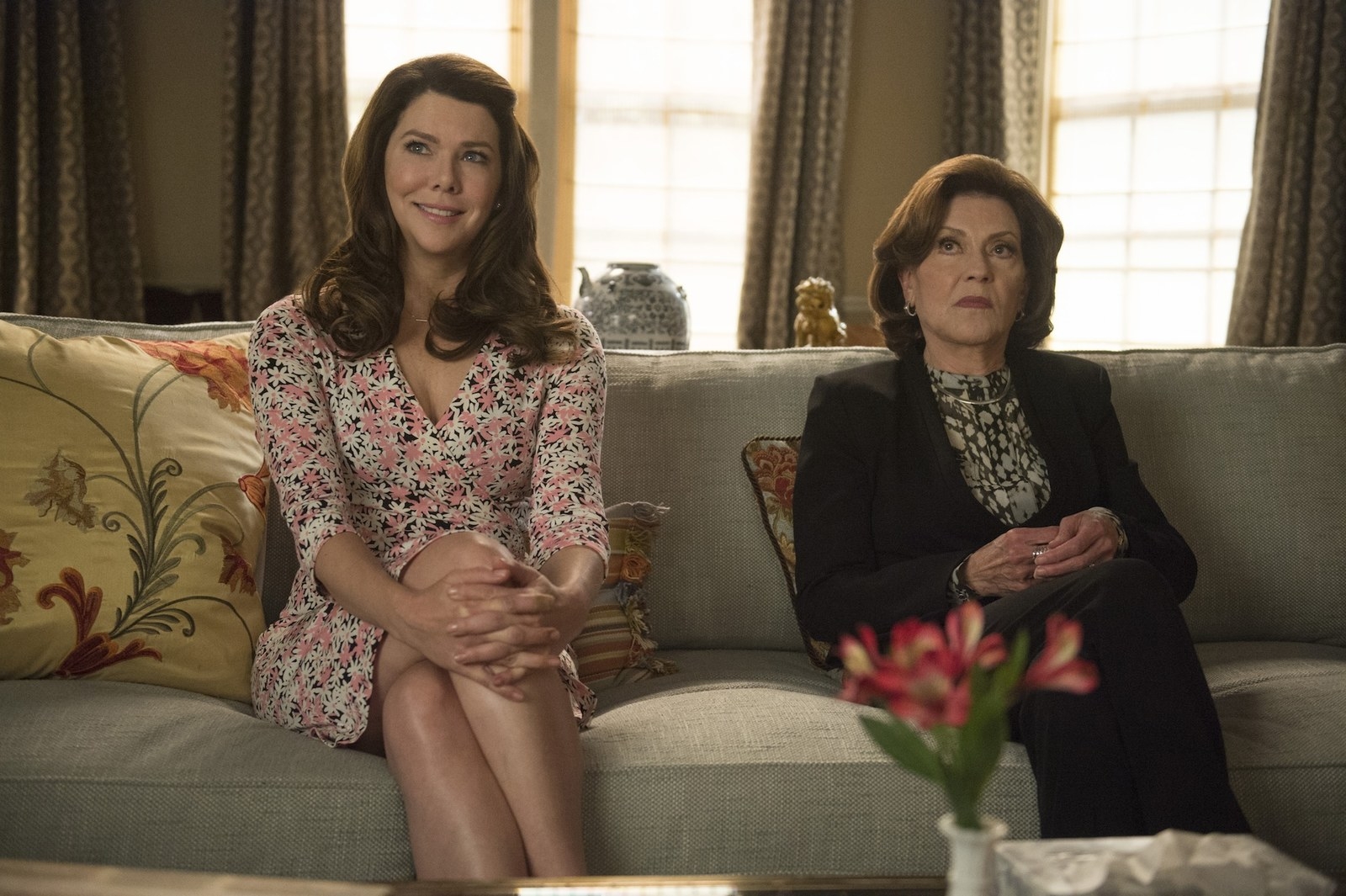 Strayed personally relates more to Rory and Lorelai's mother-daughter dynamic than Lorelai and Emily's, and she identifies with Rory in general. "Like Rory, I've been a book-lover ever since I was a little kid and I've always been a writer, too. That was always my dream," Strayed said, referring to Rory's decision to write about her and Lorelai in the revival. "Wild is about two things: It's about my hike on the Pacific Crest Trail, and it's also about my love for my mother, and my grief. It's the story of our life and our relationship, and so I was so identifying in what I was seeing in Rory's journey, too. I was that girl who wrote about the complexities of the love and bond that I have with my mother."
"This is such a beautiful, painful part of life."
The author said there are "all kinds of similarities" between Lorelai and her mother, the most obvious being that they both had their daughters as teenagers. As a result, Strayed said, both Lorelai and her mother are "moms who are both mother figures and kind of a friend."
Despite identifying with Rory, Strayed said she also understands Lorelai's struggle to properly grieve the loss of her father. "This is such a beautiful, painful part of life," she said. "Sometimes it takes even more strength to remember the love and the kindness and the generosity that we've received from people than it is to remember how they hurt us, or how they didn't live up to our hopes and expectations. To admit to their gentleness or their beauty is more painful, I think. It's not about fighting, it's about accepting. It's about saying, 'Okay, I can see the whole you and I'm not going to fight you anymore. I'm going to accept you.'"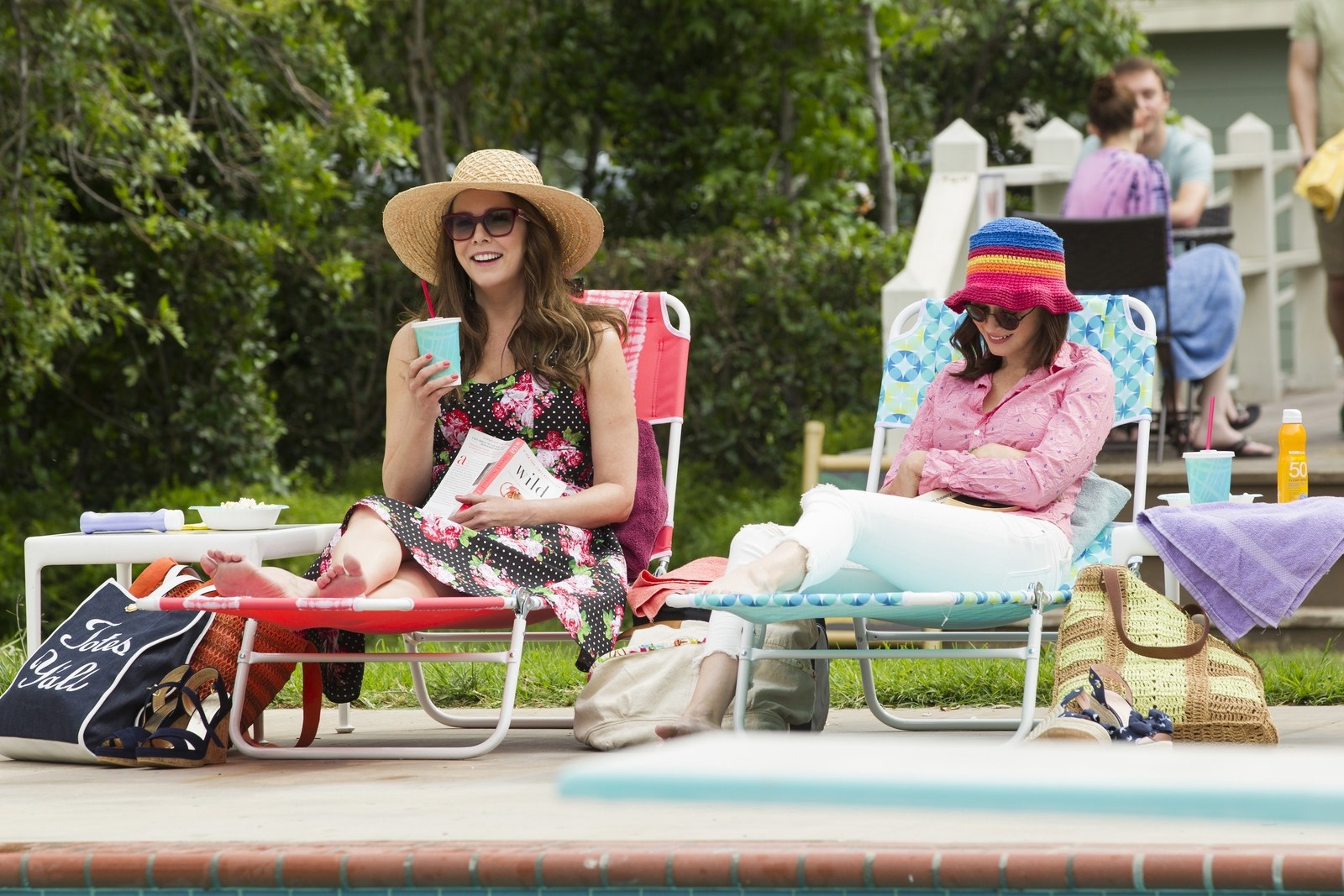 After hearing the final four words in the series, Strayed joined the majority of Gilmore Girls fans who want to see more episodes. She said in a dream world, she'd even love to make a cameo, suggesting that she could be an author who Rory asks to publicly endorse her Gilmore Girls book. Unfortunately for Strayed (and millions of other fans), Sherman-Palladino told BuzzFeed News that there are currently no plans for more Gilmore Girls.

"My story is just mine, but the fact that it inspires other people to go find theirs is powerful and beautiful to me."
Regardless of a potential cameo, Strayed said she is "truly profoundly honored" that her book was included in Gilmore Girls: A Year in the Life.
"My story is just mine, but the fact that it inspires other people to go find theirs is powerful and beautiful to me," she said. "I always say to people when they ask me if they should hike the PCT, it's not so much about specifically hiking the PCT or following in my footsteps. You can't replicate what I did, but go find your own journey. Go do something that makes you feel."