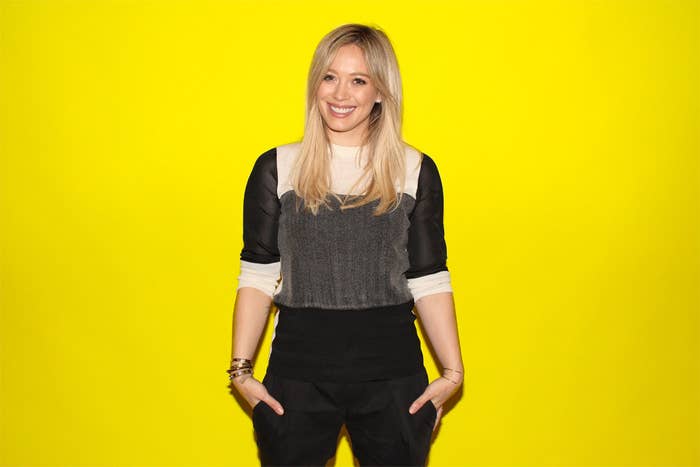 If you were a '90s kid, there was no bigger icon in the world than Hilary Duff. From being your favorite Disney Channel star, Lizzie McGuire, to singing the mega-hit "Come Clean," she was the ultimate fixture of your teen life.

When she made her official comeback this year — releasing a new single, "All About You," and signing up to star in the new TV Land series Younger — it was like everything in the world finally made sense again. So naturally, we were beyond excited to have Hilary stop by BuzzFeed NY — and after fangirling over seeing Lizzie IRL, we chatted with the star about everything you've always wanted to know.
1. On what Lizzie McGuire would be up to now:
Do you think she'd be married to Gordo?
Hilary Duff: I don't think she'd be married to Gordo. I don't know, I think she'd go off to college and potentially become a little cooler than she was, but still not bitchy at all. I think she's just the biggest-hearted girl ever.
Maybe she'd move to New York for a while, and her parents would probably follow her and rent an apartment secretly. I think she's pretty smart. I can imagine her being on a path to something really special and great, but I feel like she'd still be working her way through the office grind and she'd probably constantly embarrass herself — mishaps in the office all the time. And she'd probably still be wearing butterfly clips, bringing it back!
2. On her favorite ~Hilary Duff~ song:
HD: Maybe "Come Clean" is one of my favorite ones that I continue to listen to. I mean, my voice, I feel like I sound like such a baby, but it's just a pretty solid song. It's a good song that has withstood years and years of music changing and all that.
3. On AIM screen names:
Did you ever have an AIM screen name?
HD: I still have an AOL email account, OK? Everyone that I give my AOL account name to, they're like, "Oh, is that your AIM?" I'm like, yup! I probably still have bubbles up from people.
4. On celebrities like Taylor Swift & Lorde fangirling over her:
Did you see Taylor Swift call you a magical princess?
HD: I saw it at night and I was like, Did I dream that? That's cute! Aw. It's really flattering, and it doesn't even feel real sometimes.
You know, I feel like such a normal person — I AM a normal person. Everyone's always like, "She's so normal," and it sounds funny to actually come out of my mouth. I just am! And so, you know, I'm just really big fans [of them]. I love Lorde and had her record on repeat. And same with Taylor Swift — she's just a pop gangster, and it's really flattering!
Would you ever do a collab with either of them?
HD: Of course! Give me all of them!
5. On whether she's just as klutzy as Lizzie McGuire IRL:
HD: I'm extremely klutzy in real life. My bathroom constantly looks like a murder scene, because I get out of the bathtub and I've cut my legs, like, eight different times. I have scars on my hands because I was just cutting into an English muffin and basically, like, sliced the top of my finger off! But I'm much more in control of my body than she was, and not, like, physically awkward, you know? I think I just move too quickly through things, and then don't pay attention.
6. On her Lizzie co-stars:
HD: I remember one time I was plugging my meter outside, and I saw Hallie, who played my mom on the show, and I was like, "Oh my god!" I cried on the street. We all, I think, hold each other in a really special place.
7. On whether or not she was a fan of Laguna Beach:
HD: I was! I was never like a total dedicated fan because when Laguna Beach came out I was touring, so we didn't have — this was years ago, there was no Wi-Fi on buses or Apple TVs — so I never got to watch it like everyone else did, but I was very familiar with a lot of episodes and what the storyline was about it, and I'd talk about it with my friends.
When MTV called to [use my song], I was like, Wait, what? I was confused because reality shows weren't really [a thing], so I was like, I guess I don't know, and I said OK. And then they used another one of my songs for the show Sweet 16, and that was a song my sister and I wrote together — so I was, like, just killin' it on MTV!
8. On when we can expect her album and tour:
HD: I think probably not as soon as I thought, but yeah! That's the ultimate for me, wanting to be back onstage again. Working on the show, I work so much, and I'm based in LA, so it's kind of just got me all out of sorts, but in a good way. So I'm just re-evaluating timelines and what's realistic — proper rehearsal times, and actually finishing the record and what a tour would look like for me. I'm trying to figure that all out right now.
When can we expect your album?
HD: I think in a few months!
9. On how she felt about her on-screen ex Penn Badgley being Gossip Girl:
HD: I have to be honest with you, I stopped watching Gossip Girl eventually and didn't figure out who it was. And the hair girl on Younger was the hair girl on Gossip Girl, so we were talking about the cast and stuff the other day, and I was like, "How's everyone?" and I'm like, "By the way, who was Gossip Girl?" and she was like, "It was Dan!" and I was like, "What?!" Weird, I didn't get that.
I've known Penn my whole life. I grew up with him. So it was weird to, like, have sex scenes and stuff.
10. On what she'd be doing if she wasn't an actress and singer:
HD: I'm really into interior design, and obviously I love fashion and stuff. I'd probably just go to college and figure it out from there. I've always loved home decor — food and decor magazines, those are always the magazines I buy.
11. On how she feels about her fellow pop stars:
HD: I'm such a huge pop fan, and love seeing all these young people just dominating. It's really cool. It was really hard when I was coming up, because I was so young, and no one thought I was capable of any of it. Everyone was always second-guessing me, and I felt like I had to fight for everything, or fight for people to take me seriously. And it was really, like, the fans and the people that loved me from my show that helped me be so successful. So it's nice to see that there's been a shift and that young people really can dominate.
12. On how filming TV has changed from her Lizzie days to now:
HD: Honestly, filming this show, my heart goes out to Sutton — because, you know, she's in both storylines, she's the star of the show. And I remember filming Lizzie, I was in both storylines, and there was basically zero scenes without me in them. And I'm so grateful I usually get a day off a week, and it's nicer with my kid, you know? I'm trying to work on my record and do that, so it's nice to not be so slammed.
13. On her style and her favorite places to shop:
HD: I just moved to Brooklyn, and there's a store there called Bird that I really like, but I'm like a high-low shopper. I love going to flea markets and finding janky shit, and then I love, like, Isabel Marant.
I love any kind of bootie-jean situation. I'm a mom now, so I don't have that much time to sit and prep my outfits like I used to. I really like to wear my clothes and rework them different ways and use them just like everybody else.