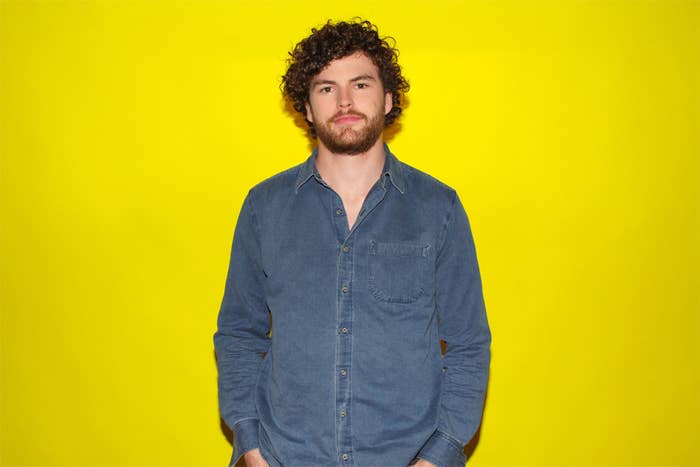 Vance Joy has already been making headlines with his hit single "Riptide," and the talented Australian with swoonworthy good looks just released his debut album Dream Your Life Away.
Currently on his own headlining tour, it was just announced that he'll be joining Taylor Swift on her upcoming 1989 World Tour. You're about to see a lot more of this talented singer-songwriter, so now's the perfect time to get to know your new favorite Australian.
I got my name from a book called 'Bliss' by Peter Carey, which is an Australian story. I had about five or six songs I was really stoked with, and I just wanted to have a name to put with that new collection of songs that wasn't my name, because people always mispronounce Keough because it's got the 'gh' at the end. So I used Vance Joy, which is a character [in the book] — he's like a storyteller, so it's a cool name.
The film in 'Riptide' — 'there's this movie that I think you'll like' — is Midnight Cowboy. I was on the plane about four years ago and my dad told me about this movie Midnight Cowboy and I was like, I really wanna see this film, and I went back and watched that.
I sing 'the closest thing to Michelle Pfeiffer that you've ever seen,' and my inspiration for using that, or I guess what I was referring to, was Michelle as Catwoman because she comes back to her apartment after being thrown out the window by

Christopher Walken

and she goes mental. Her apartment's all pink and beautiful, and kind of creepy and infantile, then she just smashes it all up and spray paints stuff and transforms into Catwoman. It's this really kind of sexual scene; it's amazing.
I think it's something about proportions. I think I'm unproportionate as a human being. My head is a bit big — I have a slightly big head and lips. When people come see me after the show they're like, "Wow, you're so tall, we thought you were, like, normal height or even small.' I'm 6 foot 3, and 6 foot 4 with heels.
I grew up playing guitar. Fourteen-year-old boys are obsessed with angry-boy music, so I was obsessed with Metallica — and I learned all the intros, like 'Master of Puppets,' and thats when I started playing.
We always have these debates in the tour bus, like, 'When was a film made?' and they're like, 'When was

The Matrix

made?' and I'm like, '1999.' And then it's like, 'When was

10 Things I Hate About You

?' and I'm like, 'Actually, I think that's 1999 as well.' So I kind of have like a very mild superpower of knowing films from when I was like, 10 or 11, being aware of films, to now. I can kind of tell you where it lies from 1999 to 2014.
7. The first CD he bought was Savage Garden.
I like going into a dark room where everyone's like — no one can see anyone, it's all smoky — and you just, like, dance and you're getting all sweaty and you're against the wall and then there's someone and you're just giving them a look. I like doing that.
I grew up Rollerblading and it was never that fashionable, obviously, with Rollerblades — but yeah, I have a desire to kind of get back into Rollerblading!
I love Frisbee. I feel like on a scale of Frisbee, I'm somewhere toward an intermediate Frisbee person. I can bounce it off the ground, and I feel like I'm not being arrogant about saying I'm good at Frisbee.
I say 'rad' a lot, 'radical' a lot. I don't know if I'm happy about it, but I say it.
I've got an uncanny ability to digest sweets, like sugar. I can eat a lot of carbohydrates and I feel like I've become more aware of this since carbs have been bad, but yeah, I just need sugar after like a promo shoot. Just, like, feed me sugar when I'm grumpy.
I did Japanese in high school, so I can say a few things, what I like, etc.
I really like Jim Carrey. I really think he's amazing. He's limitless.
I'm a big fan of The Muppets. I watched the second Muppets on the plane recently and it's the funniest thing ever.
16. His favorite emoji is the monkey with hands over his eyes.
17. His celebrity crush is Michelle Williams.
My biggest fear is just like not having a say. Like, if one day you're on stage and you're singing some songs that you hate and you're just like, Ughhh. It's like, How did it get here?
19. He can spell Vance Joy in sign language!