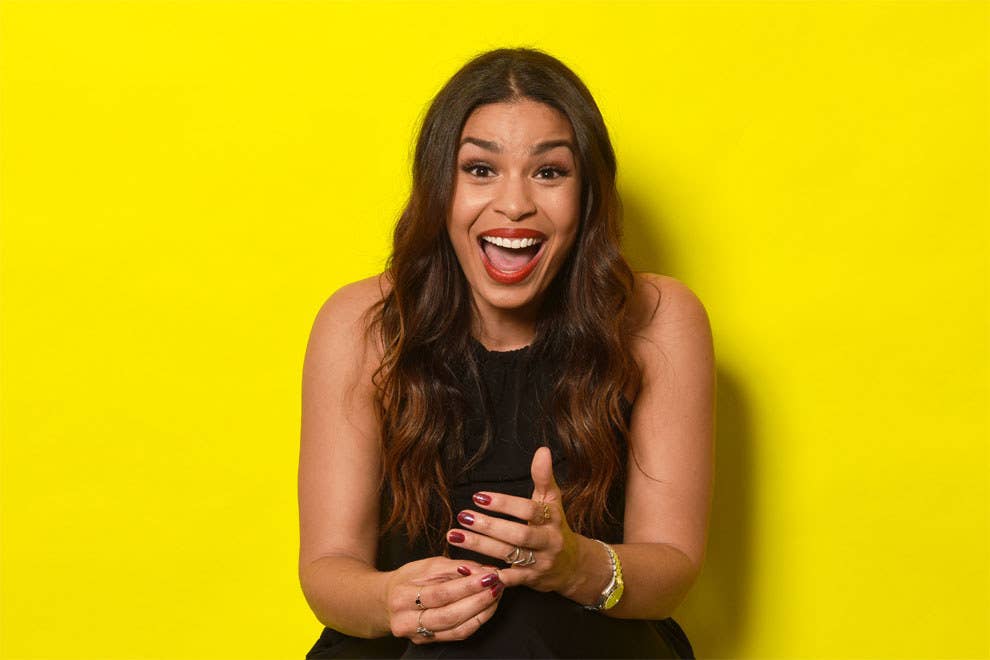 After a brief hiatus from music to focus on other projects (maybe you saw her star turn in the movie-musical Sparkle), Jordin Sparks is back and ready to dominate once again. In 2014, the singer turned 25, released her new mixtape #ByeFelicia that marked a new sound and level of honesty, and started working with Microsoft Lumia to increase awareness for her foundation I'm M.A.D., Are You?
Her foundation — which aims to encourage teens and young adults to make a difference — has partnered with Microsoft on its #MakeItHappen campaign, helping to make 31 resolutions happen before the end of 2014. So when the talented singer stopped by BuzzFeed New York, we asked her all about her life this year — everything from her resolutions for the new year to her favorite music moments of 2014.
1. What resolution have you completed this year that you're proud of accomplishing?
Jordin Sparks: I know one of them was to continue raising awareness for my charity, so it actually goes hand in hand with the #MakeItHappen campaign, so I did do that. My pledge for the rest of this year, and next year, and the years to come is to raise awareness for the I'm M.A.D., Are You? campaign.
2. What goals do you have planned for the New Year?
JS: I want to go on tour again, and I want to see all of my fans. It's been awhile so I just cannot wait to get out there and see everybody. I want to get the album out, first. I can't make resolutions for everyone else, but my resolution is that everybody likes my album!
3. What's your dream duet?
JS: When I think back on growing up and who I wanted to sing with or at least meet, I actually got checkmarks next to all three. I met Mariah Carey — she is one of my biggest inspirations and still is. She gave me a hug and I didn't even know what to do with myself. I got to work with Whitney Houston and I sang with her — the last song she did was a song with me, so that's overwhelming. And then I was such a big fan of Chris [Brown] — before I did Idol, I had his poster on my wall. I remember my mom walking into my room, and saying, "I don't understand why you listen to that, he's not even cute." And I was like, "You watch momma! I'm gonna sing with him one day." And it happened! So I've been very lucky.
4. What was your favorite song of 2014?
JS: [Big Sean's] "#IDFWU." Favorite song of the year. I play it every day! Multiple times a day.
5. What's your favorite song to cover?
JS: There's a slow song by Patty Griffin called "Let Him Fly" — the song is so beautiful and it's just me and my keyboardist and it's just so pretty. I love to cover that at my concerts.
6. What's your go-to karaoke song?
JS: "I Wanna Dance With Somebody" by Whitney Houston! And I did "Bang Bang" with Amber Riley the other night — I didn't realize how hard that song is! I am up for karaoke at any moment; you just tell me when and where to be!
7. What's the most embarrassing thing to ever happen to you on stage?
JS: I embarrass myself all the time — I'm really clumsy, I say really dumb stuff. But when I was on the Idol tour, me and Melinda Doolittle were doing our duet across stage, and there's a moment where we both crisscross and I literally fell right on my ass. I just sat there and kept singing the song and I'm just like, I cannot believe this just happened. I had a pretty good bruise. I didn't miss a beat, which is the funniest part of it.
8. What was your thought process behind doing the new mixtape?
JS: What we wanted to do with the mixtape was give an old-school sampler of what's to come for the album. So some of the songs that are snippets you're going to get the full version of, and then there are some songs that aren't going to be on it, and then some songs you haven't heard that will be on the album. But the overall tone is what you heard.
9. Your new mixtape is titled #ByeFelicia — what's the story behind that name?
JS: I was trying to come up with a name for it and I was like, I don't know this seems too serious, this seems too that, this is not working and I was just like, Ugh, bye Felicia. And I was like, you know what? That works. It applies to my life — because you all know what it stands for, right? So you dont even care what that person's saying or who their name is. Bye, just go. Bye. So for me, it applies because I don't have time for certain people or certain things — plus, I wanted the mixtape to be fun. And I figured if people saw that, they would know going in that it's a good time.
10. What was your first AIM screenname?
JS: [It was] JBSFluffy. So "Jordin Brianna Sparks Fluffy," and Fluffy was my hamster's name. I think I still have it!
11. What's your favorite boy band?
JS: NSYNC! But I have to include Backstreet Boys because I did get to tour with them. That was a crazy moment — I was on the NKOTBSB tour and it was so much fun. I'm still holding out for the NYSYNC reunion — I don't care if they say it's never going to happen. I'm still waiting.
12. What's the last album you bought?
JS: I got Drift by Elijah Blake, which is great. I was just in the studio with him.
13. What's the first album you ever bought?
JS: I bought a cassette tape! My first cassette tape was Spice Girls Spice World — I still have it! And then Christina Aguilera, Jessica Simpson, NSYNC, Britney Spears — all of that.
14. What's your favorite fan story?
JS: They're very giving and supportive, and I remember on the Idol tour I said that my favorite candy was Lemon Heads. Listen, I overdosed on Lemon Heads that summer! I didn't even know they made jumbo bags that big. They would send them to me, to the venue, to my hotel. So many Lemon Heads! My new favorite candy is the Rip Rolls. I like sour stuff!
15. What's your favorite place to go?
JS: Barnes and Noble, happiest place on Earth for me. For my 18th birthday, I went to Barnes and Noble and my grandpa called ahead and asked if they'd keep it open past closing time for me, so I could go in and just read and take all the books I wanted. I was laying on the floor and had tons of books spread around me — that was one of the best presents I ever got.
16. Who was your favorite TRL host?
JS: Carson Daly. I really liked Carson; I thought he was cute! I wish they would bring it back.
17. Twitter or Instagram?
JS: I actually really love Twitter because of being able to respond to all of my fans. I have #SpeezyTalk Twitter sprees, and they can ask me whatever. I love being able to interact with my fans in that way.
18. What's your favorite word?
JS: I put this on Twitter like maybe a week ago, I was thinking of somebody who had been frustrating in a business deal and I was like, You know what, I've come up with a new word: infidiot — someone who will forever be an idiot. Feel free to use that to your leisure! #infidiot.
19. What's your favorite emoji?
JS: My favorite emoji, I call it the "smoop" — the smiley poop! And I use the "praise hands" and the "heart eyes."
20. What's your favorite quote?
JS: It's by Winston Churchill and I remember reading this quote in the seventh grade and for some reason at that time in my life, it just really hit me. There are moments I have when something big happens and I see that quote and I'm like, Wow, that's so true, so it's kind of like my life quote. "To each there comes in their lifetime a special moment when they are figuratively tapped on the shoulder and offered the chance to do a very special thing, unique to them and fitted to their talents. What a tragedy if that moment finds them unprepared or unqualified for that which could have been their finest hour." And when Idol happened I was like, Ahhh, he was so right!
21. What's the last book you read?
JS: I just read The Sixth Extinction by James Rollins. It was really, really good. I would recommend it to anybody who loves conspiracy theories, scientific, mystery-thriller–type books.
22. Who's your favorite Disney Princess?
JS: Belle! Hands down. She was and is my favorite — I am obsessed with reading books, so when I watched Beauty and the Beast I remember thinking, She reads like I do! I love it — one day I am going to have the library that she had. It might not be that grand of a scale, but I want a library like that with the rolling ladders.
23. Who's your doppelgänger?
JS: I get America Ferrera a lot, Rosario Dawson, and Janet Jackson. I get it a lot on Twitter. I love all three of those women, so I'm just like, Thank you! If they ever need someone to play them, I would love to!
24. If anyone could play you in a movie, who would you pick?
JS: I have tons of mini-mes around apparently somewhere, so I'm sure one of them could! As long as they have good acting skills, and can sing!
25. What's your favorite Pokemon character?
JS: I am such a huge Pokemon fan! My favorite Pokemon characters are Charmander, Pikachu, Mew — and then Skitty from the newer ones. I still have my binder with the cards in it!
26. What's the most memorable concert you've played?
JS: All of my concerts have been fun, but my most favorite ones aren't when it's promoted. I love it when I can go to a children's hospital or visit somebody and just sing to them. Those are the moments where I know that music is what I'm supposed to be doing. Getting to bring a smile to people's faces on a one-on-one basis, I love doing that.
27. What's the most memorable concert you went to?
JS: Both of them involve Justin Timberlake! One of my first concerts was NSYNC — Pink was opening up for them, and Sisco — 1999, I think? And it was the best concert of my life. I went with a friend and she actually scrapbooked a frame with my ticket and the confetti that fell and a picture of him on stage, and I cherish that. I'm a huge Justin Timberlake fan, and his FutureSex/LoveSounds tour was one of the best concerts I've ever been to hands down. It was so good — I was really inspired by that because it was just so fun.
Check out Jordin's new single "It Ain't You" on iTunes now, and learn more about her #MakeItHappen campaign at Facebook.com/MicrosoftLumia.