Jordan Peele's newest film, Us, is full of interesting symbols, signs, and quotes pointing toward a central idea of marginalized, forgotten groups of people in America.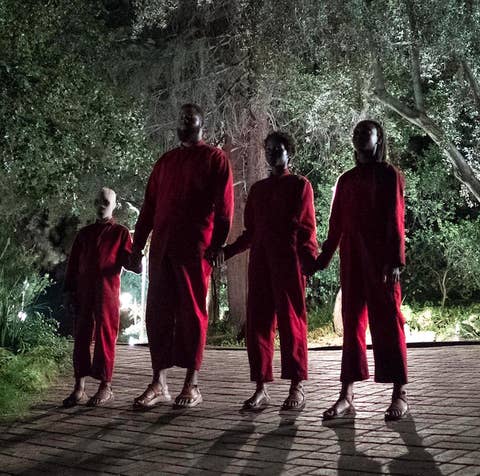 With so many sublayers in the cinematography, it's hard to tell who is tethered and who is not.
But lucky for you, there's now a quiz to help you determine whether you're tethered or untethered.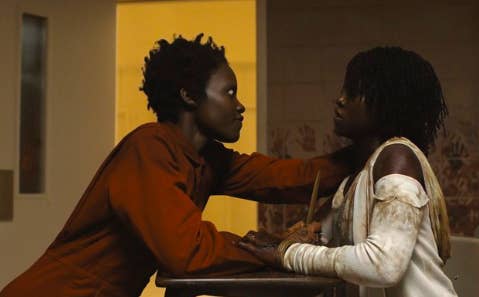 Peele signals the idea of something lurking and due to strike with young Adelaide's graphic t-shirt.

Young Adelaide hums to "Itsy Bitsy Spider" before she is snatched into the underworld and switched out with the tethered.

Adelaide sees two spiders on the table — one is a fake figurine and the other is real spider crawling out of the fake one. Each represent both the tethered and untethered Adelaide.

The verse is flashed throughout the film: on a homeless man's sign, on Jason's alarm clock, on the ambulance, etc., signifying the overarching sense of doom.

Jason uses the toy ambulance to hold the door. Later, an abandoned ambulance is the family's transportation out of Santa Cruz.

Tex is wearing Jesus-like sandals. He turns his hand from Kitty, representing the essence of Jeremiah 11:11– there is no salvation.

When Jason expresses his urgency to use the bathroom, the twins suggest that he "pee in the ocean," showing disregard for nature.

In the drawing there's a female with blood on her hands and a male standing behind her. This drawing foreshadows the final murder, which Jason witnesses from afar.

"We lost power" he says, resembling a blackout — a single race being stripped of resources.

"I'm done with boats," Gabe says — a subliminal message about African Americans being transported via slave ships.

Adelaide tells Zora to put on her shoes. Since Zora is a track runner, Adelaide predicts that Umbrae will chase her.

"It's a trap," Jason says, "Get out." This dialogue is a reference to Peele's debut film, Get Out. Jason at some point experienced the underworld — only someone from the Sunken Place can urge a person to get out.