The Un-Retouched Photo Of Cindy Crawford That Went Viral Was Reportedly Photoshopped
Update: The photographer claims that the photo was altered to appear "un-retouched."
His lawyers sent a letter to The Telegraph and other publications on Feb. 25 requesting them to take down the photo and articles.
Here's the story as it originally appeared:
This un-retouched photo of Cindy Crawford went viral this weekend, after a TV news anchor tweeted it, saying it's for an upcoming Marie Claire issue.
And why? Because she looks utterly amazing without any photoshopping or tweaking, that's why. And rather than going viral because of any online hate, it was good to see it spread because of how great she looks. Even actress Jamie Lee Curtis joined in and showed her love for the supermodel after the pictures spread online by posting her own un-photoshopped image. However, Marie Claire posted a statement soon after the picture made the rounds, revealing that the image isn't actually for an upcoming issue but is a leak from a 2013 shoot, taken by photographer John Russo.
It turns out the un-retouched image is from a shoot for Marie Claire Mexico and Latin America, from back in December 2013. Some of the images that were used can be seen below: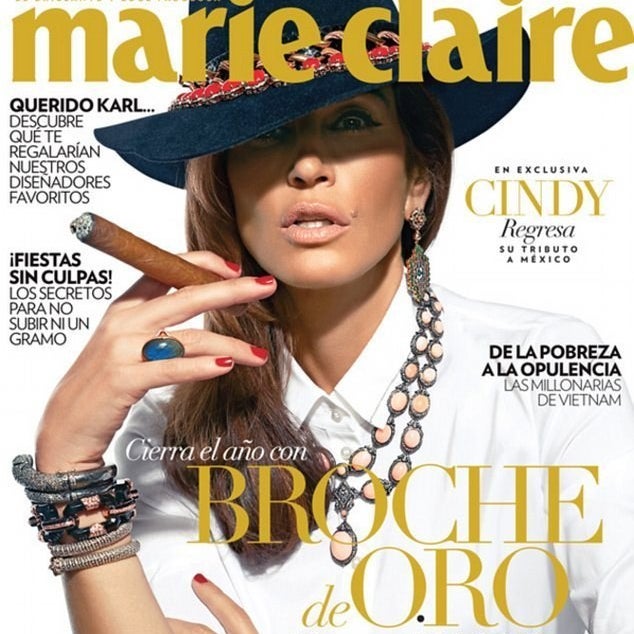 The Marie Claire statement reiterated how "beautiful" and enlightening the untouched photo is:
No matter where the photo came from, it's an enlightenment—we've always known Crawford was beautiful, but seeing her like this only makes us love her more.

And as she told us at the premiere of her new documentary last week: "I really think—at any age—it's learning to be comfortable in your own skin. ...If women would treat themselves with the same kind of love they give to their friends, that would be such a great gift we could give ourselves. ...What makes you the most attractive is self-confidence. That's what people see."
Something that was emphasised when Cindy's husband Rande Gerber shared this natural picture of the model this weekend.