Yesterday, Kanye West made the very obtuse statement that he thought slavery was "a choice."
Twitter reacted quickly and passionately after the footage went viral.
Which caused Kanye to backtrack and further explain his statement.
But by this point Twitter users had already turned Kanye's statement into an epic hashtag, #IfSlaveryWereAChoice.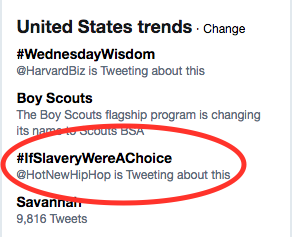 And despite slavery being a horrendously dark time in our country's history, Black Twitter managed to find some hilarious alternate scenarios for a reality in which slavery was a choice...
3.
4.
5.
7.
9.
12.
13.
14.
15.