All it took was two words.
When Mara Brock Akil, the creator of BET's hit show Being Mary Jane said "Regina King," the entire crowd — hundreds of some of the most powerful (and famous) black women in Hollywood launched into a rousing round of applause. The actress was one of several being honored at the 2015 Essence Black Women in Hollywood luncheon, and to toast her 30-year career, she was presented with the Fierce & Fearless Award. By the time the actress and director took the stage, following a video montage that featured the likes of Ice Cube, Holly Robinson Peete, Gabrielle Union, Ben McKenzie, and others, King's face was soaked with tears, humbled and overwhelmed at the words her colleagues offered to sum up her worth in Hollywood.
At one point, Brock Akil — before presenting King with her award — reminded everyone in the room of one of King's more dynamic roles: Margie Hendricks, the long-suffering lover of esteemed musician Ray Charles (Jamie Foxx), in Ray. Brock Akil noted that a moment was missed when King wasn't honored with an Academy Award nomination for that role, which led to another eruption of applause in the room.
Acknowledgments like that one are why the Essence event — this is the magazine's eighth such luncheon — has become such a powerhouse in just under a decade. This occasion is a chance to put the industry's biggest and brightest black women in one room and pay homage to those who often get overlooked by mainstream awards. It happens in the week leading up to the Academy Awards, and it offers black women in the business the chance to take a stage, hold a trophy, and give thanks in a sororal environment, something mainstream awards shows often don't give them.
"When I think of what 'fierce' and 'fearless' mean, we all experience fear. We all do. But courage is moving fiercely through that fear," said King, who is currently at work directing a future episode of Scandal and most recently directed this week's episode of Being Mary Jane. Then she spoke directly to Brock Akil and Shonda Rhimes, thanking them for giving black women opportunities both in front of the camera and behind it, and for telling diverse stories of black womanhood.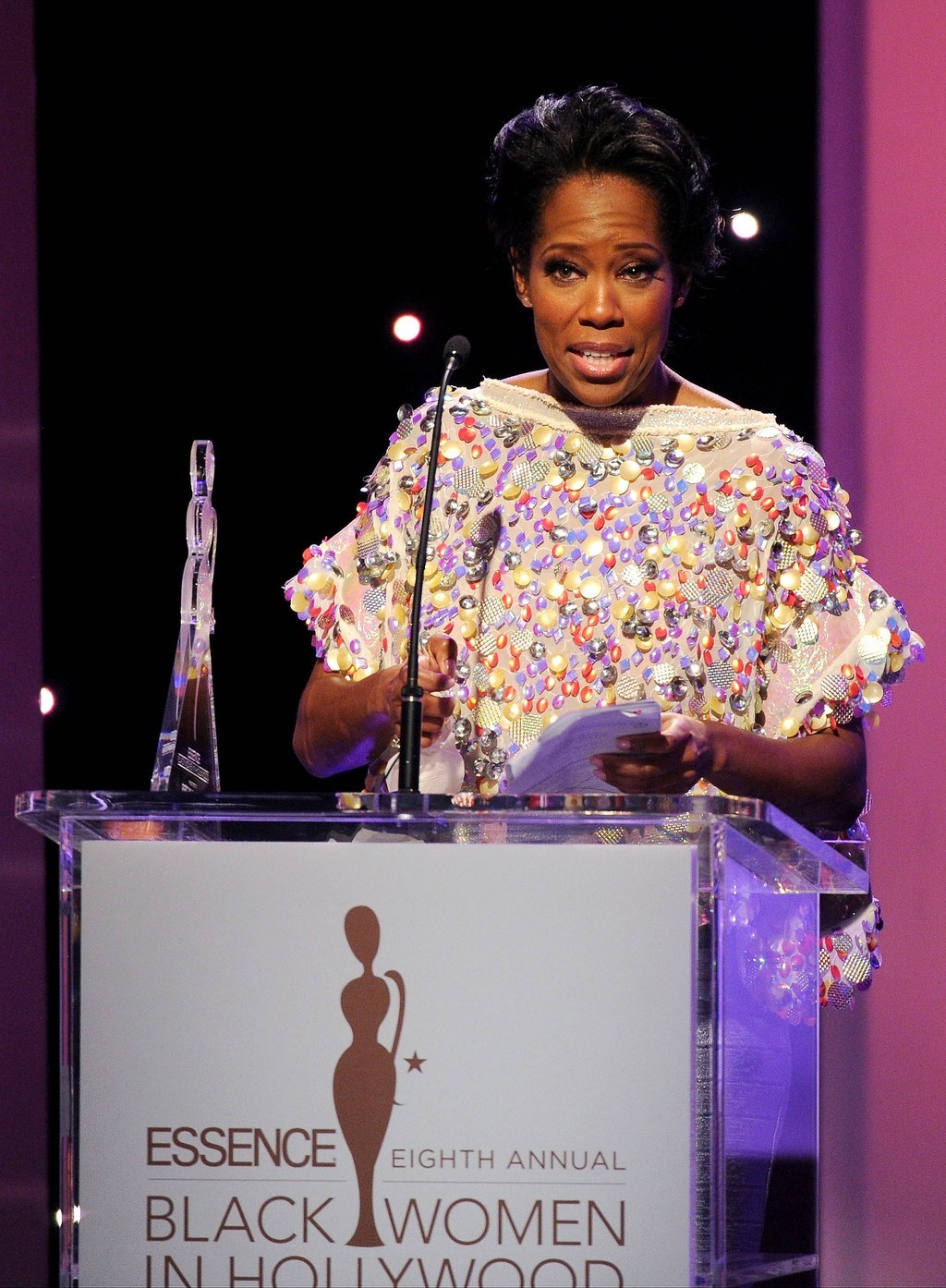 This year's event — which will air as a primetime television event on Saturday, Feb. 21, at 10 p.m. on OWN — opened with Oprah Winfrey taking the stage and revealing that her mentor, Maya Angelou, died on the day that she filmed her first scene in Selma, the movie that documents the three marches from Selma, Alabama, to Montgomery, Alabama, in 1965 that led to the passing of the Voting Rights Act.
"I can't tell you what it's like to lose a rock, a wisdom source," Winfrey said. "But I can tell you that the spirit of her abides with me every day."
The audience of mostly women was silent as Winfrey spoke of Angelou's inspiring words to her on her 50th birthday: to soldier on and continue, even in the face of adversity.
Stories like Winfrey's were the narrative of the luncheon, with presenters and honorees talking about the struggles and rewards of being a black woman navigating a world as closely knit and as complicated as Hollywood.
Writer-director Gina Prince-Bythewood (whose 2014 film Beyond the Lights earned an Oscar nomination for Best Original Song) also captivated the crowd as spoke of her experiences playing basketball in high school and running track at UCLA, making one hell of a metaphor in the process.
"Most people love playing in front of a home crowd. But I loved to get the win in someone else's house. Being an athlete, you learn that ... there's always going to be someone talking and yelling at you from the sidelines, but it's just as important to tune it out and focus on the win. It's no secret that we in this room are playing in someone else's house," Prince-Bythewood said, the audience cheering in agreement. "But it really doesn't matter. It just means that we have to tune out the BS to get these wins. It really is a team effort. It takes those of us who made it through the door to find new voices and pull them up behind us."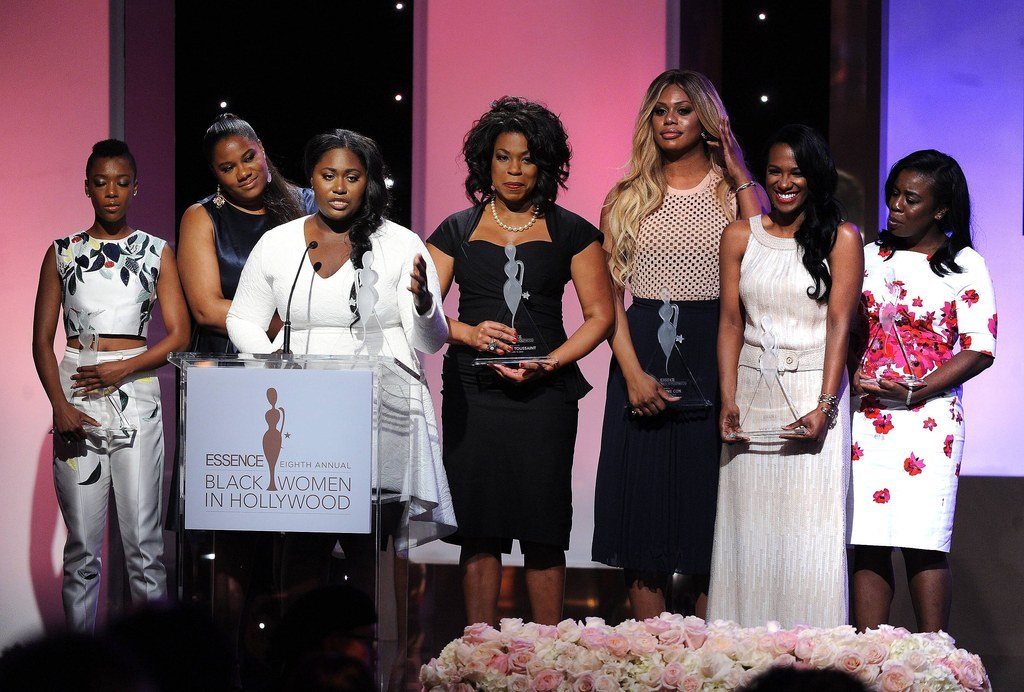 Lupita Nyong'o, who gave a heartfelt speech that went viral at last year's Essence luncheon, presented the 2015 Vanguard Award to Orange Is the New Black stars Adrienne C. Moore (Cindy "Black Cindy" Hayes), Danielle Brooks (Tasha "Taystee" Jefferson), Laverne Cox (Sophia Burset), Lorraine Toussaint (Yvonne "Vee" Parker), Samira Wiley (Poussey Washington), Uzo Aduba (Suzanne "Crazy Eyes" Warren), and Vicky Jeudy (Janae Watson).
"I am a die-hard, true-blue, stay-up-until-midnight-waiting-for-the-next-season-to-drop, can't-get-enough-of-it Orange Is The New Black fan," Nyong'o said. "The first time I encountered these stunningly complex, funny, sexy, silly, scarred, yet still surviving women at Litchfield prison, I was caught between howling with laughter and weeping. To experience a show where the stories of many different black women can be told with such intimacy and individuality and such detail, and to watch them as they fall in love ... stand up for their rights, and discuss the merits of white Michelle Williams ... was profound and exhilarating."
Brooks spoke on behalf of the Orange Is the New Black cast, thanking Nyong'o, whom she called a "chocolate goddess," for paving the way. The actor got a hearty round of applause when she said, "It's really challenging being a blacktress."
She continued: "There aren't roles for us a lot of the times. It's, 'You're too big. You're too small. Your hair is too curly or too straight.' Or, 'You're not women enough,' in some cases. But the one thing I feel like I've learned by being on Orange is that we are enough, just the way that we are. We're stripped of the makeup and the hair. We can't hide behind the outfits. People are having to connect to the core of these characters, and because of that, they see themselves in each one of the characters that we play."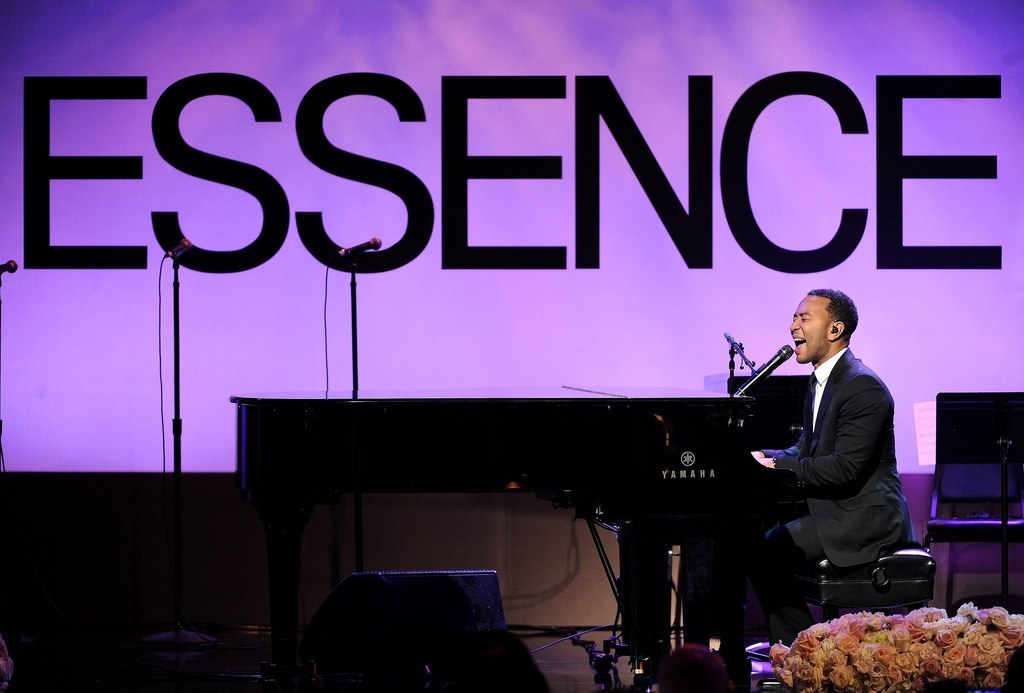 Similar sentiments permeated the entire event. John Legend and Common performed their Oscar-nominated song, "Glory" from Selma, while images of #BlackLivesMatter protestors flashed on two large screens. Several additional emotional speeches followed, including one from British actress Gugu Mbatha-Raw, who was honored with the Breakthrough of the Year Award.
"I feel so supported and so privileged, and I feel responsibility. I'm not African-American. I'm British, and I'm both black and white, which for me has been a journey," Mbatha-Raw, who played a biracial woman in two recent films, Belle and Beyond the Lights, explained. "I always thought, Black women in Hollywood. Do I even qualify to be here?" To which someone yelled out "Yes!" and the audience clapped and cheered the actor on.
She finished her speech by telling a personal story of being mugged at gunpoint while filming Beyond the Lights. "I had this gun pointing at my third eye and everything went into slow motion. I thought, This is the end of my life," Mbatha-Raw said of the horrific moment that wound up inspiring her. "What it gave me was this sense of letting go of the fears that stop us doing the things that we want to do. I had all of these ... issues with my identity. And it was coming through my work. [I had] gifts like Belle and Beyond the Lights, exploring who you are. I thought, If I don't leap and be fearless, it's the end. It gave me the courage to explore being black and white at the same time. And it really is a gift. Our fears can sometimes be our greatest liberators if we stand up and face them."