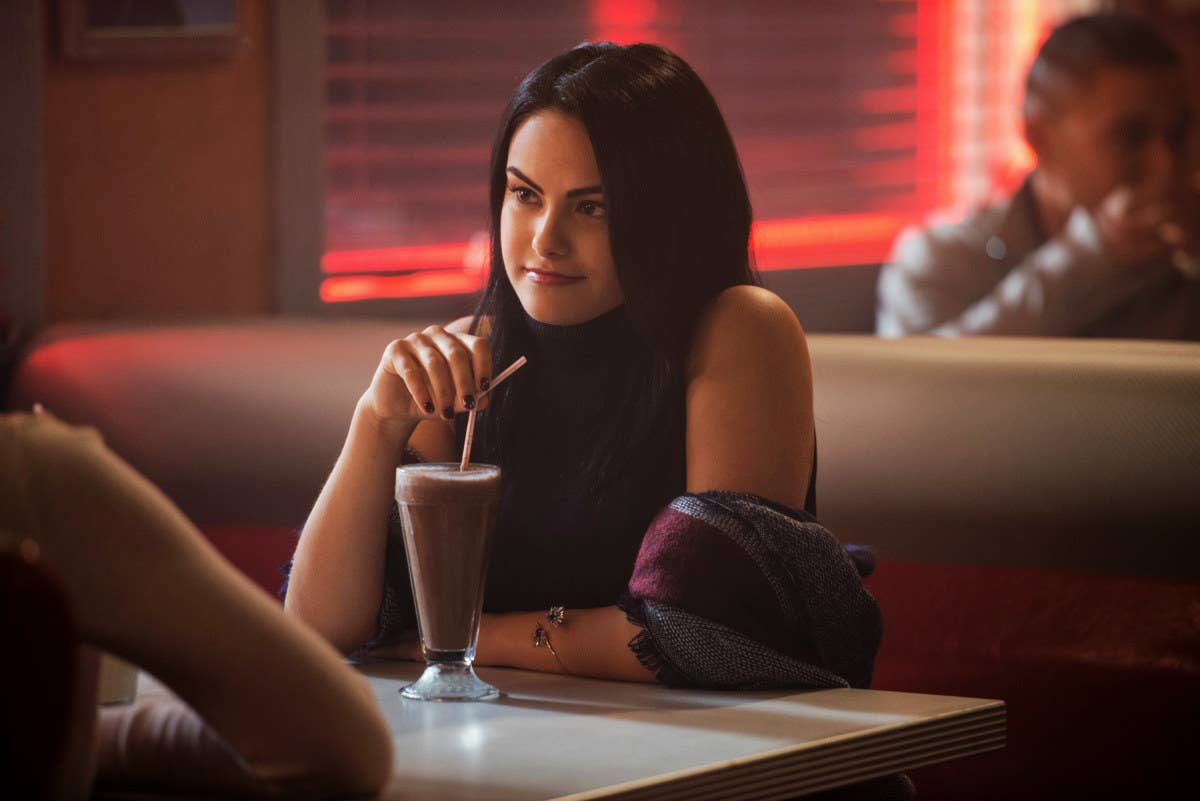 It's the last day of summer vacation when Veronica Lodge, Riverdale's newest mystery, rolls into town in her shiny black car and black hooded cape. The teenager saunters into Pop's Chock-lit Shoppe, dropping her hood back, and causes heads to turn; she's confident, magnetic, and aware of her own carefully crafted edge. "I'm Breakfast at Tiffany's but this place is strictly In Cold Blood," she sighs to a bewitched Archie Andrews as she looks around her new hometown.
It's mid-January when 22-year-old Riverdale star Camila Mendes walks into Joey's Cafe in West Hollywood. It's not a dissimilar picture from that of her onscreen character; no cape — just a soft gray turtleneck and muted flannel tied around some dark jeans — but Mendes, just like Veronica, is new in town.
"This is my first show ever, my first job," Mendes says, pausing to examine the two french fry dips in front of her ("Is this ranch? Whatever." She dives in. "Oh, it's good."). Like Veronica, Mendes recently lived in New York, where she graduated from NYU's Tisch School of the Arts in 2016; she finished her degree only one month after she began auditioning for Riverdale in late 2015. Balancing auditioning and school wasn't easy. "Some teachers would be really cool about it, and some teachers would be really annoying about it," Mendes said. "And it's like, well, don't you want your students to be successful?" Annoying or cool, it's all worked out overwhelmingly in her favor. "I was in the first scene on the first day when we started shooting the pilot, and I'd never experienced what it's like to be on a set — keep a pace, know your mark — but it all just happened. It wasn't hard. People underestimate how intuitive it is."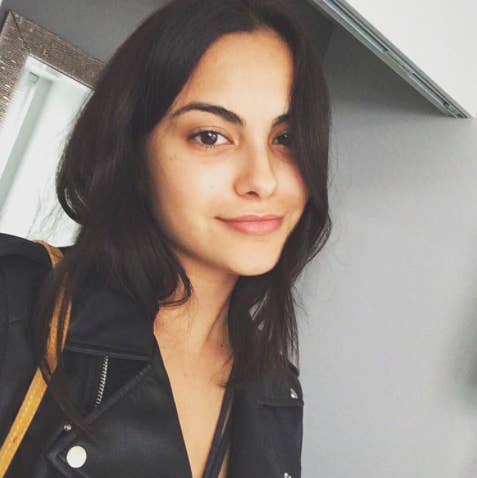 The trajectory is the stuff of modern millennial stardom: Her early success, like most young stars', is based on equal parts luck and tenacity. After interning for the Carson Kolker Organization talent agency over the summer, Mendes scored an agent from directly out of that gig during her junior year of college. "There were only four or so people in the office. We were all really close and I just asked at the end, 'Can I audition for you?' And I did." Her very first professional audition was to play Jennifer Lopez's daughter in Shades of Blue, but when it came to Riverdale, something felt different. "It was the first time I'd ever gotten close to anything. It was the first time I'd felt so confident about a character, that I was capable of playing her, that it would feel so right to play her."

And Mendes was, of course, afraid of missing out on the role of a career, and so soon after graduating. "I was on the verge of something huge that could possibly change my life, or I would just go back to normal post-college…the abyss. I was really scared to face that disappointment." Despite having "nothing, literally nothing" on her résumé, she won the part. "It's insane, I never thought it would happen this way. I didn't think I'd get a lead. I was green. Green, green, green."

Mendes relates to being the new girl in more than just a professional sense. The child of divorced Brazilian parents (she speaks English with her father and Portuguese with her mother), she moved around when she was a kid — 16 times, to be exact. Both of her parents were born and raised in Brazil — where Mendes also lived for a year when she was 10 years old — but she was born in Virginia and her family hopped around different parts of the South, mainly in Florida, for the first decade of her life. "At first [we moved because of] my dad's job," she explains. "He just kept getting promoted and transferred, and then it was because my parents divorced and my mom couldn't decide where she wanted to live, ever. So my sister and I got swept into the whirlwind of her life."

And Mendes hated it, though she's very close with her family. "It was tragic every single time my mom told me we were moving," she shakes her head. "I would always envy my friends who had grown up in the same house their entire life, and they had markings on the wall of 'me at five years old' and all that. It made me so sad. I wished I'd had that." From the age of 12 onward, Mendes got to stay at the same school — but she still did her fair share of teenage rebelling. She went out a lot, she had a shitty fake ID in college (the first one from Arizona, and then one from Manitoba). "I definitely acted out in ways that Veronica does — I detached, I went out with friends all the time, I was always removing myself from dealing."

Now, though, that nomadic lifestyle is serving her well. Between press appearances in Los Angeles and filming in Vancouver, she doesn't really have a home base. "I can do that, she says, shrugging. "I've done that my whole life, but at least now it's my choice."
Mendes feels right at home on Riverdale, just as the show (based on the beloved Archie comics) feels like the CW's return to some of its greatest hits. It has the dark grit of Veronica Mars, the angsty high school love triangles of Dawson's Creek, and all the best elements of early Gossip Girl — including an heir apparent to the Blair Waldorf throne in Veronica. Veronica has the pearls, the privilege, and the right temperature. "You need to be cold to be queen," Blair stoically advises a young high schooler trying to dethrone her. "My speciality is ice," Veronica deadpans to resident Riverdale Queen Bee Cheryl Blossom in the pilot episode. And perhaps most importantly, they both have a demure blonde BFF whose dragons they're constantly stepping in to slay. Veronica's demur blonde BFF, Betty Cooper (played by Lili Reinhart), is all Serena van der Woodsen. In both Gossip Girl and Riverdale, the two best friends are constantly supporting, undermining, loving, and competing against each other.

The similarities aren't lost on Mendes. "Last weekend at the Golden Globes afterparty, Lili and I saw Leighton Meester [who played Blair Waldorf on Gossip Girl], and Lili was like, 'You should go up to her and be like, 'I'm the new you!'" Mendes laughs. "It's that idea of a new iconic friendship that we're bringing to the screen, but this one is a lot less catty than the Blair and Serena dynamic." The Veronica/Betty friendship is already gaining a steady fandom, especially as Mendes and Reinhart have a close friendship in real life. In fact, she's crashing at Reinhart's Hollywood apartment during this stint in LA. "It's funny because she really is the Betty to my Veronica," Mendes says, smiling. "We are our characters — but way less exaggerated. She's the one who's in bed by 10 p.m., doesn't like to go out; she's a grandma, always in her pajamas. I'm a little more wild. We balance each other out very nicely."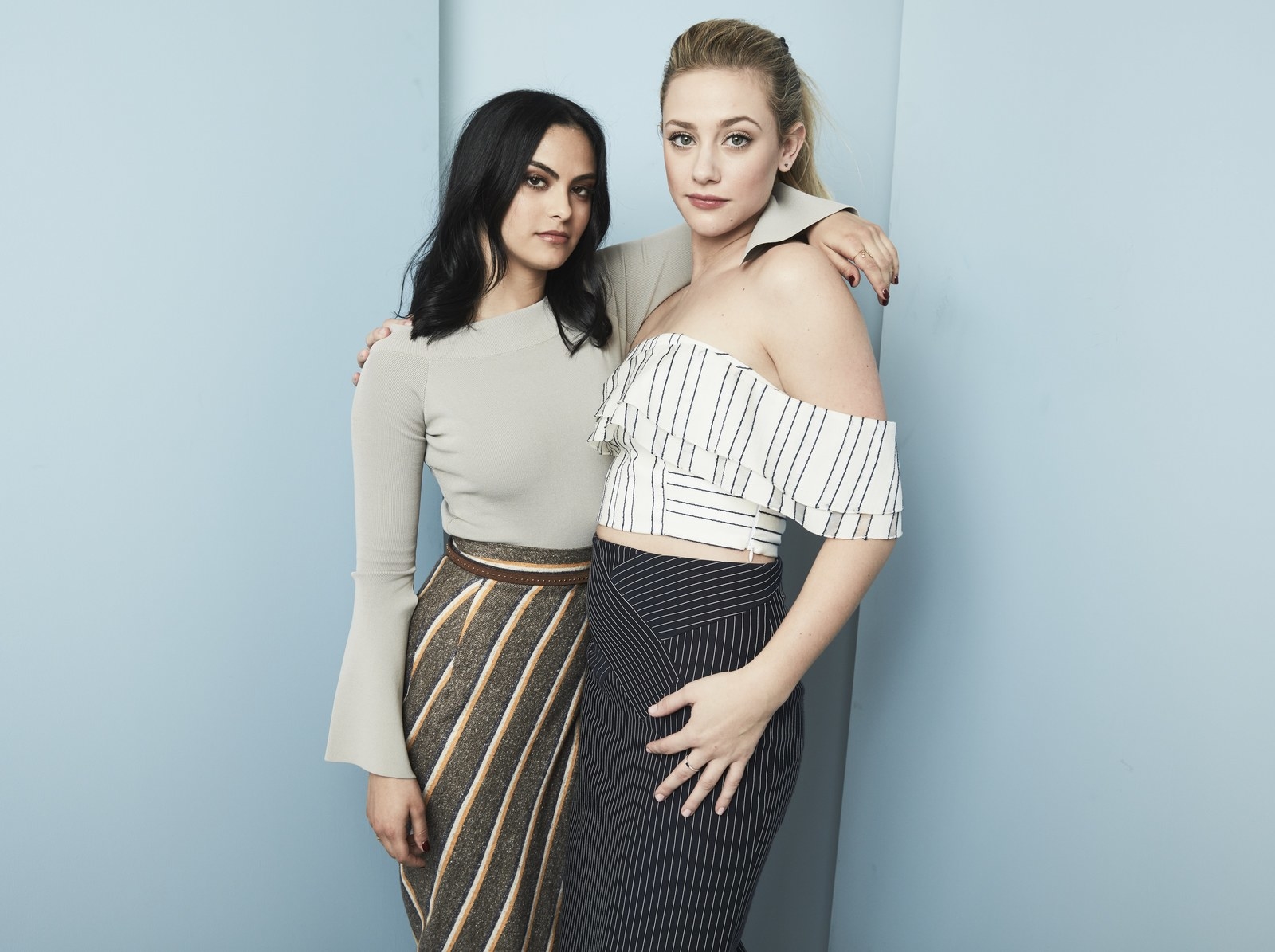 However, regardless of that steamy cheerleading kiss in the pilot, there's no hope for Beronica shippers at this time. "It's not the show we're doing. I mean, they're friends. It would be a totally different show if Betty and Veronica were lesbians who were in love with each other. That's a whole other show with a whole different arc," Mendes says. "That's not where we live right now."

Instead, Mendes resides on the cusp of possible superstardom. Riverdale has all the harbingers of a runaway hit show, and critics are buzzing about its potential. After last night's pilot, fans are praising Mendes as "new the queen of TV" and "quite literally everything I wanted from this show and more."

Though this is just the beginning, Mendes has already had some memorable fan interactions, mostly when she's in the company of former child star Cole Sprouse (The Suite Life of Zack and Cody), who's returning to the spotlight in the role of Jughead Jones. When fans camped out outside of the Riverdale cast's Vancouver hotel during production, Mendes figured they were all there to see Sprouse — until someone called her by name. "I don't know how the hell they knew who we were — maybe they just know us to be associated with Cole — [but] every time we walked out, they'd be like, 'Hi, Cami!' And I wasn't expecting it at all."

Being at the center of fandom is a new experience for Mendes, but Sprouse has been a mentor of sorts for navigating fame for the rest of the cast. "Once, someone asked to get a picture [from Sprouse] for their friend Sally. And he says, 'One second,' and grabs flower petals on the floor and goes, 'Hiii, Sally,' and blows them into the camera," she says fondly.
"He has fun with it, and we're all watching the way he deals with that and learning from it, turning it into a positive." However, there's one big difference that Mendes is all too aware of. "He's a man, and that's already very different," she says, tapping a spoon on the table for emphasis. "The kind of attention he's going to get is very different from the attention [women are] going to get."
When the check arrives at Joey's Cafe, Mendes takes out her phone to order an Uber back to Reinhart's place. "I really want to live here," she says, looking out at the Los Angeles sunshine. "But then again," she pauses, tilts her head, "I'd need a car here. And I love walking." Maybe there will always be a reason to keep Camila Mendes from settling down; maybe she's more comfortable being the new girl in town.