1.
A fume-free oven cleaner you can spray on and wipe away just 30 seconds later! If you like fuss-free cleaning (especially after all that cooking over the holidays) then this is for you. 
Promising review: "Mine just came in the mail today and I used it right away — it works fantastically! My oven is an electric, probably slightly on the older side, and has been badly stained since before I moved into my current unit. I have tried everything I could think of to get it clean prior to finding this product and nothing worked. But after doing the two-hour treatment it is almost all gone but for a few small specks here and there. I have just sprayed it again to see if those will come off too without an overnight treatment (just out of curiosity; it's perfectly clean as it is). I would recommend this product to anyone that wants an oven cleaner that works and is easy to use." —Lis Zupp
Get it from Amazon for $11.18.
2.
A jar of internet-beloved The Pink Stuff — this all-purpose cleaning paste has over 112,000 5-star reviews for a reason! 🌟 It can help remove even the toughest stains, dirt, grime, and rust from your appliances, walls, dishes, glass, floors, you name it!

Promising review: "Honestly I was very skeptical when I first purchased. Everyone on social media was talking about how amazing this product was for cleaning around the house and I just thought they were all jumping on some kind of bandwagon. Of course I caved and had to try it for myself. Needless to say I'm very impressed! It removed stubborn mold and grime from my shower tile grout with use of a hard-bristle toothbrush. It removed hard water stains from my sinks and faucets. I noticed it really does remove mineral buildup, but it takes a lot of elbow grease and repetitive applications before you start seeing progress. The texture feels similar to when you mix honey with sugar to make a lip scrub, except it's super-fine grit and more pasty like putty or clay. It works amazing so far! No overpowering smell (barely any smell at all), easy to use, and a little product goes a long way. I haven't tried it on rust yet so we'll see how that goes. Overall very pleased and impressed so far. Highly recommend!" —Marissa 

Get it from Amazon for $5.97.
3.
A heavy-duty grout cleaner to help you remove product residue, dirt, and stains from your tile floor. You probably forgot what the original floor even looked like — prepare to be amazed. 
Promising review: "We moved into our house a year ago and I've been on a quest to clean the grout next to the stove ever since then. I've tried everything — store products, DIY solutions, Pinterest recommendations, you name it. As a last resort I got this and holy cow! I left it on for three minutes as a spot test at first and I could already see a huge difference. I then did two more rounds letting it sit for five minutes each. The scent's not bad, it was fine if I had the window open, it was just being down close to it that got me. Seriously, stop looking and buy this." —Britney Phillips
Get it from Amazon for $21.95.
4.
A set of clear refrigerator bins that'll allow you to keep it super organized in there while still having everything visible. Prepping dinner, putting groceries away, and grabbing a snack will all become a much smoother process. (You can thank us later.) 
Promising review: "Excellent organization system! I once opened the fridge often, always looking for something I hadn't seen the last time I checked. The thing is — I often found something new because it just wasn't organized in a functional way. Now, with this system, I find what I'm looking for the first time. And when a bin is empty, I know I need to buy more of that product and just ask my smart home to add that item to my shopping list. Very grateful for the sense of calm and control that this fridge organization system has given me, and for all of the food that is no longer going bad in the back of the fridge!" —Chelsea T.
Get a set of six from Amazon for $29.98.
5.
And a set of customizable waterproof stickers you can use to really organize your refrigerator, pantry, or any space you want! With this beautiful system in place, you won't have to worry about rummaging through every inch of the fridge trying to remember where you put the ranch dressing.
KW Printables is a Florida-based, woman-owned Etsy shop established in 2018 that specializes in customizable vinyl decals, planning printables, and gifts.
Promising review: "Lovely shop owner, extremely prompt with answering all my questions. Very helpful to ensure I got the correct sizes for my labels. Fast turn around time and speedy shipping! I decided on gray labels and love that they almost blend in and aren't so bold!!! Love having my fridge labeled!" —Krysta Buchholz
Get it from KW Printables on Etsy for $2.50+ per label (available in multiple colors and sizes).
6.
A foaming garbage disposal cleaner so you won't smell a yucky, rotting aroma every time you go to do the dishes.
Promising review: "These are amazing! I was skeptical at first but I followed the directions (which are super easy) and was grossed out and satisfied at the same time to see the gunk that was removed. You put the entire packet down your disposal (I read that twice too) and magic happens in under two minutes! That is what I call powerful and successful cleaning! The scent is super clean and light with a hint of lemon. These will definitely be a cleaning staple for me." —KPITT
Get a four-pack from Amazon for $3.22.
7.
A bottle of bestselling wood polish and conditioner to transform your old, worn-down furniture into the highlight of your house. It'll enhance the natural beauty of any wooden antiques, tables, cabinets, and more.
Promising review: "This stuff is absolutely AMAZING. My wife and I were getting tired of looking at our worn-out cabinets and wood paneling and were very close to paying a professional thousands of dollars to refinish it all, but then we came across this product. Our paneling and cabinets were looking rough. We have two dogs who jumped up and scratched places; we also had an area that was damaged by water spots where our dog bowls were, and several other areas that were just worn from heavy traffic. Take a look at the pictures to see the before-and-afters. This stuff was like a Magic Eraser for water spots, scratches, scuffs, and any other blemish. We simply wiped the product on with a paper towel and let it sit for 20 minutes before wiping it off with a clean towel. Everything looks brand new. I'm buying a couple more so we can finish our cabinets and wood paneling. We're so glad we found this product." —Kris
Get a bottle from Amazon for $9.98.
8.
A mold and mildew removal gel, because those tubs and showers can get gross within the blink of an eye. Just apply the gel on the surface, let it sit for 7 to 8 hours, and rinse it off — no scrubbing required!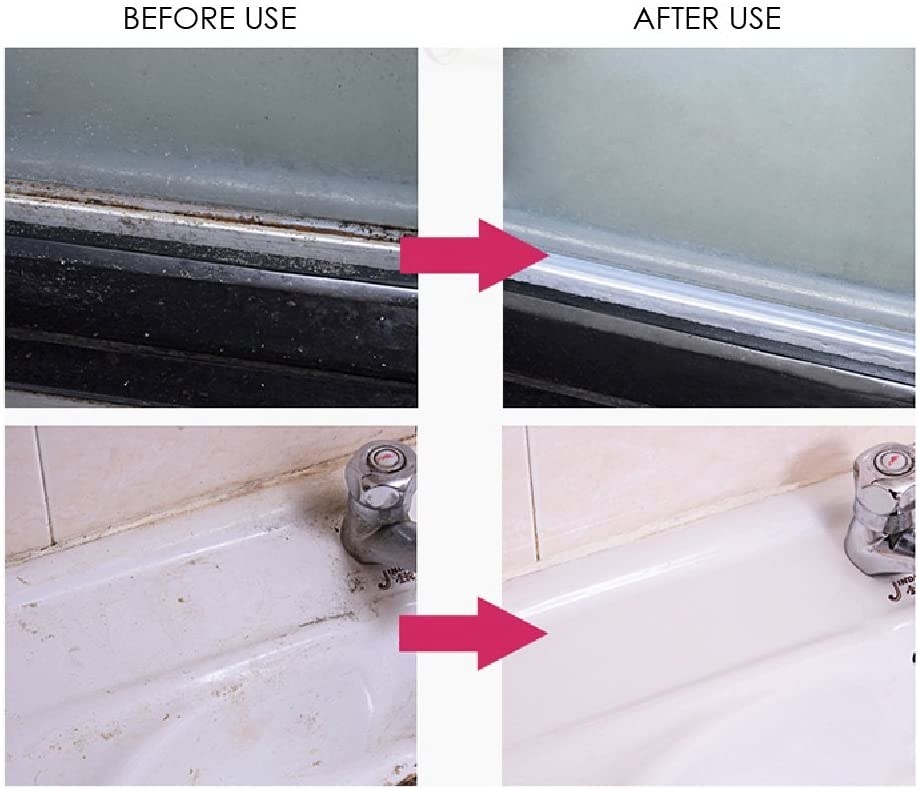 Promising review: "You guys. I'm embarrassed to even tell you this. But the grout around our tub was DISGUSTING. It was never caulked right and it got gross very quickly. I would scrub. The cleaning lady would scrub. It would get worse. Well, I was scrolling through FB as you do and came across one of those BuzzFeed lists: 20 cleaning products under $20 from Amazon you cannot live without...or some such nonsense. I am a sucker for those damn lists. But this stuff made me curious. I don't know why it doesn't have 10,000 good reviews. Seriously. All I did was squeeze it on and walk away. I let it sit overnight. Check this out. Buy it. Like today." —KarynB

Get it from Amazon for $14.99.
9.
A bottle of jetted tub cleaner so you can get the junk out of your tub and actually have a nice, relaxing bubble bath. There can be plenty of dirt and dead skin cells hiding in those jets and they have no business sticking around. Simply run your water, pour in some cleaner, and start your jets.
Promising review: "I have been wanting to get this product for a long time!!! My jetted tub was disgusting. I tried everything else. All of the Pinterest ideas that people claim work like a charm. Vinegar never worked. This stuff has made my jets sparkling!!! I did have to use mine two times since my tub was so bad. There are four uses per bottle. TOTALLY WORTH IT!" —Cpane
Get it from Amazon for $17.84.
10.
A set of bed bands, because no one likes to wake up in the morning and realize their entire fitted sheet is now bunched up in the corner of their bed.
Promising review: "I have a pillow-top and pillow-bottom queen-sized bed that is a little too small for king sheets and with queen sheets I have battled to keep the sheets from popping off. I have tried everything! I was about to try to customize some king sheets because it was so frustrating. Then I saw this product advertised on Facebook in one of those posts about the amazing products that people love. So I figured it was worth a try. It works. I was shocked. My sheets have not popped off once. I ordered this in February and it is May now — and they have not popped off once! They used to pop off EVERY...SINGLE...NIGHT. To say this is life changing is not an exaggeration. Such a relief to be able to sleep through the night without ending up in rumpled sheets." —TinkerbellAPixie
Get a set of four from Amazon for $13.99.
11.
A hanging broom holder that'll also organize your mop, Swiffer, duster, and other awkward items that are usually leaning against your wall and constantly falling over.
Promising review: "Repeat customer! I purchased one to organize the garden tools (rake, hoe, cultivator, shovel, etc.) in our garage and by alternating the tops of the tools up/down, was able to fit them neatly in the holder. Liked it so much, going to install another next to it for the other items. The hooks are a nice feature to hold our gloves and a simple plastic bag to hold things when needed." —Rob C.
Get it from Amazon for $14.97 (available in four colors).
12.
A slim cutlery organizer tray for a compact way to keep your silverware sorted and easy to find. It takes up half the drawer space that most cutlery trays do and it even has little icons on it so there is no confusion when you go to grab a fork.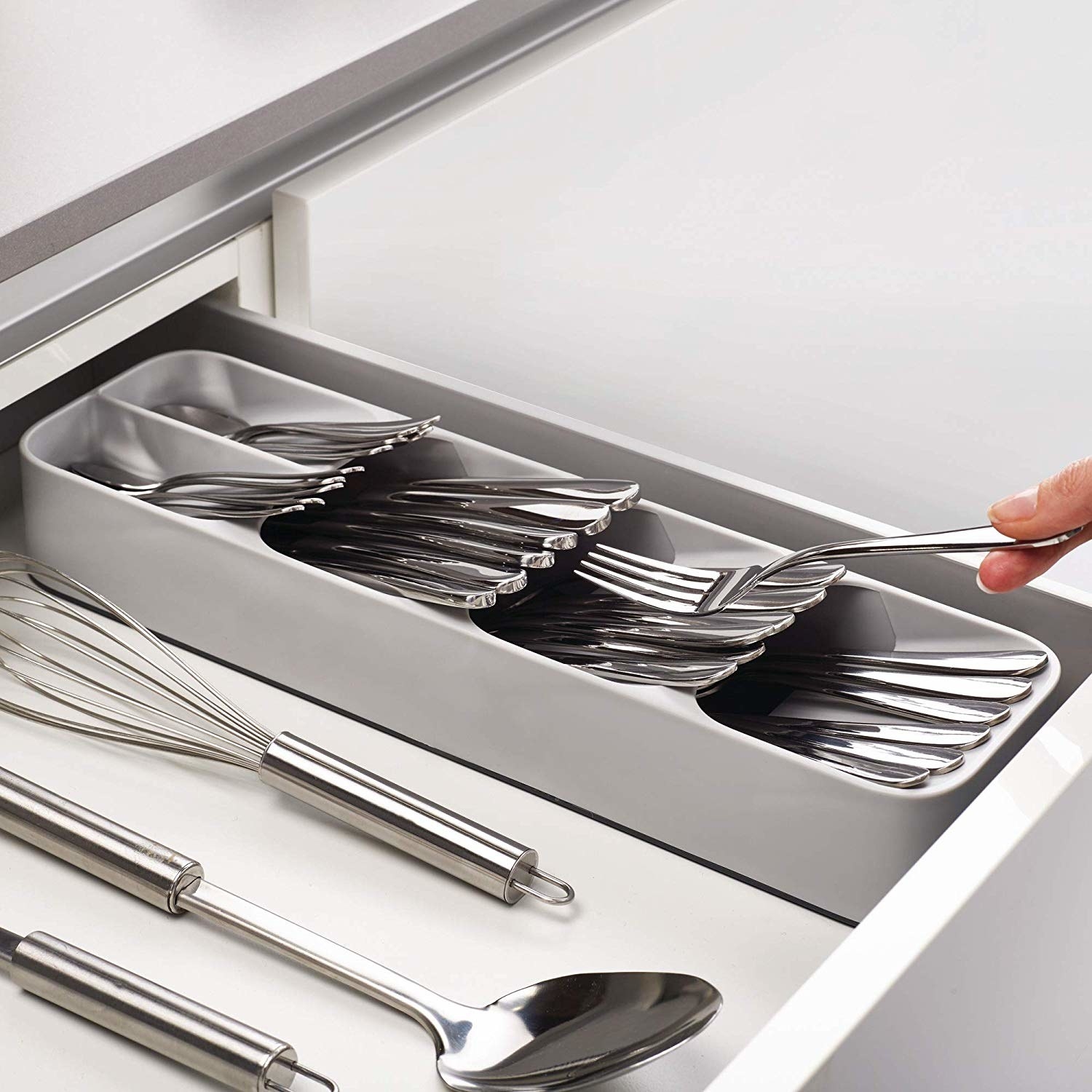 Promising review: "I have a tiny kitchen with only three drawers, so space is at a premium. My silverware organizer took up almost all of one drawer, so this organizer is a godsend. You can fit quite a few spoons etc. in each slot. My beater attachments fit perfectly into the top two hollows. You NEED this if you have a small kitchen with few drawers!" —mialro
Get it from Amazon for $11.99 (available in four colors).
13.
A clever K-Cup storage drawer perfect for anyone with limited counter space. This fits right underneath your Keurig and stores 36 K-Cups!
Each of these holds up to 36 standard-sized K-Cups.
Promising review: "I am so glad I got this. It makes for such great streamlined storage. Keeps things tidy and neat, and also helps me keep track of how many cups I have left to determine whether or not I need to add to my grocery list. It is very sturdy and I fit my machine on top. The top is very durable, hard plastic and does not buckle with the weight of the machine filled with water on top." —tunisianswife
Get it from Amazon for $17.29+ (available in 10 colors/styles).
14.
A stackable cabinet organizer so you can utilize all of that wasted vertical space. This handy thing can be used to stack cups, cans, pans, and more.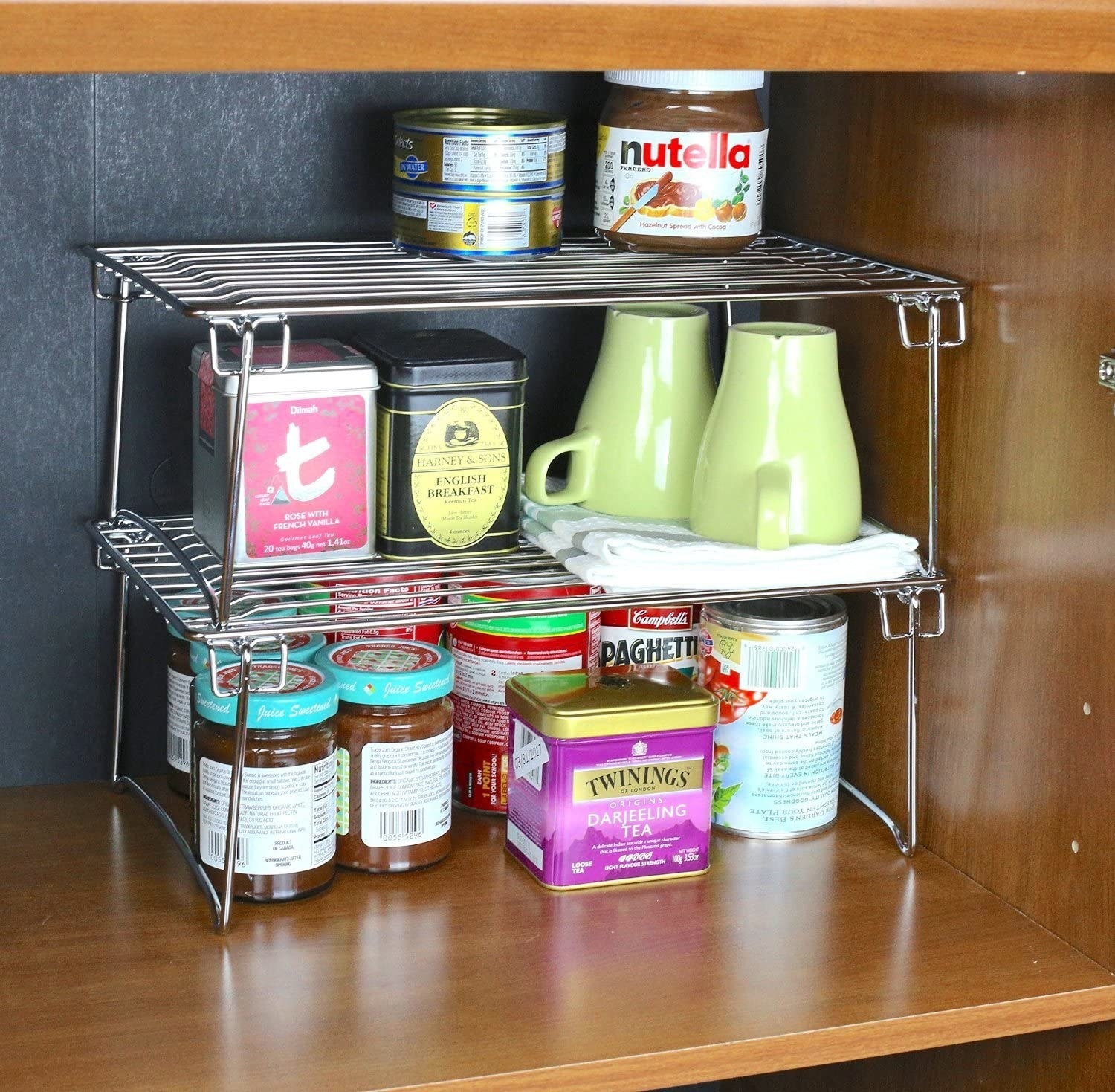 Promising review: "Let me start by saying that I'm not one to post a review about anything. I just ordered two sets of these and they transformed my pantry in the blink of an eye! They are high enough to accommodate my short basket full of half baggies of noodles and grains, and durable enough to hold any assortment of vinegars and home can goods. I ordered two sets (four shelves) and plan on buying more for the rest of my sloppy kitchen." —V
Get a set of two from Amazon for $18.47 (available in two colors).