We hope you love the products we recommend! Just so you know, BuzzFeed may collect a share of sales or other compensation from the links on this page. Oh, and FYI — prices are accurate and items in stock as of time of publication.
If you're anything like me, you always need to be doing something with your hands. If I'm at work and not typing or watching TV and not eating, my hands seek out other options. Sometimes it's harmless stuff like doodling, but other times I end up biting or picking my nails. I'm no scientist, but as far as I understand it, my hands are controlled by my brain, and so it makes sense that they would be equally nervous and all over the place.
I know I'm not alone in this feeling, and one way I know this is because there exists a stylish, discreet, and helpful product to deal with this problem. I'm talking about this cool stainless steel spinning ring, which is basically like a little fidget spinner you can wear everywhere and use while it's on your finger.
While this may seem like merely a fun little knick-knack, it's got a whole lotta amazing reviews from people who say this thing has made a real difference in their lives.
Anxiety, bad habits, and trouble focusing are all things people say this ring has helped with. Plus, even though it's super affordable, folks say it holds up to being worn all the dang time.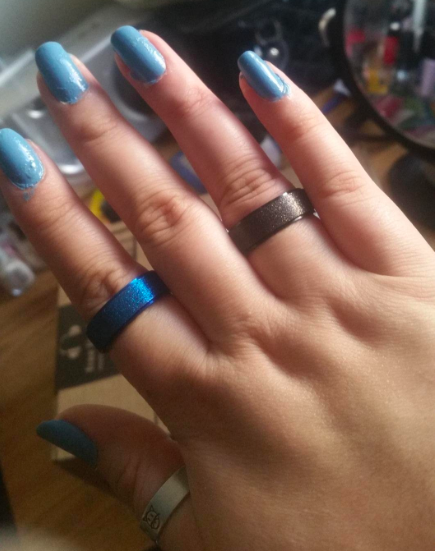 And as if all that weren't enough, it's also just straight-up cute!
Spinning out all that nervous energy like:
Shopping for something specific? Check out BuzzFeed Reviews to find the best things for every budget!