"I'm not standing still, I am lying in wait."

"All we have to decide is what to do with the time that is given to us."

"No one can make you feel inferior without your consent."

"Our fate lives within us; you only have to be brave enough to see it."

"There's no place like home."

"No matter how the wind howls, the mountain cannot bow to it."

By isolating ourselves from others

Through our ancient traditions and culture

Strategically timed marriages and alliances

By serving honestly and honorably

Through victory in battle

The systematic elimination of my enemies
Which "Game Of Thrones" House Were You Destined To Be In?
You belong in House Tyrell. The Tyrells are known for their beauty and love of finery, and are the foremost tastemakers among the Westerosi upperclass. The Tyrells are skilled political and social manipulators, waiting patiently for the most advantageous moment before making a move.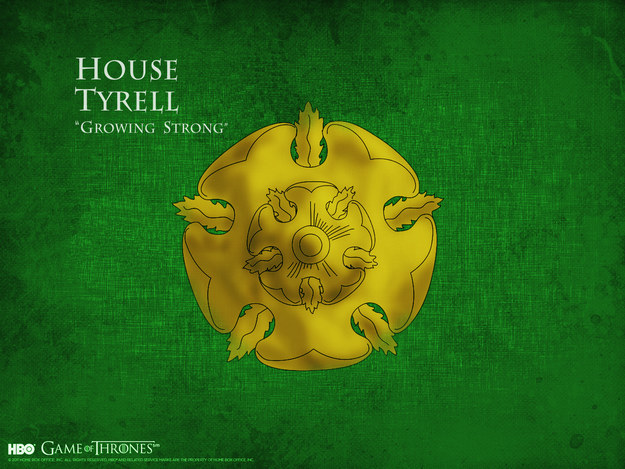 You belong in House Stark. The Starks are among the oldest houses in Westeros, and have ruled the North with a fair, but firm hand for centuries. The Starks are often regarded as sullen and austere; they care little for politics or Southern fashions, and value justice, honor, and loyalty no matter the cost.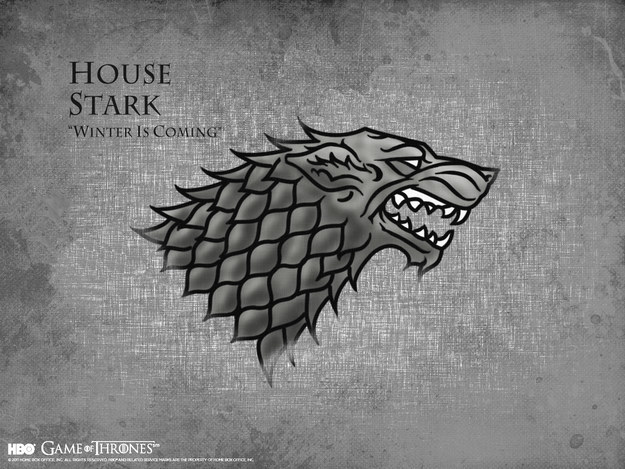 You belong in House Targaryen. The Targaryens descend from the ancient city of Valyria; they are conquerors who take that which they believe they're entitled to. They are natural born leaders, capable of inspiring hordes of followers through love or fear. Their ruthlessness allows them to destroy their enemies, but can easily turn to madness.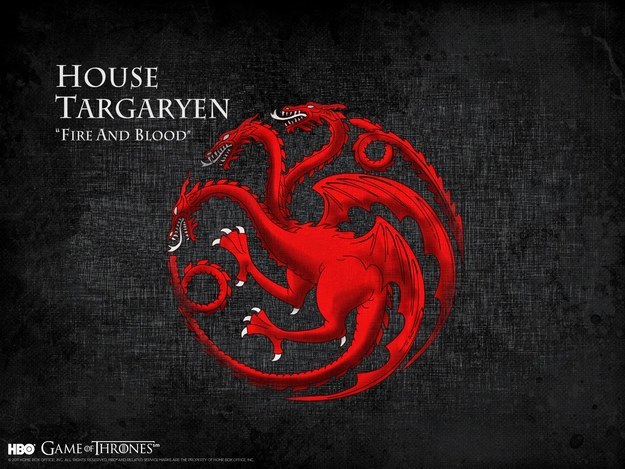 You belong in House Baratheon. The Baratheons are ferocious warriors and brilliant military strategists, capable of defeating nearly any enemy in battle. They are competitive and generally boisterous, and love to attend feasts and tournaments in times of peace. While Baratheons excel in matters of war, they are less adept at navigating the political arena.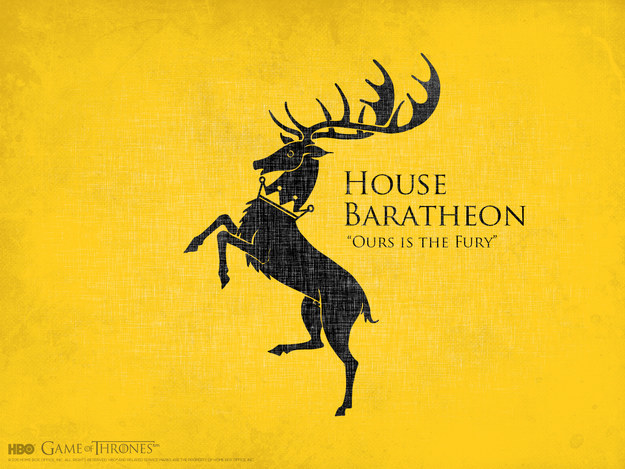 You belong in House Greyjoy. The Greyjoys are a rough, sea-hardened family from the Iron Islands. As rulers of the ironborn, they are stubborn and independent, with little loyalty to the crown. They pride themselves on their ability to survive in harsh conditions and consider the people and traditions of the mainland weak.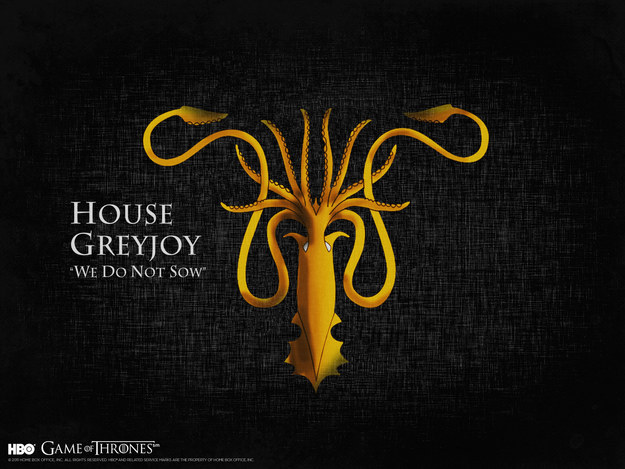 You belong in House Tully. The Tullys are the traditional lords of the Riverrun and peacekeepers among the perpetually quarreling lords of the Riverlands. Though they are generally a temperate people, the Tullys value family above all else and will fight relentlessly to protect the honor and wellbeing of their kin.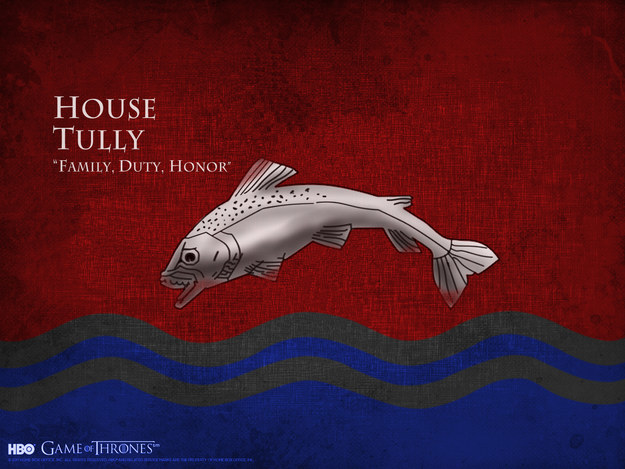 You belong in House Martell. The Martells are the cunning, hot-blooded rulers of Dorne. They are skilled in horse riding and combat, but favor quickness and agility over the brute force and heavy armor of traditional Westerosi knights. The Martells are proud of their Dornish traditions, which include greater sexual freedom and allowing women to inherit lands and learn to fight.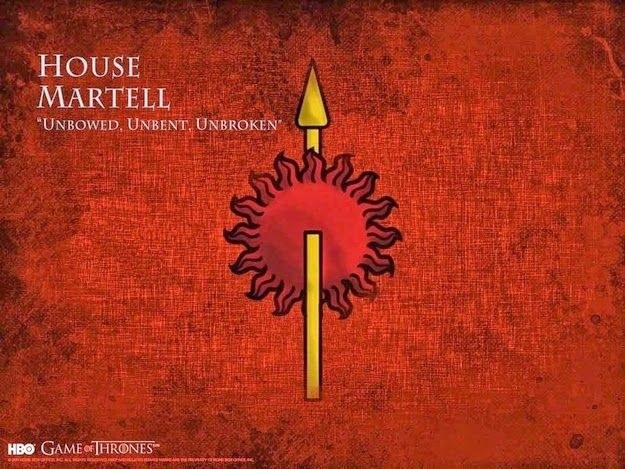 You belong in House Lannister. The Lannisters boast a substantial army, limitless wealth, and political shrewdness. They are loyal to none but their own, and their only aim is to protect and advance their position. If their enemies cannot be bribed or intimidated, they are quickly and methodically destroyed.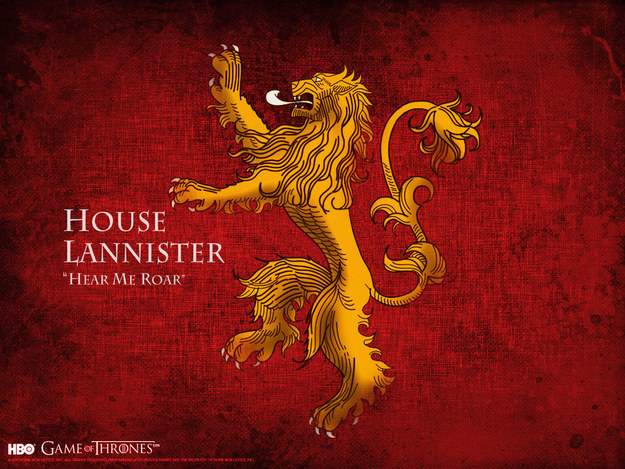 You belong in House Arryn. The Arryns are the proud lords of the Vale, and rule over the mountainous region from the impregnable Eyrie. The Knights of the Vale are among the finest warriors in Westeros, though the Arryns prefer to keep out of military conflicts unless they are directly threatened. Because of this, the Arryns are perceived as useful, if somewhat cold and distant, allies.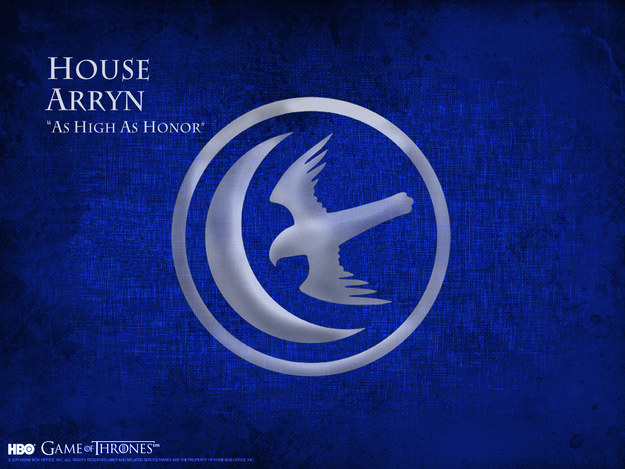 This post was created by a member of BuzzFeed Community, where anyone can post awesome lists and creations.
Learn more
or
post your buzz!