We hope you love the products we recommend! All of them were independently selected by our editors. Some may have been sent as samples, but all opinions and reviews are our own. Just so you know, BuzzFeed may collect a share of sales or other compensation from the links on this page if you decide to shop from them. Oh, and FYI — prices are accurate and items in stock as of time of publication.
Maybe your clothes are wrinkled all the time (like mine are) and you're just too darn lazy to iron or steam them...or to even just pick them up off of the floor. I guess we all can't be on Danny Tanner's level.
Well, internet, let me introduce you to Downy's Wrinkle Release Spray that Amazon reviewers are calling "voodoo" and "the devil's magic" because that's just how *unbelievably* well it works. Plus, you can get a two-pack on Amazon for just $11.98 and the bottles are huuuuuge!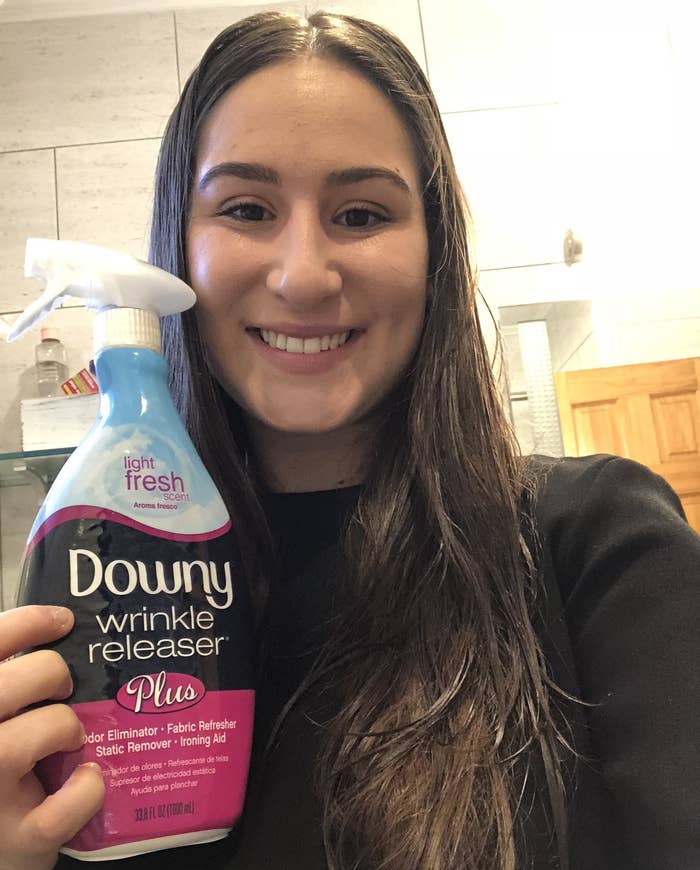 Here's how it works: Hang your piece of clothing on a hanger. Give it a few spritzes all over or, if desired, only in the wrinkled areas. Lastly, give it a few tugs to help smooth out the clothing and relax the fibers.
And boom! In a matter of just minutes, the wrinkles will have been released and you'll have these incredible results:
Plus, the Amazon reviews for this spray don't lie. It has over 1,000 reviews and a 4.4-star rating. That does impress me much. Let's hear what the good people of Amazon have to say about it:
One reviewer was so amazed by how it transformed her white T-shirt, she said she would "step on 300 Lego barefoot" for this spray. And I don't blame her!
It's perfect for any busy parent, person who travels a lot, or college student alike. It's basically an iron in a bottle and will save you from wasting your precious time ironing.
You can even spray it on curtains, tablecloths, sheets, or pillowcases to remove wrinkles or static. You're literally going to want to de-wrinkle EVERYTHING just for the fun of it!!
It also comes in a travel-sized bottle (pictured here) for anyone who tends to ruin their clothes the second they leave the house or who wants to pack it in their suitcase.
Here's just one more before-and-after of my wrinkle-crushing victories. Did I mention your clothes will feel and smell so fresh after?
Real talk, people, this magic potion will save you from ironing and will help you be on time to school or work or wherever you're going. Maybe people will even think you have your life together for once! Get a two-pack from Amazon for $11.98.
You'll never have to do this again: