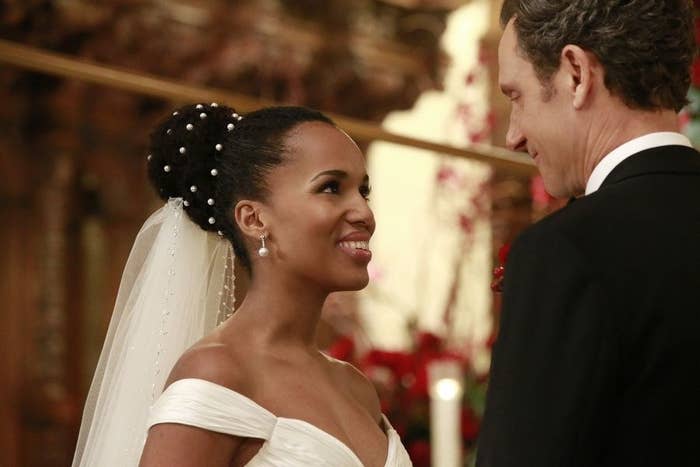 The story of Olivia Pope (Kerry Washington) will come to an end after Scandal's seventh season. The news was first reported by TV Line's Michael Ausiello, who wrote that, "Shonda Rhimes made the call to conclude the series, and ABC accepted her decision." The Hollywood Reporter also reported that the show will conclude after Season 7.

ABC's entertainment president, Channing Dungey, confirmed the news on Tuesday during a conference call with journalists, calling it the show's "final season" as she announced the network's fall schedule. She also confirmed that it was Rhimes' decision. "Fans and Gladiators are going to want the story to end the way Shonda wanted to," Dungey said.
The Rhimes-created show premiered on ABC in April 2012, and was not an immediate ratings success. But in its second season, not only did the ratings improve to make it a genuine hit, but the show — with its insane twists, and everyone-is-a-murderer ethos — became a zeitgeist drama: You couldn't miss it, lest you be spoiled.
Most important, its diverse cast changed the optics of television, creating a "Scandal effect," which showed previously reluctant network executives that it was good for business to have lead actors of color on TV. Rhimes' vision for television — beginning with Grey's Anatomy in 2005, and leading to Scandal, which featured Washington as one of the only black female leads in decades — proved to be revolutionary. It paved the way for Black-ish, Fresh Off the Boat, Empire, and Jane the Virgin on the broadcast networks.
The Rhimes-produced How to Get Away With Murder, starring Viola Davis, premiered in Sept. 2014, forming — along with Grey's — an entire Rhimes night Thursdays on ABC, which the network branded as #TGIT. The Scandal cast — along with Rhimes — have been adept users of social media, live-tweeting the episodes, which helped the show gain traction as it grew. Along the way, the show has given birth to its own language: gladiators in suits, white hats, and it's handled.
Rhimes has always said that the high-wire act of Scandal couldn't continue forever, and hinted about wanting the political drama to end in an oral history of the show in The Hollywood Reporter published in April.
"There was a very specific planned progression that was going to be easy to tell because Hillary was going to be president, and we were going to be living in the light. But it didn't occur. I'm still trying to come to terms with that," Rhimes said. "One bad thing after another keeps happening, and the world feels very unstable. So in a world in which all of the things that we would write on Scandal are happening in real life, it's very hard to write Scandal the way we used to, when it was like, 'Let's make Washington the most outrageous, horrifying place it could ever be.'"
She continued, "I used to know how it ended, and then Donald Trump was elected. We had a destination, and I don't know if that's our destination anymore."
UPDATE
This story has been updated with the confirmation that Scandal will be ending.