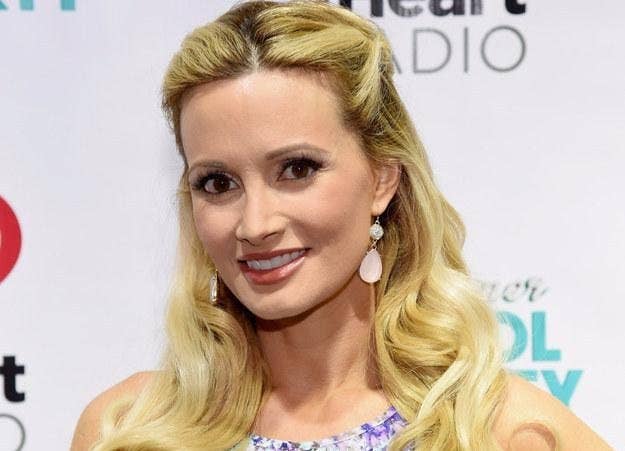 Holly Madison decided to write a book when she was excelling in her career —  starring in the long-running Peepshow in Las Vegas at Planet Hollywood, as well as her own E! reality show Holly's World — and yet fans would not stop asking her about Hugh Hefner and her time as his girlfriend in the Playboy Mansion.
"Women would come up to me, and say, 'Don't you miss the mansion?' Or, 'I'm sorry Hef didn't marry you,'" Madison recalled during a recent interview with BuzzFeed News at her home on a tree-lined Los Angeles street. "I was like, can't you see I'm doing so much better on my own?"
It's safe to say that after the revelations in Madison's just-released Down the Rabbit Hole: Curious Adventures and Cautionary Tales of a Former Playboy Bunny, she has successfully squashed any such questions in the future. With little preamble — Madison and her collaborator, Leslie Bruce, know what the reader came for —  Down the Rabbit Hole tells the story of Madison's time with Hefner from 2001 to 2008 and its aftermath. The result reads like a celebrity memoir infused with The Bell Jar and Going Clear. Madison's depression in the Playboy Mansion reached harrowing depths, yet she felt trapped there: by her fears about her limited professional possibilities, by her unwillingness to admit to anyone how sad she really was, and by Hefner's emotional control over her.
The book also explicitly tears down an insidious thread in popular culture in which women have portrayed themselves on reality television as dumb and less than — a phenomenon Madison herself participated in during her time on The Girls Next Door, the E! reality show that chronicled part of her time with Hefner (and fellow Playmates/Hefner girlfriends Kendra Wilkinson and Bridget Marquardt). In the author's note, Madison writes, "Around the turn of the millennium, it became fashionable for women to appear stupid — to get by solely on their looks and to be concerned only with fame and materialism. Some of the effects of that moment in the zeitgeist still linger today."
Down the Rabbit Hole, which on Wednesday made its debut on the New York Times' hardcover nonfiction bestseller list at No. 2, is not breezy fare. Sitting on her shaded patio overlooking her garden on a hot summer day, Madison, now 35, said, "I felt like I had something to say about being in the midst of that whole thing that was going on where Paris Hilton and Jessica Simpson and Kendra were so celebrated — and I was a part of it too — for being dumb on TV. Part of the reason I wanted to write the book was to show the other side of it."
Below, Madison talks to BuzzFeed News about what you don't know in regards to Hefner, her seedy years in the Playboy Mansion, and feminism.
From the time she was a kid, Playboy held an allure for Madison.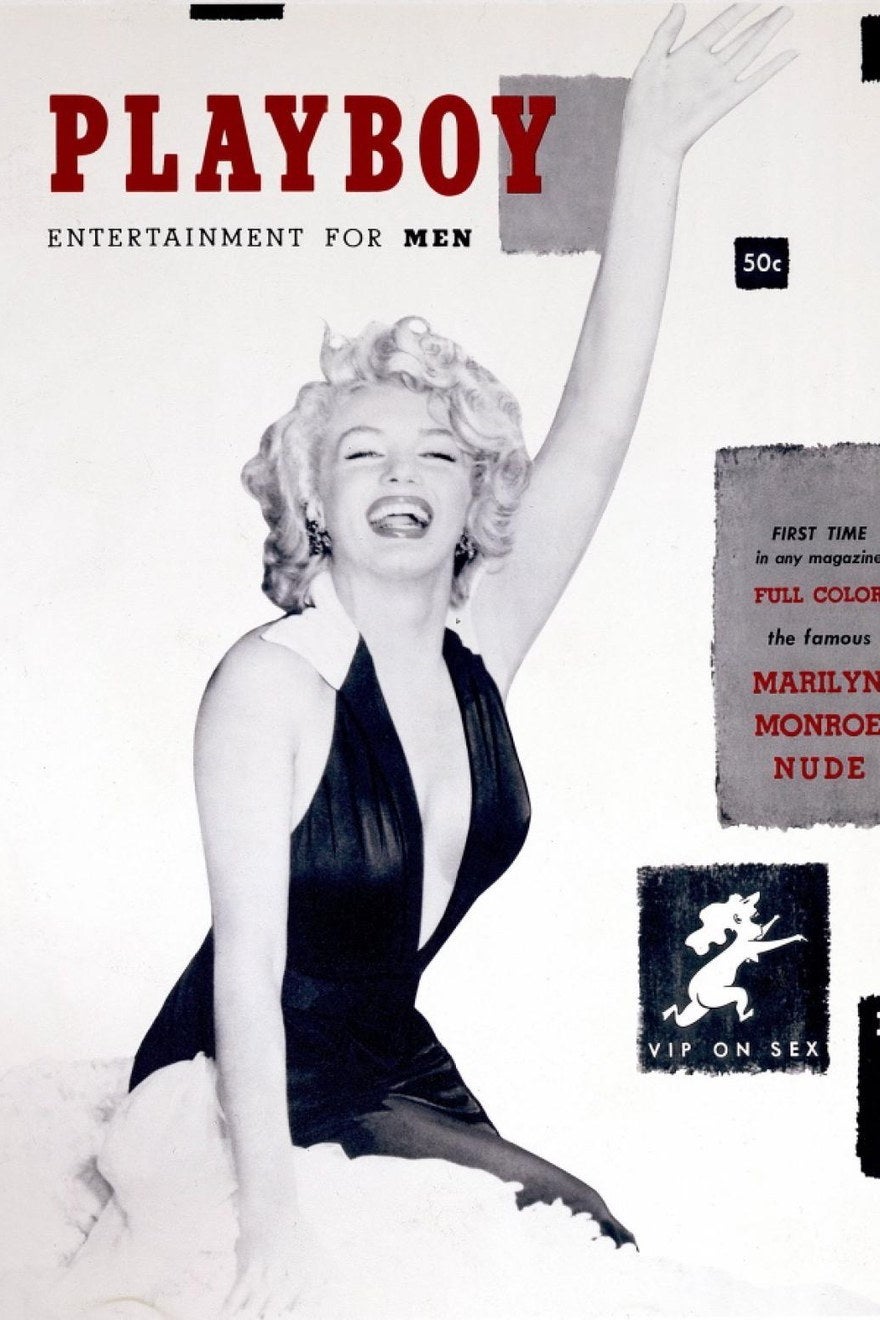 Madison grew up in Alaska and Oregon. She was aware of Playboy, even going to an open call for the magazine's search for its Playmate of the Millennium during her second year of college. (It turned out to be a publicity stunt.)
"What brought my attention to it were the women who had posed who had these glamorous careers, whether it was Marilyn Monroe or Jenny McCarthy — who was really popular when I was in high school — or Pamela Anderson," Madison said. "I'd look at a magazine every now and again, and the pictorials looked really classic and glamorous."
It didn't take long for Madison to become enmeshed in Playboy life, despite judgment from those close to her.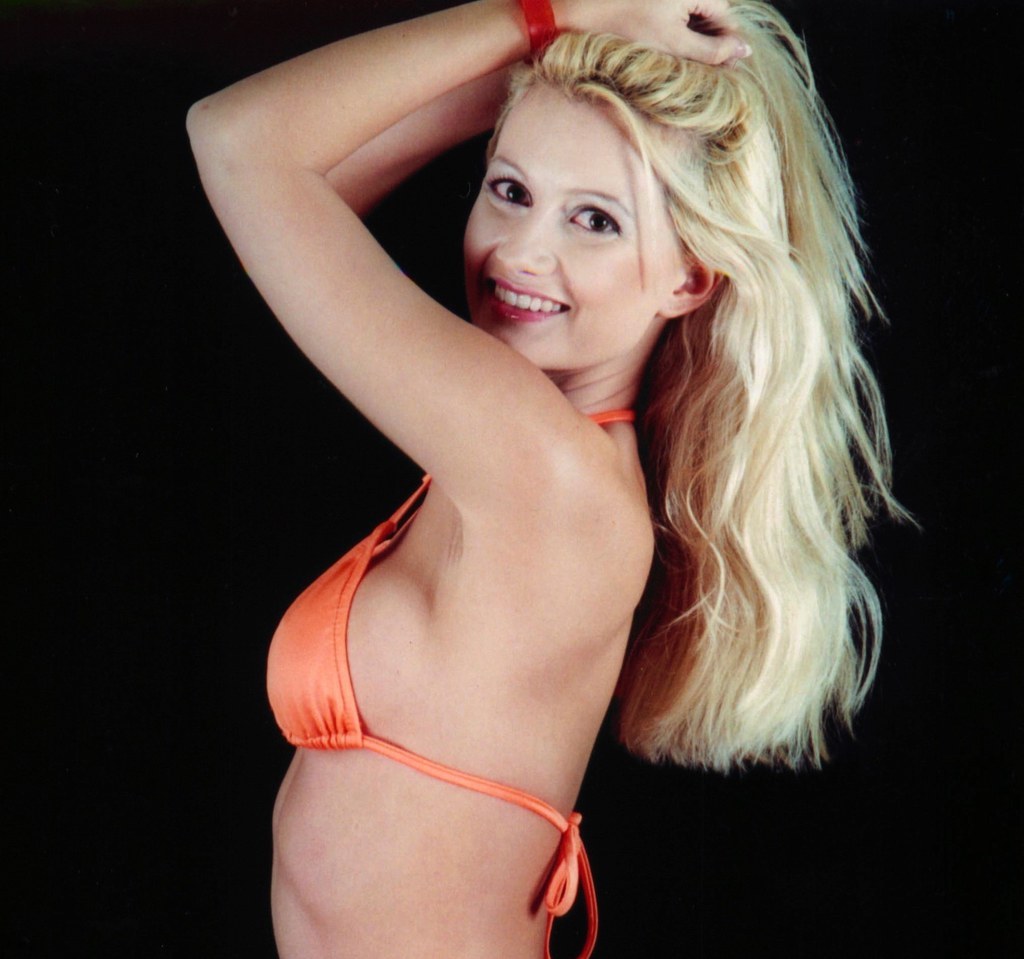 In 2000, when Madison was 20 and in college, she transferred to a school in Los Angeles with the aim of starting an acting career. She supported herself by working at Hooters in Santa Monica, a job she loved; it also led to her being invited to a party at the Playboy Mansion. One Hooters customer was a friend of Hefner's, and asked her whether she'd like to come to a party — "barely taking the time to meet my eyes," Madison writes. She thought it would be a one-time event, but ended up going to the mansion weekly for its Sunday pool parties.
Which is where she first encountered the seven-at-a-time harem that Hefner, who was then 74, maintained. After a year of being a regular at the mansion, and with both of her roommates moving out, Madison was desperate to stay in Los Angeles, and decided she'd try to be one of the girlfriends. (A spot had opened up.) After all, she had been assured that none of them actually had sex with Hefner, and it seemed like a nice — and free — place to live.
The decision immediately cut her off from friends outside the mansion. Madison said they would say, "'Ew, gross, you hooked up with an old dude?' I thought I was an adult and thought I was making my free choice. And I was. But I wasn't sophisticated or really prepared. And kind of got in over my head. ... I could understand how people thought it was strange. But I guess I wasn't comfortable enough to explain why I thought it would be fun or why I thought it would be a good idea."
And it actually wasn't a good idea to move in.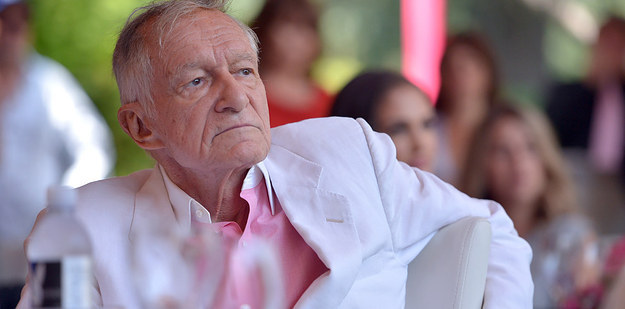 As Madison learned her first night out with Hefner and the girlfriends, sex was a requirement of living there. Wednesdays and Fridays were "Club Nights," and Hefner and his ladies would go out in Hollywood, getting VIP treatment at various clubs. (Hefner's fame as a septuagenarian sexpot novelty was then at its peak.) Hefner offered Madison a Quaalude, telling her, she writes in Down the Rabbit Hole, that "in the '70s they used to call these pills 'thigh openers.'" She turned him down, but did get drunk, and by the time they all went back to the mansion, she was told that it was time to go to Hefner's bedroom.
Tina Jordan, at the time his No. 1 girlfriend — a spot Madison herself would later occupy — brought her into the room, which was, she writes, "like an episode of Hoarders." With hardcore porn playing on two TV screens, Hefner masturbated as the women play-acted lesbian scenes. No one was into it. A girlfriend whose name Madison changed to Vicky in the book pushed her toward Hefner while urging him to "be with the new girl." Madison writes, "It was so brief that I can't even recall what it felt like beyond having a heavy body on top of mine."
And some of those women had taken Hefner's Quaaludes. "They weren't commonly available then — I don't even know exactly how he was getting them," Madison said. "I know most girls my age were not doing them, and didn't know what they made you feel like. And I'm sure a lot of those girls didn't know what they were at all."
The day after Madison's unofficial Playboy Mansion initiation, she asked Hefner whether she could move in, and he said yes.
In the whole transactional experience, there hadn't been any discussion about whether she wanted to have sex with Hefner. Does she consider it to be nonconsensual when she looks back on it? "I think everybody just assumed because I was there and making it clear that I wanted to be a girlfriend that I knew something went on," Madison said. "And I knew something went on. I'm not stupid. But none of the girls would ever really admit to it or talk about it."
The group sex occurred twice a week, she said. "It was always Wednesdays and Fridays after the club," she said. "It was always exactly the same because that's just how he likes to live his life."
It was all ritualized, featuring the rotating cast of girlfriends. "They knew it was kind of a quote-unquote requirement for living there, and expected," Madison said. "And it had kind of a chore vibe, I felt. The girls would stand there and they'd kind of like put on a show to create a silhouette that something was going on. Hef couldn't hear very well out of one ear, and I could hear them all talking and making fun of what was going on and gossiping."
Does she know saying that today that all of this sounds insane? "I know it's not normal!" Madison said with a laugh. "It just kind of follows the pattern of how he does things."
Her story of that first night is the only time she reveals those sorts of intimate details in the book. That's always what people want to know, she said, so she didn't want to make the account seem lascivious. "I talk about how that situation made me feel," Madison said. "Like, I didn't like being part of a group thing, and it didn't make me feel good about myself. But I didn't want to oversensationalize the sex, because to me that wasn't the most important issue. It was only one of the things that made me feel bad."
Writing about this part — her entrée to living in the mansion and its obligations — was the hardest for Madison. "I kept — yeah, it was hard for me," she said. "I can't even explain why. I think because I made that decision and really felt like I sold myself out."
Madison soon fell into a depression.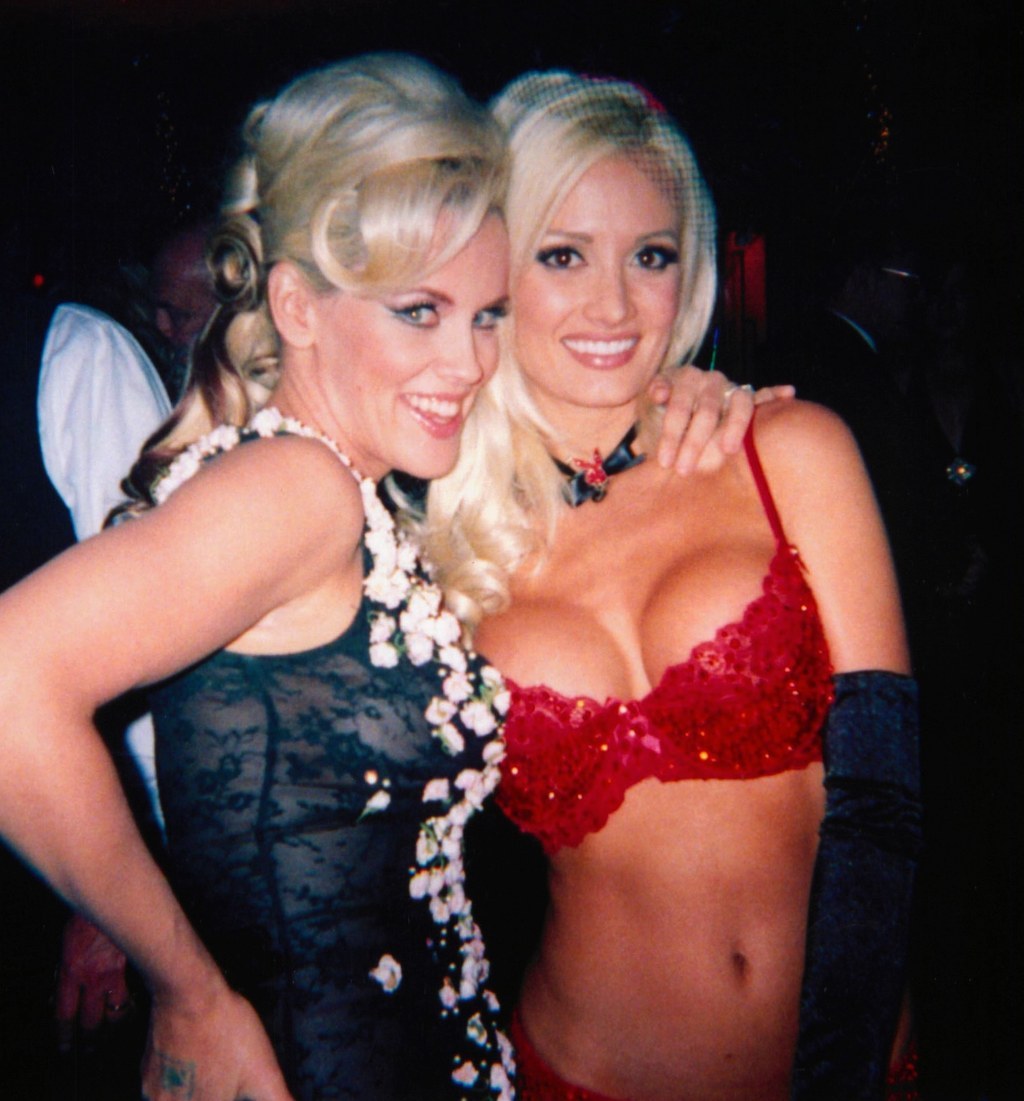 Being a girlfriend in the mansion was a highly regulated experience, even aside from prescribed sex. On evenings when they weren't required to be home, there was a 9 p.m. curfew. Madison kept her job at Hooters for awhile — not only was it important to her to have contact with the outside world, but she wasn't earning money apart from skimming off of her clothing and beauty allowance from Hefner.
Emotionally, she fell off a cliff. She felt bullied by some of the other women, especially Vicky, whom she had thought was her friend. Hefner was withholding, treating her like she was stupid, and criticizing her looks. She wasn't allowed to wear red lipstick; he hated her short haircut, telling her, "You look old, hard, and cheap."
She developed a stutter, and as a consequence tried to speak as little as possible. Less than a year after living there, she contemplated killing herself, writing, "Drowning myself seemed like a logical way to escape the ridiculous life I was leading. I just couldn't take my misery anymore."
Madison sought help, but Hefner, she writes, wouldn't allow her to see a therapist, so she went to a doctor for antidepressants. She was too ashamed to tell her parents what was happening, she said. And in the mansion, no one cared to see what was going on with her. "I think people noticed behavior that was manifested from the depression, but they interpreted it in a different way," she said. "Like, 'She's stuck up.' Or, 'She's a bitch.'"
Eventually, Hefner forced her to quit her job at Hooters. "It was just a dumb waitressing job, but after I was pressured to give that job up, I really felt cut off from the outside world," Madison said. "And cut off from any independence I had." At the time, she had no earning potential; Hefner had made the decision to stop putting his girlfriends in the magazine, because usually once they achieved that, they would leave him.
Her only confidantes were Hefner's longtime secretary, Mary O'Connor, and another girlfriend, Bridget Marquardt (who would later become her Girls Next Door co-star). With O'Connor, Madison was careful not to cross a line, since she knew she was loyal to Hefner. "I never really let her know how deep it went," Madison said. "Because she was Hef's secretary, I wasn't going to go, 'I want to kill myself! Get me out of here!'"
She told Marquardt more. "But even with her, I was embarrassed to be feeling as badly as I did," Madison said. "Choosing to move into the mansion is such a bold choice, and to admit that you're depressed is really admitting that you made a really dumb decision. And I wasn't ready to do that."
The Girls Next Door came along in 2005, and that was when — finally — things began to improve.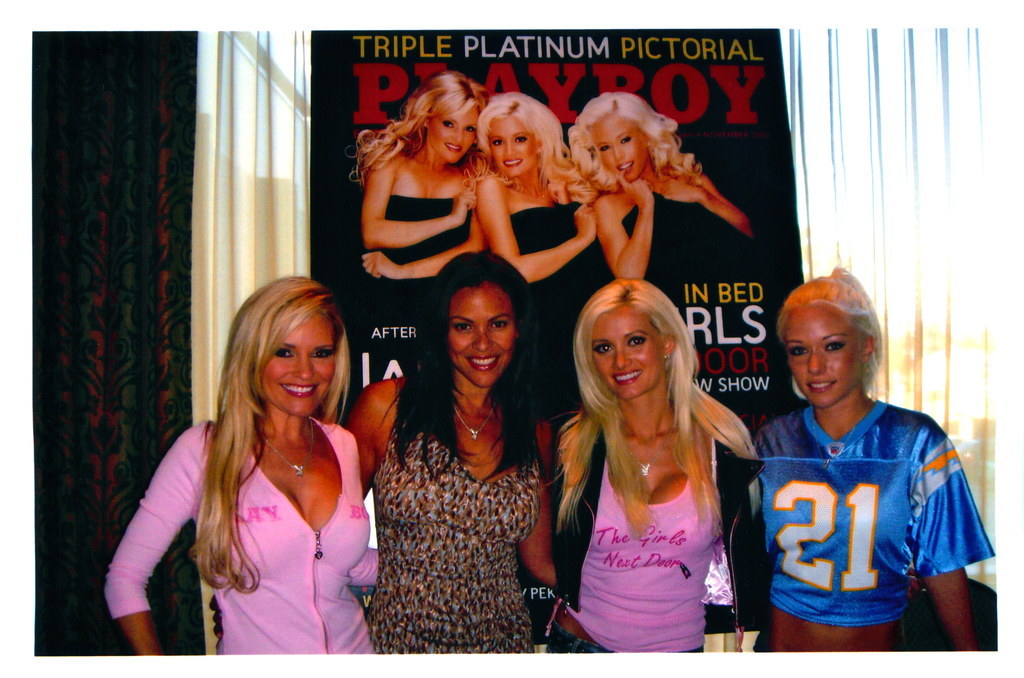 The E! reality show didn't immediately solve Madison's problems; in fact, she writes that the women weren't paid a dime for Season 1. But Hefner's group of girlfriends had been reduced to three, and she, Marquardt, and Wilkinson got along. (That is, they got along then: Wilkinson has since decided to feud with Madison publicly, some of which is detailed in the book. She has also defended Hefner since Down the Rabbit Hole was released, but Madison brushes that off: "I look at Kendra's response, and it seems really scattered and weird.")
Living with Hefner before the show began, Madison felt she had been "kind of floating." After, she said, "I was sad at times after Girls Next Door, too, but I felt like the TV show improved our experience a lot." They got to travel, they became Playmates (finally), and after the first season, they also earned money from the show. Madison got an internship at Playboy for a storyline as well and soon was hired as a junior photo editor — she loved it.
But after five seasons and more time with Hefner, Marquardt and Wilkinson were moving on and moving out, giving Madison what her Girls Next Door persona was scripted as wanting: a solo relationship with Hefner. It turned out to be an idea she couldn't bear, and she finally decided to leave.
"During the end, I definitely recognized that he was verbally abusive, and that was what made me snap," Madison said. "There were so many things in the relationship I wasn't fully comfortable with, but I was able to justify them in my mind because there were other advantages to being there. And when Bridget and Kendra were getting ready to leave, and it seemed like I was finally going to be the only one, he went off on me three times in one weekend — two of those anecdotes I detail in the book. I was like, holy crap, I just can't be here anymore if this dude's just going to be a jerk."
After she left, she was nervous about her work life, but soon ended up on Dancing With the Stars and in Peepshow, for which she made, she writes, millions of dollars. She performed as its lead until she was too pregnant to continue — she had begun dating Pasquale Rotella, an EDM magnate, in 2011. Their daughter, Rainbow, was born in March 2013.
Hefner said that Madison and Down the Rabbit Hole "rewrite history."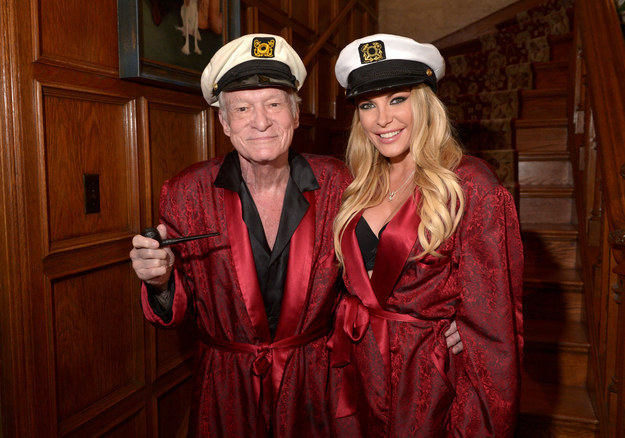 Hefner, who is 89 at this point, has not given an interview about Madison's book. When BuzzFeed News contacted his spokesperson, she reiterated the statement Hefner previously released. It reads: "Over the course of my life I've had more than my fair share of romantic relationships with wonderful women. Many moved on to live happy, healthy, and productive lives and I'm pleased to say remain dear friends today. Sadly, there are a few who have chosen to rewrite history in an attempt to stay in the spotlight. I guess, as the old saying goes: You can't win 'em all!"
In response, Madison told BuzzFeed News, "I think my favorite thing about that response is he takes the opportunity to remind everyone how many women he's dated."
She said: "Hef loves to surround himself with 'yes' people. And he does have a lot of friends that he's good to. There's such a culture up there of everybody always talking about him being the nicest guy. You know, that was the veneer and the personality that I fell for for so long. So you are kind of afraid to speak out in a way because you're made to feel like you're crazy."
The book ends with Madison happily married to Rotella. "He's my Prince Charming, but I didn't need saving," she writes. "I saved myself."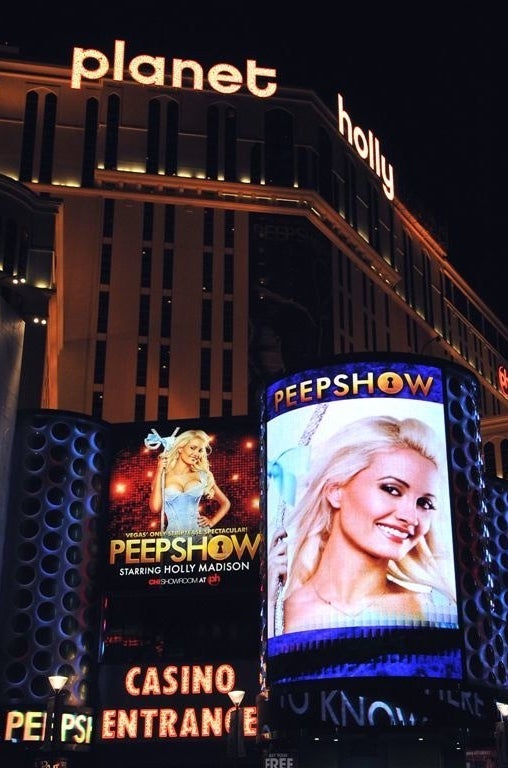 When she was single, Madison said, she couldn't believe "how much people would judge a woman's worth or judge how successful she is based on whether or not she's married." She continued, "And I'm not slamming marriage — marriage and family are some of the most beautiful parts of my life. But everybody meets their own person in their own time, and I don't think a woman should be looked at like, 'Oh, you're still not married?' Why do people still think that way!"
Yes, she's a feminist, and Down the Rabbit Hole comes from that place.
"I call myself a born-again feminist," she said. "I can't call myself a feminist, or people are going to attack me for that, like, How can you be a feminist, you lived with Hugh Hefner! But I feel like there comes a time in every woman's life when you have to become a feminist."
Madison paused, and said, "You can play dumb as long as you want. It's not going to last, and it's not going to be fulfilling."
This story was updated to add the information about Down the Rabbit Hole making it onto the New York Times bestsellers list.