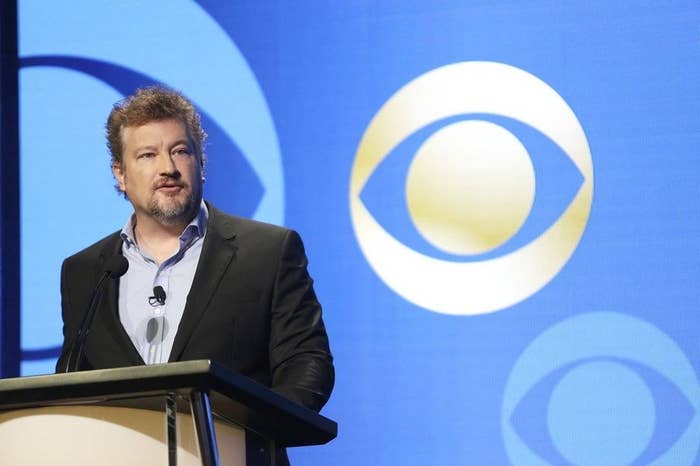 In the #MeToo era, there has been a pattern to the playbook. Broadly speaking, after a public airing of allegations of embarrassing — and, in some cases, criminal — misdeeds, the man accused is suspended from his job pending an investigation, if not fired outright.
But with the exception of Charlie Rose, CBS has not followed the pattern, maintaining ties with several men who have faced public allegations of misconduct and abuse. The network recently rewarded NCIS: New Orleans showrunner Brad Kern with a new contract, despite having twice investigated him for harassment allegations. It hasn't distanced itself from Morgan Freeman, an executive producer of Madam Secretary accused by multiple women of inappropriate behavior. It canceled Jeremy Piven's Wisdom of the Crowd, but only because its ratings were terrible.
The company has even remained unbowed in the wake of Ronan Farrow's New Yorker investigation of CBS Corporation CEO Leslie Moonves, which included accounts from six women who accused the network chief of sexual harassment, sexual assault, and professional retaliation.
The piece also indicated that CBS culture is poisoned by misogyny that has infected all of its divisions. That includes CBS News, where Rose thrived until he didn't, and where 60 Minutes executive producer Jeff Fager was accused of being "handsy" and allegedly made "drunken advances to an associate producer, commenting on her breasts and becoming belligerent when she rebuffed him," according to Farrow's report.
In a statement to the New Yorker, Moonves acknowledged he might have made mistakes "decades ago" but denied most of the particulars of the women's accounts. Fager denied the accusations, saying they had been made by people with an "axe to grind." So far, neither man has stepped down.
On Wednesday, CBS's board announced it had hired two law firms, both led by women, to investigate Moonves. And on Sunday, a CBS News spokesperson told BuzzFeed News that Fager will "stay on vacation" while the company conducts its investigation into his conduct.

With all of these problems swirling around the company, CBS's president of entertainment, Kelly Kahl, faced journalists Sunday at the Television Critics Association Press Tour in Beverly Hills. And though it was perhaps surprising that Kahl didn't just cancel given the headwinds facing the network — NBC and ABC aren't even bothering with executive sessions this year (presumably, NBC doesn't care, and ABC doesn't want a flood of Roseanne questions) — he stayed firmly on message. He ceded no ground when asked repeatedly whether there might be something wrong at CBS.

"Obviously, this has been a tough week at CBS," he began, before skillfully engaging in 25 minutes of benevolent stonewalling.

He did not question any of the women's accounts detailed in Farrow's story, nor did he deny that anything improper occurred at the company. "We are committed to a collaborative, inclusive, and safe workplace," he said.

"We're not saying we're perfect; no large company is, and there's always room for improvement," he continued. "But a lot of us have been here for a long time, precisely because CBS Entertainment is such a fulfilling place to work."
Kahl, who began his career as Moonves' intern at Lorimar Television in 1990 and maintained a close rapport with the CEO as he rose through the ranks at CBS, is certainly in an awkward position. He acknowledged his closeness to Moonves in his opening statement, calling him an "excellent boss and a mentor for a long time."
"He put me in this job," Kahl added. "At the same time, we must respect the voices that come forward. All the allegations need to be and are being taken seriously."
As the press conference continued, Kahl repeated that CBS Entertainment is a safe place to work, that he believes in the system the company has in place to protect employees, that it doesn't need to make any changes, and that he has "great confidence in our HR department."
Reporters pressed him, particularly about Kern, who was investigated twice for "sexual harassment, discrimination against women — particularly working mothers — and racially charged comments," according to a Variety report published in December. As the author of that story, Maureen Ryan, wrote last week, Kern is now being looked into a third time, and has finally been suspended by CBS's studio — the same studio gave him a new contract in the spring and said he would be on NCIS: New Orleans as a consultant only.

Sunday's press conference was far more confrontational than CBS's earnings call Thursday, when analysts were silent on key questions about the company's future and declined to question Moonves about the sexual harassment allegations against him or whether there is a succession plan in place for the company should he be forced to leave.
But presented with the first real opportunity to show how top executives at CBS are handling their #MeToo maelstrom, Kahl stared down the press corps to deliver the company line.
Talal Ansari contributed to this report.