This happy man next to the attorney-general is Eric Abetz.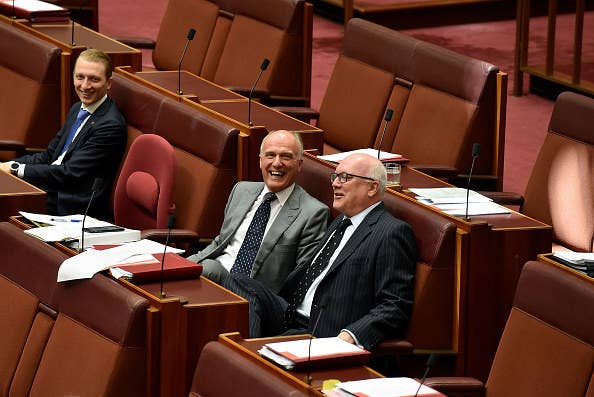 The Liberal senator for Tasmania is one of the most conservative members in parliament, and thrives in Senate Estimates asking public servants questions related to the ongoing Culture War. Education, unions, marriage equality are key targets in Abetz's scope.
Earlier this year he took the Department of Finance to task for allowing a rainbow flag to be displayed in its lobby.
He also frequently asks questions to the ABC about perceived left-wing bias at the national broadcaster. Politics tragics have even coined the term "Abetztimates" for when the Tasmanian senator targets the broadcaster during Senate Estimates.
Now as we approach the Christmas season, he has set his sights on a new target: the annual public service holidays email.
It is not Christmas time unless there is some battle waged in the War on Christmas, and this year, Abetz has tasked himself with discovering whether government departments are or are not saying happy Christmas or happy Ramadan in their annual emails.
In questions on notice filed in October, Abetz asked 85 difference government agencies the following:

"Please provide the messages (if any) sent to staff (on the most recent occasions) of Christmas/New Year, Easter and Ramadan by the Secretary of the Department or Agency Heads at the relevant time."
Some did say Merry Christmas, such as the Australian Institute of Aboriginal and Torres Strait Islander Studies.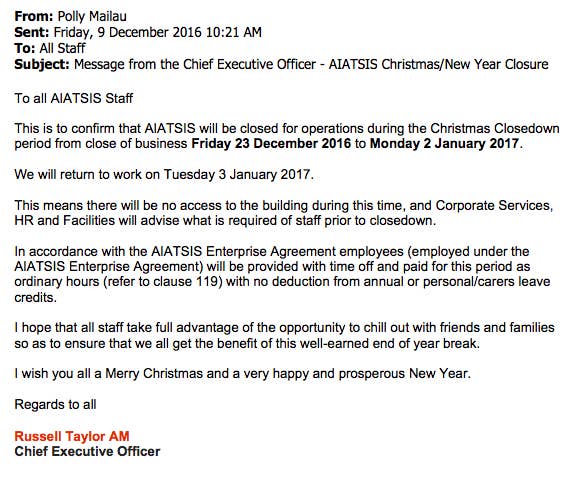 So did the Australian Curriculum, Assessment and Reporting Authority (ACARA)

The Department of the Senate was a bit shorter.

The Office of National Assessments (one of Australia's peak intelligence agencies) said it was OK to go home early on Christmas Eve Eve.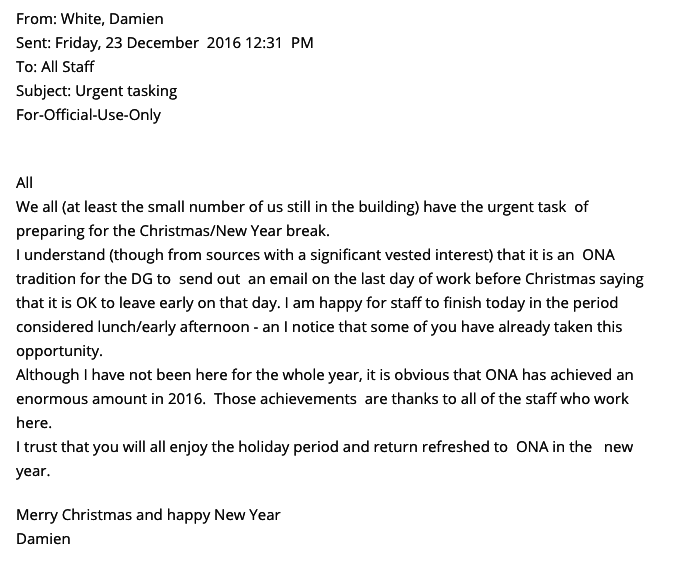 Some agencies avoided the C-word completely. Tut tut.

Most had so far not responded, or said there were no messages to share.
No agency so far appears to have sent out celebratory Ramadan messages to staff, and it looks like Christmas is still alive and well in the public service.