The Coalition For Marriage Is Made Up Of Church Officials And Ex-Staffers
The group claiming to represent a "grassroots" movement against same-sex marriage in Australia is made up of a collection of church officials and former political staffers.
The Coalition for Marriage (CFM), an umbrella group for a variety of "no" campaign organisations opposed to same-sex marriage in the postal survey, likes to present itself as a "grassroots" movement.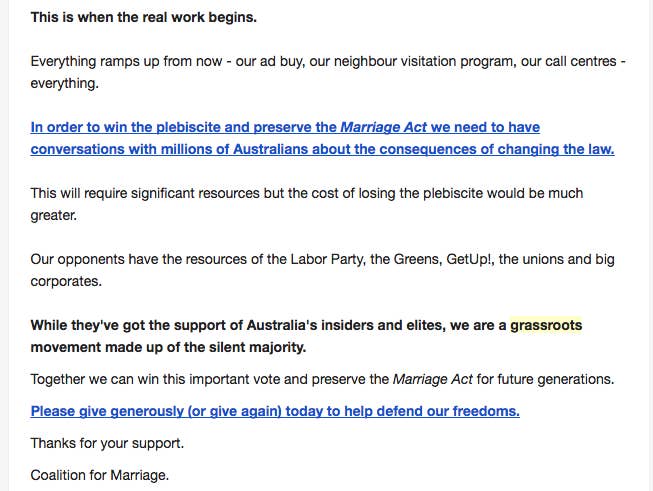 The organisation tells supporters on its email list that it is a "grassroots movement made up of the silent majority" of Australians opposed to changing the Marriage Act to allow same-sex couples to wed, while claiming the "yes" side consists of "insiders and elites".
But the people behind the CFM have a long history of working for religious organisations in Australia or as political insiders.
BuzzFeed News ran a company search on the CFM this week and found that its four directors are Lyle Shelton, Damian Wyld, Kieran Walton and Michael Stead.

Prior to becoming managing director at the Australian Christian Lobby (ACL) Lyle Shelton — who is also a director of the CFM — was a journalist, Toowoomba councillor, unsuccessful state candidate in Queensland, and staffer with former Nationals senator Ron Boswell.
Shelton is the face of the "no" campaign.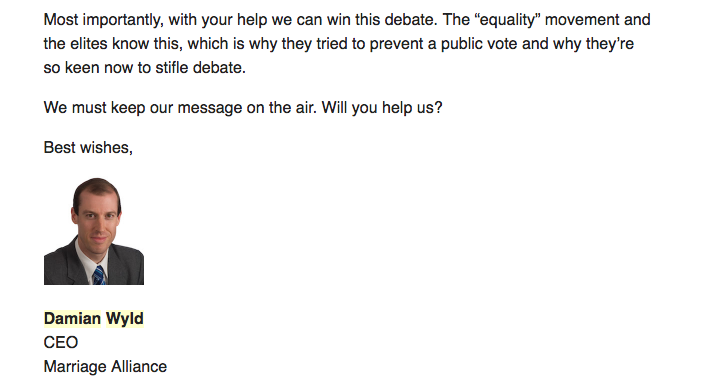 Damian Wyld is the CEO of one of the more recently-formed anti-marriage equality organisations, Marriage Alliance (MA), in addition to being a director of both the MA and the CFM.
He is a former South Australian state president of the National Civic Council, and has run for state election as a Liberal candidate in South Australia at least twice.
Wyld is currently a councillor for Tea Tree Gully in South Australia and was formerly a policy officer for the group Family Voice Australia. He is also a director of the Australian Family Coalition (a group with messaging very similar to the MA and the CFM).

Kieran Walton is currently the private secretary to the archbishop in the Catholic Archdiocese of Sydney. He was a speech writer for former prime minister Tony Abbott from March to September 2015, according to his LinkedIn profile, and prior to that spent two years working as a researcher for former prime minister John Howard.

Michael Stead is the Anglican bishop of South Sydney. He has a long history in the Anglican church, and is a published author. In one recent article he suggests that the majority of Christians are not on board yet with homosexuality.
"The church has come to change its stance in the past because a majority of Christians were persuaded that their old interpretation was wrong, and were persuaded by a 'better' interpretation of the bible," he wrote.
"If there is to be a change on this issue, it will be because a majority of Christians come to be convinced that we have been mistaken thus far, and that the scriptures do in fact allow committed and consensual same‐gender sexual activity. For my part, I am not persuaded that this is the case as yet."
Stead has emerged as one spokesperson for the CFM.
In addition to the CFM, Wyld's MA has also been one of the leading voices of the "no" campaign. That organisation's directors include Ashley Goldsworthy, a former director of the Liberal Party, and in May, the organisation appointed former NSW attorney-general Greg Smith to a directorship.
Smith, a right wing conservative in the state Liberal government, resigned as attorney-general in 2014, meaning he is outside the 18-month ban put on ministers to prevent them from lobbying immediately after leaving their ministerial jobs under NSW lobbying rules. His son had previously been managing the media for the MA.
Aside from the directors, there is also Sophie York, the once prominent spokesperson for the MA, and now part of the CFM.
York has run for preselection as a Liberal candidate and was most recently seen at a Liberal Party conference in June advocating against a ban on how-to-vote cards because not all low-IQ people "vote Labor".
York's testimonials page on her website contains endorsements from several state Liberal ministers, and commentators including Gerard Henderson, Tom Switzer and Miranda Devine.
York has not been interviewed on the issue on TV since the postal survey campaign commenced.

A spokesperson for the CFM insisted that the organisation was "grassroots" because of its volunteer base.
"Coalition For Marriage is a grassroots movement of tens of thousands of volunteer activists working to preserve the Marriage Act," the spokesperson said.
Both the "yes" and "no" sides are positioning themselves as the underdog in this campaign. Both refused during National Press Club addresses this week to disclose the size of their funding war chests.
Shelton said the CFM hadn't taken any money from evangelical churches in the United States. The CEO of Qantas, Alan Joyce, this week said he would be donating $1 million of his own money to the "yes" campaign.
The Coalition For Marriage cries poor, but since it was set up in mid-July, its headquarters has been in what The Australian dubbed "a Sydney CBD temple of investment banking" Governor Phillip Tower.