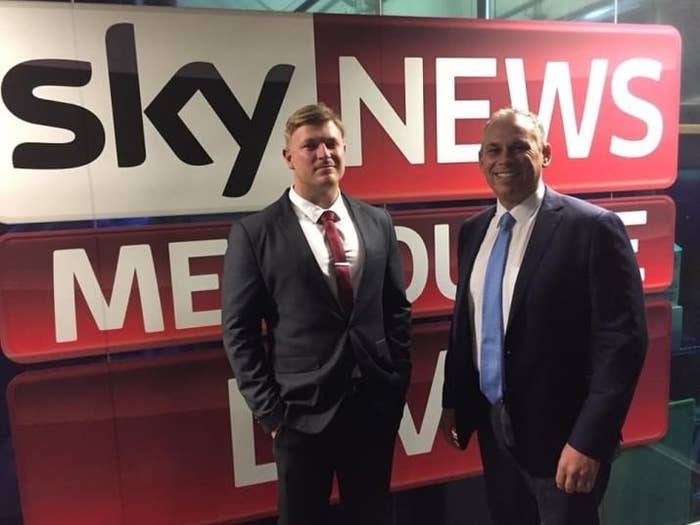 American Express, Specsavers, and Huggies have all vowed to either suspend, or not run ads on Sky News following the pay TV channel's decision to air an interview with far right nationalist Blair Cottrell.
The companies have been facing a sustained campaign from Sleeping Giants Oz, a group that has targeted advertisers on Sky News to drop their ads since the Cottrell interview aired on Sunday.
Cottrell, who once said a photo of Adolf Hitler and copies of Mein Kampf should be in every Australian school, was invited onto The Adam Giles Show for a studio interview on Sunday night.

Sky News has since apologised for airing the interview, suspended the Giles show, and vowed to never have Cottrell on air again. Brands have been put under pressure to pull their ads from Sky News over the incident.
Huggies, Specsavers, and American Express have all said they would drop their ads or not buy ads on Sky News.
This prompted Liberal Democrat senator David Leyonhjelm, who is currently defending a defamation case over his own comments made on Sky News, to say he was going to cut up his Amex card.
His register of senators' interests does not list him as owning an Amex card, but does list him as having credit cards with several banks.

Sky News is also due to begin broadcasting on free-to-air in some regional locations in September.

Conservative commentator Andrew Bolt, who hosts a nightly opinion show on the channel, has said the response to the Sky News interview has been hypocritical because other networks including the ABC and Seven have previously interviewed Cottrell without facing a similar backlash.
"Some of the outrage against Sky seems driven by an agenda," he told 3AW radio.
Cottrell has been prevented from posting on Twitter for a week after making a comment that he "might as well have raped" Sky News host Laura Jayes because the reaction to the interview would have been the same.
UPDATE
On Thursday, Victorian transport minister Jacinta Allan tweeted that Sky News had been pulled from broadcast in Melbourne CBD train stations.
Other brands have continued to hold out so far on ending associations with Sky News, including Qantas and Virgin Australia, which both air the channel in their airport lounges.