Sarah Hanson-Young Says She Will Sue David Leyonhjelm Over "Slut-Shaming" Comments
The Greens senator says she will donate any money from a court win to charities.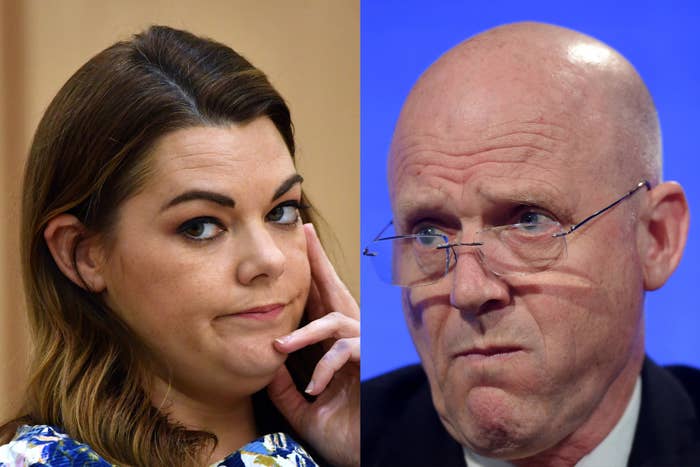 Greens senator Sarah Hanson-Young and Liberal Democrat senator David Leyonhjelm appear set to battle it out in court over defamation claims.
Last week, Hanson-Young issued Leyonhjelm with a legal letter about a set of comments the he made in interviews in the past week and a half.
It all began when Leyonhjelm told Hanson-Young she should "stop shagging men" during a Senate debate on whether women should be armed with pepper spray and Tasers to curb violence.

After he made the comment, Hanson-Young called him a "creep", to which he replied "Fuck off".

Hanson-Young penned an op-ed for the Guardian saying Leyonhjelm should be held to account for his words. She said on Twitter: "The truth is, for years I have winced and tried not to flinch at innuendos, yesterday I decided to stop and call it out."
It blew up when Leyonhjelm made allegations about Hanson-Young's personal life on Sky News' Outsiders show, which were broadcast on a strap along the bottom of the screen by a young producer, who was subsequently temporarily stood down from her job.

He then made a lot of comments about Hanson-Young in the following media outlets:
Paul Murray Live

ABC's 7.30

Ten's The Project

3AW Radio

Hanson-Young sought an apology and compensation from Leyonhjelm, but the libertarian senator said he had no intentions of backing down.
On Tuesday, Hanson-Young confirmed that she would be proceeding with the defamation action and would dedicate it to "all women who have experienced bullying, harassment and sexist abuse in the workplace".
"If the case is upheld, all funds awarded will be donated to charities that focus on the support and development of women, including Plan International Australia and the Working Women's Centre, SA," she said in a statement. "These organisations work at the coalface of helping women subjected to harassment, intimidation and bullying every day. It is for the women they assist and fight for on a daily basis that I am doing this."

Leyonhjelm said Hanson-Young was just being a "tearful bullying victim".
"It's been almost 48 hours since the public last witnessed Senator Hanson-Young's transformation from outspoken politician to tearful bullying victim," he said in a statement.
"I am pleased to see she has bravely responded to her feelings of relevance deprivation and managed to issue another statement today, reaffirming her victimhood and repeating her brave decision to sue me — just in case there are some Australians who missed that bit last week."
Both politicians have set up crowdfunding pages on GoFundMe to raise funds to battle it out against each other. At the time of publication, Sarah Hanson-Young's crowdfunder (started one day after Leyonhjelm's) had raised $34,328, compared to $11,295 for Leyonhjelm.
Under donations reform legislation introduced by the government last year aimed at limiting foreign interference in Australia politics, politicians such as Leyonhjelm and Hanson-Young cannot accept donations of $250 or more from a single source without verifying that the money is coming from an Australian citizen or entity.
People can make anonymous donations using GoFundMe, so it is unclear whether donations are being tracked, either by the politicians or GoFundMe.
The legislation has yet to pass the Senate.