Experts Found That The Marriage Equality Debate Harmed Gay People And I'm Not Shook At All
If only someone – anyone – could have warned us before it happened.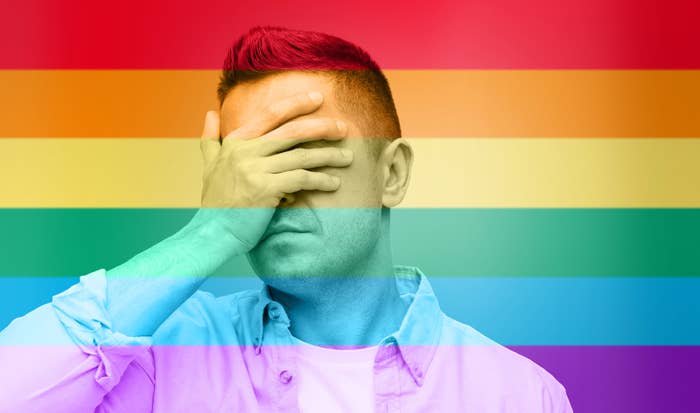 A new study has found that gay, lesbian and bisexual Australians who were exposed to negative media messages about same-sex marriage during the postal survey in 2017 were more likely to experience psychological distress than those who weren't exposed to the messages.

The study, published today in Australian Psychologist, polled 1,305 gay, lesbian and bisexual Australians during the survey to measure how often they were exposed to negative and positive media messages about same-sex marriage.
In the lead-up to the postal survey, marriage equality advocates, the Australian Psychological Society and the National Mental Health Commission all opposed a national public debate on marriage equality because of the impact it would have on the LGBTI community.
Almost a year before the postal survey took place, BuzzFeed News reported that the national suicide hotline had had a spike in the number of calls relating to the government's proposal.

"Every piece of expert advice tells us young Australians who are gay are more likely to contemplate suicide — and more likely to take their own lives," opposition leader Bill Shorten told parliament in 2016.
"Let me be as blunt as possible. A 'no' campaign would be emotional torment for gay teenagers. And if one child commits suicide over the plebiscite — then that is one too many."
Mental health service ReachOut had a 40% increase in requests from young LGBTI people asking for help, while Jo Ball, the CEO of Switchboard Victoria, told BuzzFeed News the LGBTI support service had experienced an increase of up to 35% in requests for support during the survey.

The study released on Thursday found there were 17,740 media items on same-sex marriage produced during the survey period of Sep. 12 to Nov. 7, 2017.
Participants were asked how often they had seen media related to same-sex marriage, on what medium (TV, radio, online, billboards, newspapers), and whether the message was positive or negative.
They were also asked to what degree they felt they had personal support from friends, family, colleagues and their community.
The report found that increased exposure to negative media messages led to an increase in psychological distress, but that increased personal support worked to lower that distress.
Report author, University of Sydney doctoral candidate Stefano Verrelli, told BuzzFeed News that participants weren't asked to provide examples of the kind of negative coverage they were seeing. He said they reported seeing more negative than positive messages in newspapers, TV and radio, but saw more positive messages on billboards, posters and online.
"I guess this is a product of people choosing who they follow and who their friends are online," he said. "But on more traditional, print media, people reported seeing more negative than positive messages."
An analysis of media during the postal survey provided to BuzzFeed News found that in one week of the postal survey, the "no" campaign was getting about four times the amount of coverage in print, TV, radio and online stories as the "yes" side.
Anna Brown, CEO of Equality Australia said that the study just proved what people already knew.

"This research tells us what the LGBTQI+ community already knew, the postal survey was deeply harmful to the mental health of our communities," she said in a statement.
Brown called on the government to end the debate over whether LGBTI students and staff at religious schools were a threat to religious freedom.
If you or someone you know needs help, you can call Lifeline Australia on 13 11 14 or Beyond Blue Australia on 1300 22 4636.