1.
A piercing bump solution so you can help stop that little bump on your nose piercing that's tripled in size in two weeks from growing annnnyyyy more. Before you totally ditch your new piercing, let this stuff help heal and reduce the size of your keloid!
This product does not promise to work overnight. Apply this daily 2–3 times a day as long as needed. Be sure to be patient as the healing process takes time!
Talk to your doctor before attempting to treat your keloid on your own, and learn more about keloids from Cleveland Clinic.
Promising review: "This product is amazing!! Truly a miracle product. I had an AWFUL keloid bump forming near my nose piercing about six weeks after getting it done and it was just getting bigger and more irritated by the day, nothing was helping. I bought this stuff and started using it and in less than two weeks my huge keloid was completely gone! I was definitely skeptical and a little nervous when it didn't seem to be getting noticeably smaller after a week but then the second week, it started totally disappearing so make sure to give it some time to work if your bump is on the larger side. If you remain patient and apply it twice a day, it should do the trick! Also smells pretty good, definitely no bothersome or overwhelming scent which is appreciated in a product that I'm applying on the nose area." —Jordan C.

Get it from Amazon for $11.85 (also available in multipacks).
2.
A Burt's Bees after-sun soother because getting sunburned sucks and the aftereffects aren't any better. Use this on your face or body after a day spent at the beach and watch the aloe and coconut oil work their magic on your sun-kissed bod. Plus, reviewers love that it's nongreasy and absorbs quickly into the skin.
Promising review: "Whenever someone I know has a sunburn, I become that super annoying product-pusher friend. I tell everyone about the sun soother! Really, Burt's Bees should pay me. It rubs into the skin like lotion so you don't feel greasy and you can immediately put on clothes after application. A little goes a long way! It smells good without being overpowering (and I'm picky about scents!). Most importantly, it works! I've had everything from slight burn to looks-like-a-lobster-feels-like-fire and this sun soother has eliminated the pain/itch and drastically reduced the eventual peel. Even if it does peel later on, it's minimal compared to what it would be and look like if I had not used this sun soother. I don't burn easily and love this product; my husband is as fair as they come and it's his favorite sunburn solution as well. Highly recommend!" —Jessie P.
Get it from Amazon for $9.99+ (available in five sizes). 
3.
A bleach-free weekly shower spray that'll clean your shower till it sparkles, but that's not all, friends. This baby also prevents future soap scum buildup. Spray it, let it sit for 8–12 hours (so probz spray before bed), then wake up to a totally new shower. 
Promising review: "Best product ever! It's made my cleaning easier. Just spray it and leave overnight and in the morning rinse it well with water. I scrub the tiles sometimes for a shinier look and sometimes I just spray it two or three hours before cleaning and don't need to leave it overnight. It's an amazing product, I've been using it for about a month and my faucets are shinier than ever. I love this product." —Maisha A.
Get it from Amazon for $20.08+ (available in two scents and refill packs). 
4.
A hypoallergenic makeup brush shampoo to help make cleaning your beauty tools a much less dreadful task. If you'd literally rather buy new makeup tools than clean them, this minimal effort shampoo is just as right for you as baby bear's chair was for Goldilocks.
This shampoo formula is cruelty-free and vegan!
Promising review: "After thorough, intensive scrubbing with dish soap, I thought I'd done an ok job on my brushes. FALSE! THIS! This magical, Hogwarts-crafted solution put any soap to shame. Minimal effort, incredible results. I had no idea my brushes could go back to their original color. Best purchase ever." —AC
Get it from Amazon for $6.99.
5.
And an electric makeup brush cleaner, because cleaning your makeup brushes is super time consuming and a pain in the neck. Big event and need clean, dry brushes? Let this contraption wash AND dry your beauty tools so you aren't panicking over still-damp brushes.
Dudeeee, there's nothing I hate more than cleaning my makeup brushes. I honestly would rather throw away all of my brushes and buy new ones than to clean them. Save yourself all that dreadful cleaning time and just check this thing out besties.
Promising review: "I gotta admit, I was skeptical. There are items just like this on the market that are triple the price. My makeup brushes have two years worth of caked-on crap, so I thought, no way this $16 gem would work. WRONG!!! I am actually shocked at how well this thing worked. I did have to go back through and scrub by hand but it's not this cleaner's fault — two years of left-on makeup is my fault. I cannot believe that my foundation brush is white again like the day I bought it and not just a soft beige from washing it by hand. BUY THIS CONTRAPTION — it's amazing." —sumnerls

Get it from Amazon for $17.99 (available in two colors).
6.
A spray-on cleaning gel for the rust that's turning your tub and shower walls orange. No scrubbing, I repeat — NO scrubbing — is required.

Promising review: "Moved into our first home, which had some rough problems to tackle due to years and years of hard water and rust. One problem in particular was the forever stained shower. I tried several different products with no or very little success. In fact by the time I picked this stuff up, I was pretty skeptical that anything would help our situation. When I bought it (first time in spray form) I actually sprayed two passive streaks on the shower wall and immediately walked out. A few hours passed and I went to go to the bathroom and was absolutely floored to find, no kidding, two very white streaks where the spray had been. I've uploaded the before and after photos of the shower as proof (see them above!). Since, I've used both spray and powder forms for many cleaning tasks." —Sarah K. 

Get a two-pack from Amazon for $16.03.
7.
A vegan ingrown hair oil to help with those pesky, painful ingrown bumps after shaving or waxing. Whether it's your pits, down, uhhh, there, or wherever your skin gets red and irritated, this stuff will handle it, no prob.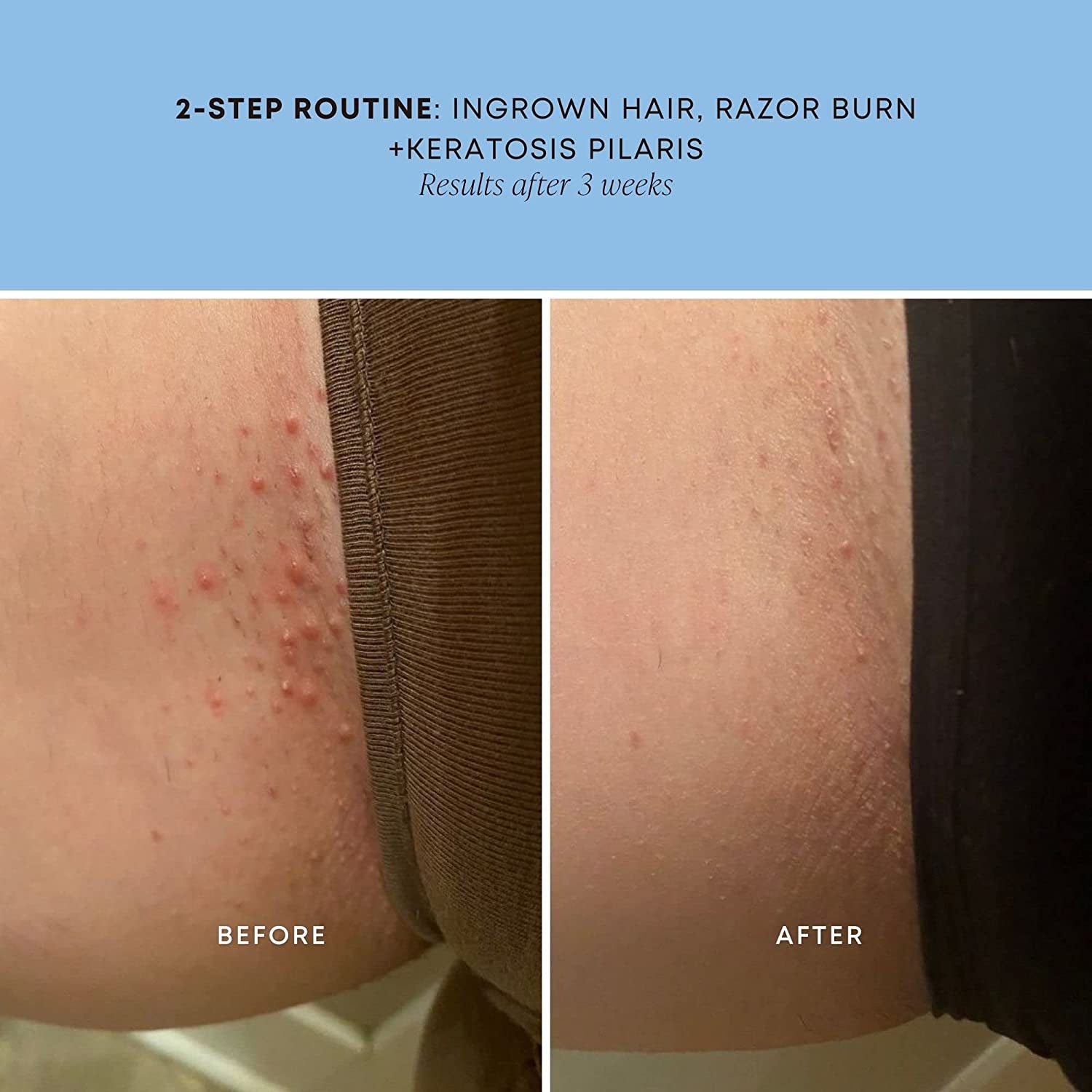 Bushbalm is an Ottawa-based small biz that specializes in products for the pubic zone(s) that treat ingrown hairs, dark spots, and razor burn.
Pstttt! Those results in the pics (above) were achieved by using this with the scrub!
BuzzFeed Shopping editor Katy Herman uses this to stay smooth after shaving and saysss:
"I received a sample of this lovely stuff, and I have already seen a difference in how my bikini line looks after shaving! I always struggle with razor bumps in the down-there area specifically, but this oil helps keep it soft, smooth, and bump free! The brand recommends applying it right after getting out of the shower, and you can even use it to spot-treat ingrown hairs. I'm pretty ~scent~sitive to smells, and the tea tree scent is really lovely and refreshing (it smells like a spa)! I also love the pump-style dispenser, so I don't make a greasy mess every time I use it — which, from now on, is gonna be pretty much all the time. I'm sooo excited to wear swimsuits this summer without all the bumps and irritation!"
Get it from Amazon for $26.
8.
A vacuum-free space-saving compression bag so that instead of packing seven outfits for your three-day trip, you can pack 14. Look, I totally understand, I always overpack too and you 👏 need 👏 options 👏 !!! You don't need to pay for another suitcase at the airport cuz these bags will make your clothes shrink itty bitty, meaning you can fit more stuff! Put your clothes in em, zip 'em up, roll the bag, and *voila* you can bring that other sundress.
Promising review: "These were the things I never knew I needed for traveling. They work just as advertised and are really useful when going on a trip. I always hate at the end of a trip having to mix dirty and clean clothes — a 'laundry bag' or plastic shopping bag never really felt like a good enough separation. These bags seal up and conceal the most stinky, wet clothes from your clean unused clothes. They are going to be one of my new necessities for my big family when traveling." —Sarbello
Get a set of eight from Amazon for $16.97. 
9.
A disgustingly satisfying set of Sticky Stake insect traps that will catch all those dang gnats flying around your plants. I hate bugs so seeing the sheet after would probably freak me all the way out. Yikesss — cringing just looking at it.
Promising review: "Holy cow these suckers work! I'm so grossed out by the result, but at the same time I have a sick sense of satisfaction. I used these in my house plants that are breeding fungus gnats like wild. I used them in conjunction with beneficial nematodes, and they definitely cut down on the number of gnats in our house. Unfortunately I added a new houseplant, plus repotted one that had outgrown its prior home, and we are wrapped up in them again. I'm buying another package of sticky traps as soon as I finish this review!" —Megan
Get a pack of seven from Amazon for $5.33.
10.
A roll-on waxing kit because going to the salon for a wax every three weeks can get costly. Waxing can help your hair grow back thinner and not grow back as fast. This portable baby can go on trips with you too so you can touch up while on vacation!

The kit includes a 40W high-power roll on wax warmer, two boxes of wax (honey and lavender scented), six packs of calming oil wipes, and 100 non-woven wax strips.
Promising reviews: "Worked like magic! The pain is not bad at all!! Worth your money in my opinion! (:" —Elizabeth
"I've spent TONS of money and time going to spas and nail salons trying to find the perfect wax. After doing some research, I came across this bad boy and let me tell you, I am NEVER going back! It's so easy to use, and also so convenient. They send enough product to thoroughly try everything out. I also love that they send two scents, so you can find which one you love the most. The wax strips are sturdy enough to undergo the pressure you apply before pulling it off, as well as the actual pull. They get everything underneath and you can even use a single strip multiple times. No need to fly through the pack of strips anymore, when you can reuse the single strip a few times! HIGHLY RECOMMEND if you're always busy, and on the go, or just wanting some extra self care in the comfort of your home. 💕" —Alisa G.

Get it from Amazon for $39.99.
11.
A pack of two tongue scrapers so your breath can be extraaaaa fresh. They're rust-proof and made of stainless steel, so they're sturdy and durable. You won't believe how clean your tongue is and how much of a difference this baby makes in helping to keep your breath smelling great.

Promising review: "These tongue cleaners are definitely stainless steel! You can tell how great the quality is just by holding it in your hand. I use this on my tongue, and I've noticed an incredible difference. My tongue feels clean, and the gunk is gone. It sort of grips the tongue which helps grab any left over debris. Be sure to use it over the sink as the debris and saliva will definitely slide off your tongue. To clean, simply rinse with warm water and allow it to air dry! I deal with a lot of dry mouth, especially since I use a CPAP machine to sleep at night. This tool is incredible at getting that bad bacteria off the tongue that shows a white cast and also creates sulfur compounds, which makes your breath stink!!" —GreyElt
Get a two-pack from Amazon for $6.97+ (available in six pack options).
12.
A mouthguard and retainer cleaner that'll remove discoloration, stains, plaque, stubborn odors, and tartar and leave your retainer looking as sparkling clean as the day you got it. Those stubborn stains from last week's BBQ ribs *poof* gone!
You can use these tablets on your Invisalign, night guards, retainers, dentures, and more. Sooooo easy to use, just drop one of these tablets in some warm tap water with your retainer and *voila* this stuff does all the work.
Promising review: "I really loved this product. I am currently waiting for a new Invisalign set. My old Invisalign needed to be cleaned. I read the reviews and decided to purchase. OMG it worked! There was a fresh taste and they were clean. I wished I had found this product sooner. I did let them soak overnight only because I had been wearing them for the last four months. Nothing happened to Invisalign; there was no weakness or anything. Just very clean and fresh. If I could have given the product 10 stars, I would have." —Lisa R.
Get 120 tablets from Amazon for $23.60. 
13.
A pack of 36 acne patches because a pimple is NOT ruining our day, babe! These patches help absorb the gunk and speed up the pimple-healing process without picking or popping. Abracadabra, psh, what pimple?
Promising review: "When I ordered this product, I admit, I didn't think it would work. I have adult acne and visit a dermatologist regularly, my chin area is especially bad. I used one the first night I received them. It's acne sorcery. I honestly could not believe it worked. Pimple gone overnight and a flat surface remained. I do not know how they get this pimple magic to work but I am sold and have literally texted all the people in my life. It's complete magic! Do it, I promise you will be shocked!" —Heather L.
Get a 36-pack of the small patches from Amazon for $11.97.