1.
A hair-removing glove that 1) you'll love because it easily picks up a whole bunch of hair that otherwise would've been scattered all around your home, and 2) your pet will love once they realize that every time you put it on, it means a luxurious petting session is about to begin.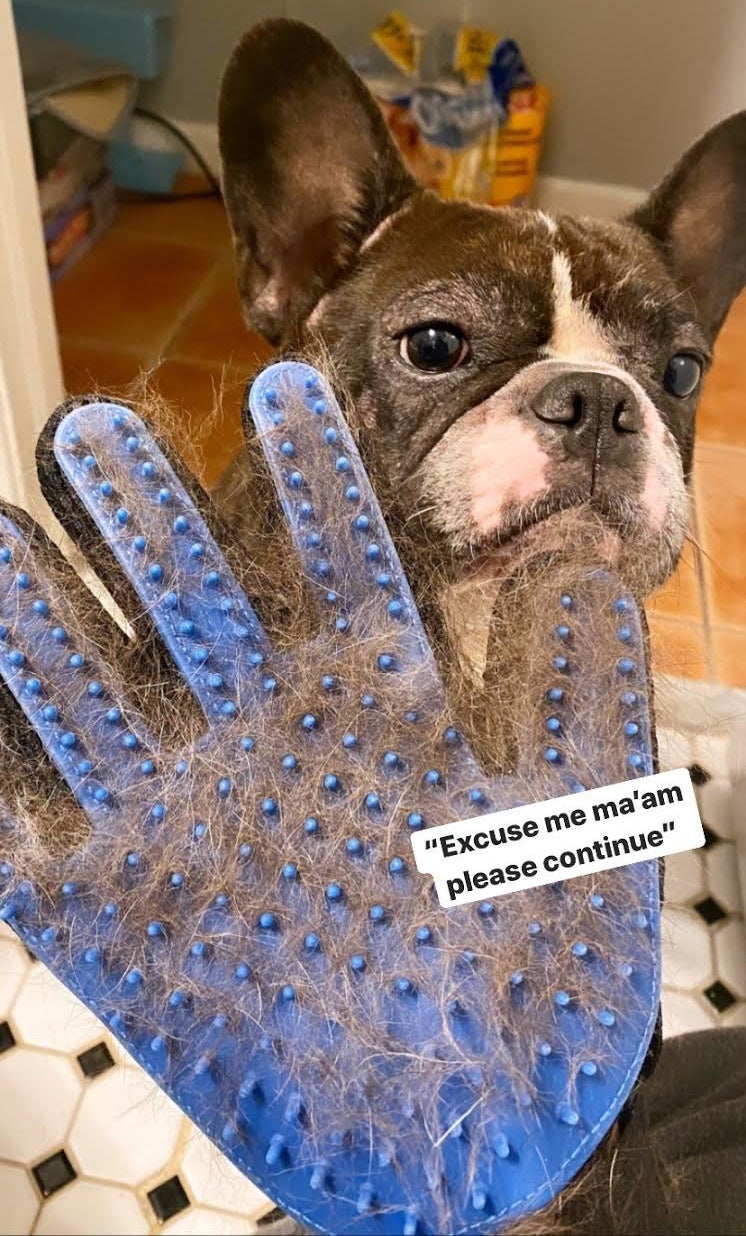 AnaMaria Glavan / BuzzFeed
Here's why BuzzFeed editor Chelsea Stuart loves this:
"I recently bought this after seeing it in many a BuzzFeed post (thanks, shopping colleagues!) and it is so worth it. My cats shed like it is their freaking job and I just can't keep up with it. One of them loves their regular brush but I have to empty it every two seconds and the other is terrified at just the sight of it. With this, I can just pretend I'm going in for a normal ol' petting session and they enjoy it!" 
Another promising review: "This glove is perfect for our one kitty who hates to be brushed. Our family recently added kitty number three, a big beautiful long-haired Maine Coon who despises being brushed or bathed. It was such a struggle as fine cat hair started taking over our life. Honestly, I did not think this grooming glove would work, but let me just say it is wonderful. Our kitty Nicki just loves the feeling it gives him, and we love the astounding amount of kitty his hair that is now in the glove and not on every surface in our home. Thank you wonderful seller. We LOVE this glove." —Colleen5991
Get it from Amazon for $7.99+ (available in two colors).
2.
Or a mounted brush so your cat can groom themselves when you're not around, helping remove and collect hair so it doesn't wind up all over your space. Plus, if your feline friend looooves scritches, they'll very likely *ADORE* this thing.
Promising review: "My cat Gambino Bambino would let you brush him bald!!! He loves to be groomed and comes running whenever the brush comes out. Though we love to accommodate, I know he wanted more. He was constantly rubbing his cheeks and ears on the corner of our walls to get even more scratching. I finally came across this product and knew he would love it! It took a little convincing but once he got a hang of it he's been loving it! We have one in the living room, one in the kitchen, one at the top of the stairs and one in the guest room! He is having a great time!!! Very easy to put together and place on the wall." —T. Mangiaracina
Get it from Amazon for $5.50.
3.
A pet urine stain-removing spray perfect for pet owners who are desperate to remove spots and smells both old and new. Simply spray and let the enzymes gobble up all the gross stuff you don't feel like spending forever scrubbing away at. Then just blot and let air dry, and you can cross it off your to-do list!
Rocco & Roxie Supply Company is a family-owned small business established in 2013 that specializes in pet odor eliminators, pet toys, pet snacks, and pet accessories.

Promising review: "Y'all! This stuff is AMAZING! I sprayed the carpet thoroughly to where it was pretty saturated and let it sit overnight. I woke up the next morning and the carpet was mostly dry I'm assuming from the ceiling fan air so I didn't have to lay any towels down to soak up any excess moisture. Let me just say I was EXTREMELY impressed. The carpet was brighter, smelled fresher and it wasn't stiff how other carpet cleaners tend to leave your carpet! 
The thing I was most impressed by though was that the dark spots on our carpet were completely gone and this was without having to do any scrubbing! I literally sprayed the carpet the night before and I woke up to a cleaner, like-new carpet the next morning! I'm extremely extremely impressed and will be ordering the gallon size to do the entire carpet." —Ieshia M.
Get it from Amazon for $15.98+ (available in two sizes).
4.
A slow feeder bowl here to help if your dog loves to inhale their food only to vom it back up all over the floor. Reviewers say this does an impressive job of slowing down meal time, helping improving digestion, reducing bloating, and preventing gross accidents and smelly gas, while also encouraging your dog's foraging skills to keep their mind engaged.
Promising review: "Do you have a dog who turns into a vacuum as soon as they see food? Does the dog vacuum hybrid then promptly throw up their food after inhaling it in under 10 seconds? If so, then this is the solution to your problems! My husband's Shollie thinks eating is a competition. I finally got tired of the puking, burping, and terrible gas, and looked up ways to get her to slow down eating. I decided to give these bowls a try, and the change was amazing! She took ten minutes to eat her food! My Chiweenie actually was able to eat his food before her! No more puking up food, way less burping and terrible doggy gas! I haven't seen any issues with her nose getting scraped up like others have mentioned. She is able to get all her food, it just takes her some time. I wish I had bought this so much sooner. It was definitely a good purchase. I also got the little one for my Chiweenie." —Mother of Dragons
Get it from Amazon for $6.05+ (available in a variety of sizes and styles).
5.
An innovative curved shower attachment that gives you a narrow, but powerful spray perfect for your dog's hard-to-reach or sensitive spots. Now you can ensure that all of the dirt and other filth they were covered in is *truly* gone before you let them get back to rubbing their bodies all over the place you live. Plus, you can attach it to a hose and clean your pupper outside on days when they're *particularly* filthy!

Promising review: "I wish I purchased this sooner. I have a very hairy double-coated dog, and this gets ALL the shampoo out of his fur. The flow is adjustable, and he will let me spray the top of his head, which he won't let me do with the dog shower attachment at our apartment dog bathing station. The hose is long enough so I can get completely under his belly. I also use this wand to clean the shower walls. I have tried other styles and brands, and this is the best dog shower attachment I have ever purchased. Very easy to install and it looks nice and sleek in the bathroom." —Heather

Get it from Amazon for $33+ (available in two styles that offer different GPM).
6.
A Bissell Little Green machine designed to make removing tough pet stains no big deal thanks to its super strong spray and suction capabilities. If your pets are reigning destruction upon your carpets, household fabrics, furniture, and car interiors — this was made for you.
Promising review: "Two months ago we got a 6-month-old puppy who has needed some time to get adjusted. That included more than a few accidents in our living room and on his bed. This machine has made cleanup of everything so much simpler and I love that it's deep cleaning and has a nontoxic pet cleaner so that our not-so-little puppy isn't harmed through exposure or smells. Also helpful since my teenage sons like to camp out on the couch with their friends on long weekends and our couch gets that fresh clean smell in an hour." —Kindle Customer
Get it from Amazon for $123.59+ (available in two styles).
7.
A reviewer-beloved pet hair remover with over 80,000 5-star ratings (!) for anyone who can never seem to get all of their pet's fur off of their clothes and furniture. Just roll it over your fuzz-covered item of choice, and watch it lift the fur RIGHT OFF.

Promising review: "If I could give this product six stars, I would. My husband and I use it almost every day. We have three furry dogs and six fluffy cats, which makes for A LOT of hair. We were using a lint roller before we bought our ChomChom Roller. The lint roller didn't work very well and had to be replaced. We have had our ChomChom Roller for months and it still works just as well as it did when we first got it. We can actually invite our friends over now without worrying about all the pet hair." —Morgan Willis
Get it from Amazon for $26.95.
8.
A scratch pad in case your pup *hates* having their nails clipped. Now they can file down their nails all on their own without the stressful ordeal, *and* they'll be less likely to leave scratches behind everywhere they go.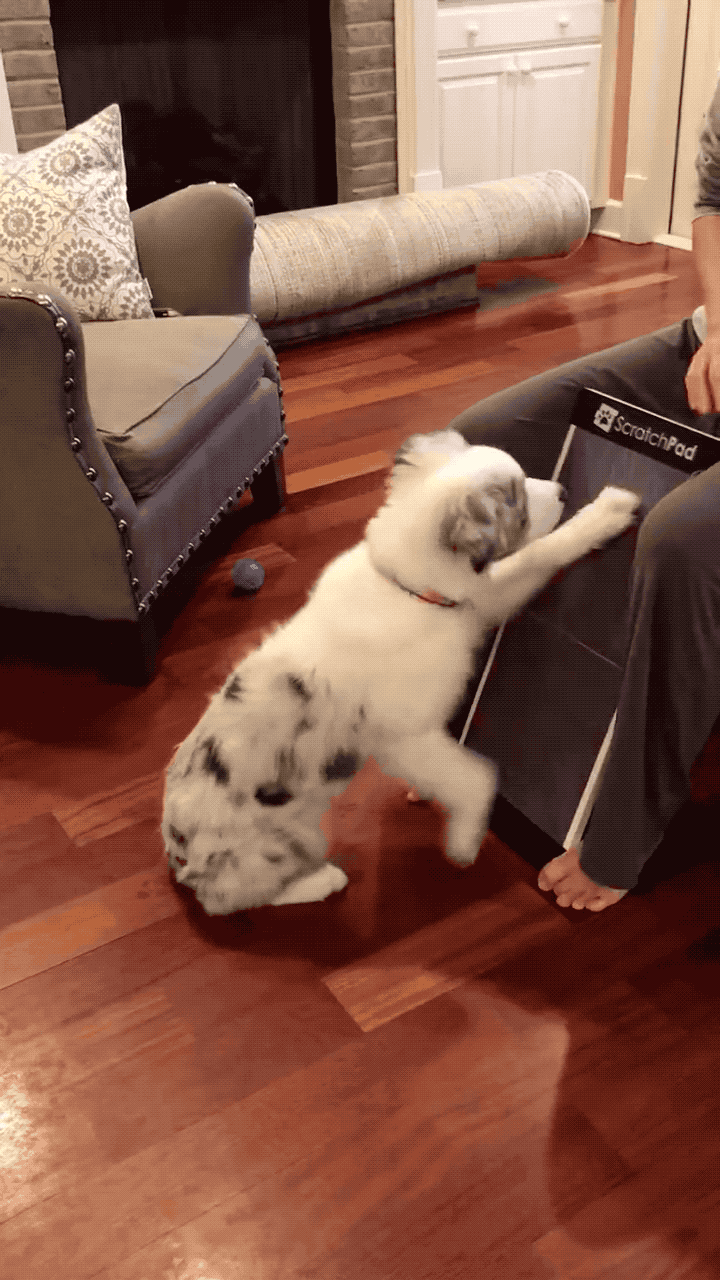 ScratchPad for Dogs / Etsy
ScratchPad for Dogs is a small biz based in Atlanta offering scratch pads and refills.
Promising review: "Love this scratch pad! We adopted our dog almost a year ago and he's been terrified of clippers and grinders since day one. We've never been able to maintain his nails due to his super reactive anxiety around nail care. That's all changed since we got the Scratch Pad a few weeks ago! He took to it right away and his nails have shown significant improvement in just a few sessions!" —Kira Armajani
Get it from ScratchPad for Dogs on Etsy for $44.95+ (available in two styles and three grit levels).
9.
Or some wood polish and conditioner with beeswax and orange oil that'll impressively hide the blemishes that your scratchy lil' pets have already inflicted upon your home.
Promising review: "This stuff is absolutely AMAZING. My wife and I were getting tired of looking at our worn-out cabinets and wood paneling and were very close to paying a professional thousands of dollars to refinish it all, but then we came across this product. Our paneling and cabinets were looking rough. We have two dogs who jumped up and scratched places. We also had an area that was damaged by water spots where our dog bowls were. Several other areas were just worn from heavy traffic. 
This stuff was like a magical eraser for water spots, scratches, scuffs, and any other blemish. We simply wiped the product on with a paper towel and let it sit for 20 minutes before wiping it off with a clean towel. Everything looks brand-new. I'm buying a couple more so we can finish our cabinets and wood paneling. We're so glad we found this product." —Kris
Get it from Amazon for $7.50+ (available in two sizes).
10.
*Or* a nail grinder reviewers say is super helpful when it comes to dogs who don't do well with getting their nails trimmed. The motor produces low noise and vibration to help keep your pupper calm, and — according to reviewers — it's *much* faster and easier than using traditional nail clippers to keep your pet's claws from scratching up your entire home.
Promising review: "I don't normally write reviews, but I felt this one warranted one! I have a 6-year-old mini dachshund and trimming nails has always been rough!! Screaming and biting (from the dog). I've tried other nail grinders and she was terrified of them. I came across this one and thought I'd give it a try. It took only five minutes to do ALL FOUR paws! She held perfectly still and didn't fight me a single bit!! She even wagged her tail when we were done!! Hallelujah I think we found the tool for us!!!"—Carrie Ward
Get it from Amazon for $29.99+ (available in three colors).
11.
A Cat Dancer toy no one expects their cats to love as much as they inexplicably do. Maybe now they'll spend less time getting into trouble around the house, and more time playing with this thing.
Honestly, I could spend all day LOLing at the review photos.
Promising review: "This little toy is a miracle! Was skeptical at first since it's such a simple design but my cat (who usually only plays for a couple of minutes) was obsessed with this toy from the moment I opened the package. Even more, he won't let it out of his sight and brings it to me so he can play some more. Will be buying a lot more of these in the future!" —Amcooper2006
Get it from Amazon for $1.73.
12.
A pet corrector that emits a harmless hiss of air to interrupt chewing, scratching, and all-around mess-making for dogs who just don't seem to understand the word NO. Heads up that you should *not* point this directly at your dog!
Promising review: "GET IT!!!!! Wow just wow! Have a 3-month-old puppy who would constantly nip and bite you whether you were sitting or walking. Plus bite the furniture and couches even after long runs and walks. One spray gets her attention, and she stops and goes to get her toys and play with those. All I have to do is show the can most times." —AMC
Get it from Amazon for $6+ (also available in multipacks).
13.
A fast-acting carpet spot-removing spray to remove those pesky pet stains you thought you'd never be able to get rid of.
Promising review: "This stuff is AMAZING! I was a little skeptical because I have some carpet stains I've let sit for a while because I didn't have any cleaner at the time of the accident. The accidents have included coffee spills and poorly cleaned cat barf stains. I ordered this because I didn't want to spend the money on a carpet cleaning service plus you have to be out of your house too long. This stuff was INCREDIBLE. You just spray a concentrated amount and then scrub the stain away. It worked on every single stain I had and was super quick and easy. 100% recommend if you need a good spot cleaner!" —Kimberly
Get it from Amazon for $12.05+ (available in two sizes and various multipacks).