With his high-and-tight haircut and stylishly shaggy beard, the "tracker" outside the Richland County Democrats annual dinner in Mansfield, Ohio, was impossible to miss, even if you didn't see his camcorder. Pacing between the bright sunshine and cool shade outside the Kingwood Center Gardens banquet hall, he had the look of a vaguely bored, caged animal who knows there's no delicious treat awaiting him.

Hired by America Rising, a Republican PAC, to document Sen. Sherrod Brown's every move, the tracker has become an unwelcome but familiar part of of the two-term senator's retinue.
A standard part of American politics, trackers shadow candidates relentlessly, documenting their every official move on video in hopes of catching them in a gaffe or politically compromising position. The tracker's presence is a clear sign that Brown has a target on his back.
Republicans will tell anyone who'll listen that he is one of their top targets for 2018, when thanks to a brutal electoral map for Democrats, the GOP could win enough Senate seats to give President Trump a filibuster-proof majority. "Brown is even further left than Hillary Clinton, who lost the state by eight points — he'll suffer the same fate if he continues to champion the failed far-left policies that Ohio has already rejected," America Rising spokesperson Nathan Brand said.
"Sherrod Brown is the original Donald Trump. What Donald Trump is doing, Brown has been doing his entire career."
But Brown also represents a key test of whether Democrats can rebuild their traditional coalition of minorities, liberals, and working class voters that Trump shattered in November.
Two Brown aides assigned to keep an eye on the tracker said that the bearded man and other young Republicans have been at it for months, following Brown around the state to stake out his public and private events.
They've even been following Brown's wife, Connie Schultz, a Pulitzer Prize–winning progressive columnist: At an event honoring high school debaters, a tracker asked for a selfie, before hitting the record button and asking a question about abortion.
As the tracker waited in the waning light outside, Brown was inside the dinner, happily doing what he does best — talking to union members about the glories of a pension.
With an aide standing by patiently, Brown became animated when two men, clad like the rest in black shirts from their local International Brotherhood of Electrical Workers, explained that they were new to the union and already taking advantage of benefits like their pension fund.
Leaning in, the 64-year-old Brown lamented that many of his younger staff don't contribute to their own federal pension, which includes a matching payment by the government. "I have to talk to them until I'm blue in the face! But you guys, you already get it. That's why the trades are so important," Brown said.
It was a seemingly small moment, but it was the sort of retail politicking that has helped Brown survive in Congress for nearly 25 years — and that makes Republicans nervous. "He is so good at retail, he's so good at face-to-face, he comes off so authentic," a veteran Ohio Republican operative said with a mixture of resignation and admiration. "I just think it's going to be so hard to knock him off."
"Sherrod Brown is the original Donald Trump," the operative said. "What Donald Trump is doing, Brown has been doing his entire career."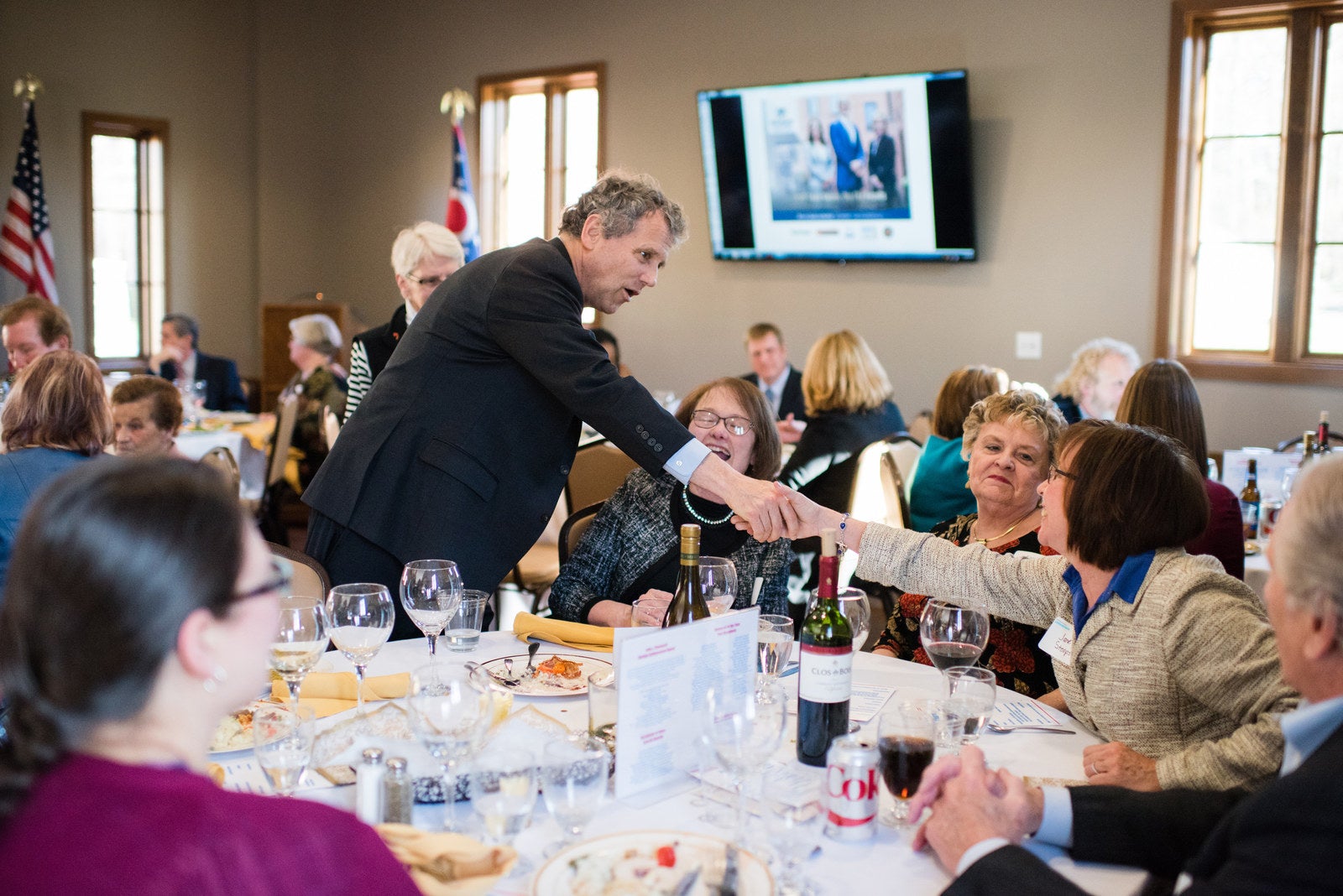 The exodus of white, working-class voters from the Democratic Party last November was a wake-up call for Democrats across the country. A decade of hard work to consolidate the support of minorities, women, the LGBT community, and progressive-minded white people had exposed the Achilles' heel of the Democratic Party, and nobody is quite sure what to do about it.

Some insist the party must return to Bill Clinton's conservative approach and abandon the increasingly progressive ideals that President Obama used to fuel his cult-of-personality campaign to two terms in the White House.
Others argue that flirting with the sort of populist language Trump used to win over thousands of voters in Ohio, Wisconsin, Michigan, and Pennsylvania would be to court the dark forces of nationalism, racism, and xenophobia.
Neither option seems workable. Reverting to moderate positions would fracture the party, threatening to erode gains it has made in minority communities; doubling down on a traditional liberal message would further alienate white voters who feel left behind.
The one thing both sides agree on is that with even establishment Republicans like Senate Majority Leader Mitch McConnell embracing Trump's nationalist populism, Democrats need to do something.
But here in the heart of Trump's electoral revolution, Brown, a rumpled, gravelly voiced Democrat, is charting a third course.
For more than four decades, Brown has combined a fierce populism and unapologetic progressive ideals to repeatedly win local and state elections — even as Ohio has trended increasingly conservative. Like Trump, he's won over social policy–minded voters and people in areas who were hit hard by the collapse of manufacturing in America. He's won in rural areas and urban, black, and white communities. His approach to politics even got the attention of Hillary Clinton, whose campaign considered tapping him as her vice presidential candidate.
Republicans have taken notice, including many who worked with the Trump campaign and who view Brown as a potential threat to the president in 2020. State Treasurer Josh Mandel, who Brown beat in 2012, has already announced his 2018 Senate campaign, and with Trump wanting to solidify his control over Ohio, Republicans and their allies are expected to spend tens of millions of dollars against Brown and are already laying the groundwork for a brutal campaign fight.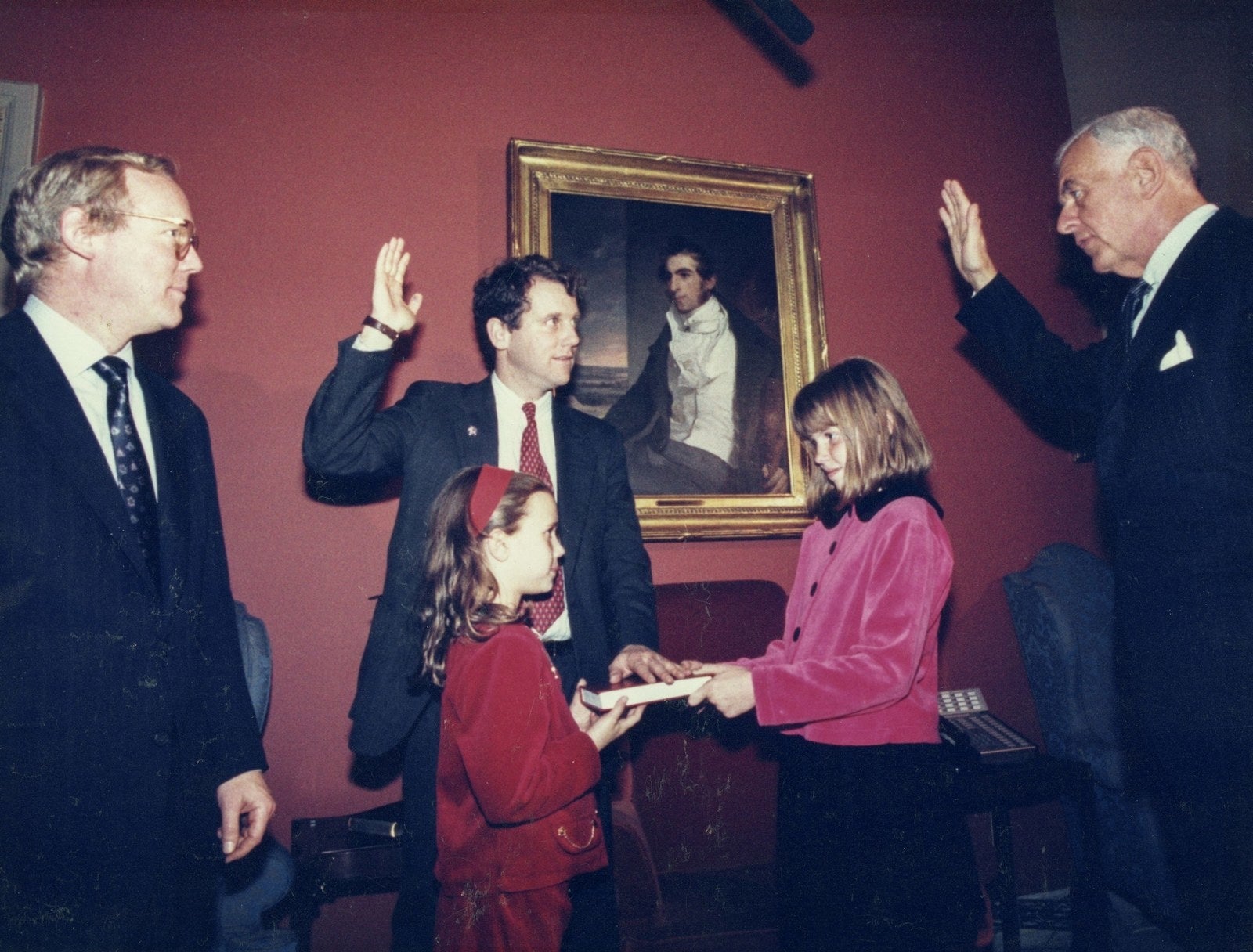 Brown, who cut his political teeth in Ohio hanging around union halls, has some similarities with Trump.

For instance, despite strong support from working class voters, neither man comes from a working class background. Brown has spent almost his entire adult life as a politician, and while he's nowhere near as wealthy as Trump or even most of his colleagues in the Senate — he consistently ranks at the bottom of the wealthiest members of Congress — he's comfortable. He lives in a two-story home in a relatively new subdivision of Cleveland, where the walls are covered in framed photos of his children and grandchildren. A painted portrait of his shaggy black rescue dog, Franklin, hangs above the fireplace.
Though they come at it differently, both Trump and Brown have made defense of "the little guy" a core part of their message to voters. For Trump the bad guys are government bureaucrats and foreign workers taking jobs away from Americans, while Brown has spent 40 years hammering away at large corporations and an economic system he views as detrimental to workers.
Though they come at it differently, both Trump and Brown have made defense of "the little guy" a core part of their message to voters.
Even when talking with constituents about controversial issues like Obamacare, Brown is often more straightforward than many of his colleagues. At a meeting with the conservative farm bureau this winter, he and several of the farmers in attendance engaged in a heated exchange over the health care law, with Brown passionately defending it. At another event with the Columbus, Ohio, Chamber of Commerce, Brown made a point of bringing up hot-button topics instead of sticking to the safe ones that he and the business community agree on, like infrastructure spending. "Now let me talk about two things we don't agree on, Obamacare and the minimum wage," he said.
Brown and Trump also not only acknowledge the deep-seated unhappiness with the political and economic situation in America that average voters feel, they also both play directly to that disaffection, particularly when it comes to trade. Indeed, their rhetoric is eerily similar.
From there, the differences couldn't be more stark. While Trump used a divisive, nationalist brand of populism to come to power, Brown is a dyed-in-the-wool progressive who sees populism as a unifying force in American political life.
"His message worked because he stated a demon, and the demon was foreign workers," Brown said of Trump during an interview with BuzzFeed News in his Capitol Hill office. "He would always name demons or name devils, and I just don't do that. I would name Wall Street, I'd say companies that are sending jobs overseas, but his attacks are always on the [most] vulnerable."
Like Trump, much of Brown's populist message is deeply rooted in the economic anxieties felt by Americans — though he's been at it considerably longer than the president.
First elected to the state House in 1974, Brown didn't follow the conventional path of most young, ambitious politicians. Rather than spend time in the capital of Columbus making a name for himself and wooing donors and party leaders, Brown would return home each week to Mansfield, where he'd spend long days in the local steelworkers union hall. Over cups of coffee, the white-collar son of a doctor listened to the union members as they talked about their economic worries.
With the country plunging into its first recession since World War II, there was plenty of economic anxiety to go around in the '70s. Gas prices were high, factories were closing, and the job market was grim.
Those stories, according to Brown, played a key role in his adoption of a populist viewpoint. "To me, real populism is embracing the little guy, regardless of what the little guy is," Brown says.
That has been the core of his politics since, even when it's been unpopular with the powers that be in the Democratic Party. In 1993 as a freshman member of Congress, he clashed with the Clinton administration over the North American Free Trade Agreement, becoming one of the leaders of the opposition to the deal. Although they lost, Brown continued to fight massive trade agreements during the Bush and Obama years, and last year he was a key figure in helping bring down the Trans Pacific Partnership, one of Obama's top priorities in the waning months of his presidency.
John Ryan, Brown's state director for the last 10 years, says he was initially skeptical of Brown, but over time it became clear that Brown had taken the stories of Mansfield's workers to heart. "He had my politics, this working class politics … even though he was raised, not wealthy, but certainly comfortable. It tells you something about his commitment to community and to people," Ryan explained.
Even more surprising, he noted, has been his dedication to his populist views. "Most politicians just get worn down," Ryan said, laughing.
Brown grew up with progressive parents —at 17, they took him to an anti-war protest in Washington— who practiced the same social justice–focused Lutheranism he still embraces today.
His voting record in Congress is one of the most liberal on social issues: He was one of only two Ohio members of Congress to vote against the Defense of Marriage Act in 1996, he opposed the 2002 Iraq War resolution, he has been a vocal supporter of Obamacare, and he was the first senator to come out against the nomination of Jeff Sessions to become attorney general.
While some Democrats in heavily unionized states have been hurt by having overly liberal positions, particularly on environmental issues, Brown remains popular with union members — even when he takes positions they oppose, like fuel efficiency standards. He's also won admirers among political opponents. Mike, a Youngstown Tea Party member who regularly lobbies Brown and other members of the state's delegation, doesn't much care for Brown's positions on social justice and other liberal issues. But while he distrusts most politicians he's met, he has a soft spot for Brown because of his populist beliefs. "I won't vote for Sherrod. But I like him. He actually cares."
Over the years, Brown has built an impressive coalition of support in Ohio. In his 1994 reelection, while Democrats across the country were being knocked off by Newt Gingrich's Republican Revolution, Brown not only took traditional constituencies, but won over many voters who'd backed Ross Perot's anti-NAFTA, independent candidacy in the 1992 election.

"Perot's vote in my congressional district was the third highest east of the Mississippi … [and] the Perot voters voted overwhelmingly Republican in 1994. In my district, they didn't. Because I knew I had to go after them. Trade helped with that," Brown says.
In 2012, Brown won 95% of the black vote, according to a CNN exit poll, and he outperformed Mandel in many industrial, largely white parts of the state. For instance, in Mahoning and Trumbull counties, Brown took 66% and 62% of the vote, respectively.
Though traditionally Democratic areas, Mahoning and Trumbull counties have increasingly trended toward Republicans — last year Trump won Trumbull County with 51% of the vote, while Clinton won Mahoning with just 49%.
"I won't vote for Sherrod. But I like him. He actually cares."
But if Brown's ability to combine liberal policies with a populist message has been the key to his electoral success, Republicans are hoping it could end up being his undoing.
Mandel and his allies are expected to blow past the $64 million Republicans spent in 2012 against Brown, and while most Republicans acknowledge Brown has few weaknesses, it won't stop them from throwing the kitchen sink at him.
"He's proudly liberal. While some of these guys like [Sen. Joe] Donnelly and [Sen. Claire] McCaskill are trying to moderate, he's not," a Republican strategist said, adding that the party and its allies will use that to paint Brown as out of touch with Ohio values.
And that has Brown and his supporters on high alert. His staff move quickly to quash any talk that he may run for president in 2020 if he wins reelection next year, and they stress Mandel will be tough to beat.
Amy Burns, an activist with the anti-Trump group Indivisible, says Republicans have done a masterful job of reframing themselves in the minds of voters, particularly blue-collar and lower middle-class workers. "It's not just abortion. It's that taxes, unions, and immigrants are why your life is like that. And that's why they supported Donald Trump," Burns says.
Brown clearly understands the problem he and Democrats face in winning over those same voters.
"That's a problem that Democrats seem to face. I don't think for a moment that conservative Republicans don't look down on the servers, and the health care workers, and the people who clean hotel rooms. I think they do. I think that the perception of white people — not necessarily of people of color, but white people — is that a lot of people look down on them, and a lot of people who run the government do. And I just think it's really important we acknowledge people in their place in the world and their stage in life," he says, a bit wearily.
Brown is also clearly aware that for much of the public, populism writ large has become synonymous with Trump's nationalism. "I understand African-Americans saying that when they see the media calling Trump a populist … 'what's populist, you preach hate?'" he says.
Still, he insists that just because nationalists use populist language that doesn't mean they actually are populists.
"I don't accept any of them as populists. If you play to race in any way, in my mind you're not a populist. I think populism is embracing, it's inclusive, it's never exclusive, it's always for the little guy regardless of race, and regardless of gender." ●