5-Layer Breakfast Bake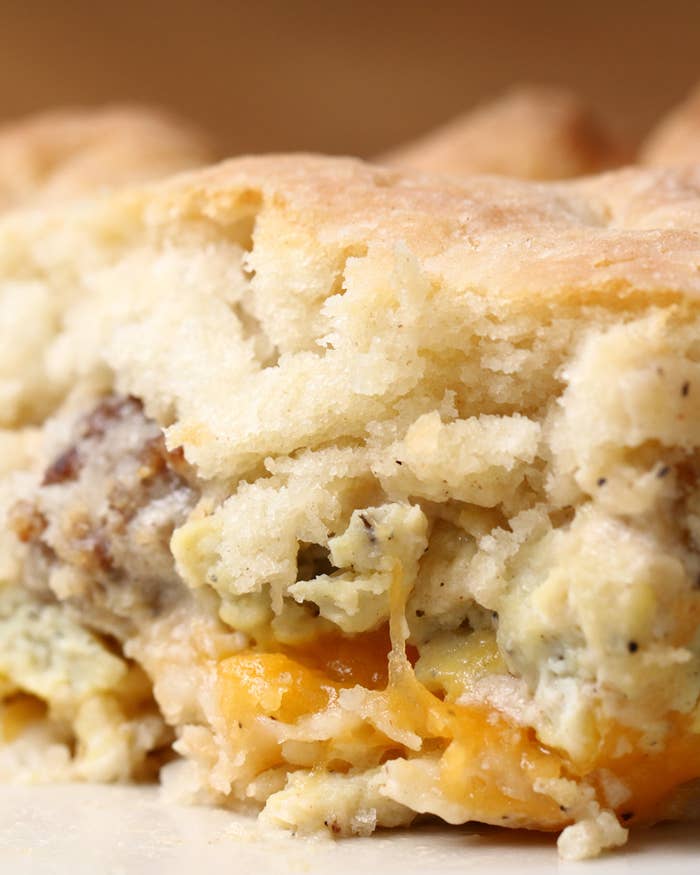 INGREDIENTS
Serves 8
3 cups hash browns
2 cups sharp cheddar cheese, shredded
3 cups scrambled eggs
½ teaspoon salt
½ teaspoon black pepper
Sausage Gravy
1 tablespoon butter
1 pound breakfast sausage
2 tablespoons flour
4 cups whole milk, at room temperature
Salt, to taste
Pepper, to taste
Biscuit Dough
2 cups flour, plus more for dusting
2 teaspoons baking powder
¼ teaspoon baking soda
1 cup buttermilk, cold
½ cup butter, melted, plus 2 tablespoons for brushing
1 teaspoon salt
PREPARATION
1. Pre-heat oven to 400°F/200°C.
2. Grease a 9x13 inch roasting pan. Spread the hash browns evenly along the bottom of the pan and sprinkle with salt and pepper. Add the cheddar cheese in an even layer and top with scrambled eggs.
3. For the gravy, heat the butter in a large sauce pan. Break up the sausage in the pan and let it brown for a few minutes.
4. Add in the flour and toss the sausage to toast for 1 minute.
5. Pour in the milk and stir constantly until the mixture has thickened, about 8 minutes. Season with salt and pepper to taste.
6. Pour the gravy on top of the eggs in the roasting pan.
7. For the biscuit dough, combine the flour, salt, baking powder, and baking soda in a large bowl.
8. Pour the melted butter into the cold buttermilk and stir gently with a spoon until the butter hardens and forms lumps. Pour the milk mixture into the flour and mix until well-combined.
9. Transfer the dough to a floured sheet of cling wrap and generously dust the dough with flour. Using a floured rolling pin, roll the dough into a rectangle that matches the size of your roasting pan.
10. Roll the dough onto the rolling pin and transfer to the roasting pan, then brush with melted butter.
11. Bake for 25-30 minutes.
12. Enjoy!