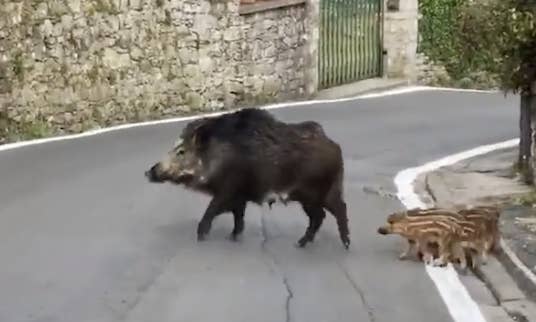 The world is a bit gloomy at the moment and videos of animals apparently taking over deserted cities are one of the few things we've got to keep us going.

There have been a flurry of these recently, including footage of hundreds of monkeys taking over a city centre in Thailand to brawl over a pot of yoghurt.
This actually happened, reportedly due to a downturn in tourism.
But — without wishing to completely crush your joy — animal coronavirus content isn't always quite what it seems.
Take this video of boars roaming a sunny deserted street, which was uploaded to TikTok on Jan. 6, shortly after the coronavirus first emerged in China but several weeks before the virus caused lockdowns and rising death tolls all over Europe.
On Tuesday, the video went viral when it was shared on Twitter by Robert Woodshaw, a British author, with the caption "On a positive note, at least nature is returning to our cities. This is from Bergamo, Italy..."
Not only was the video old, but it was from another part of Italy — the Bergamo authorities have confirmed that "this is not from #Bergamo, but shot almost a year ago in Liguria."
Woodshaw told BuzzFeed News the video was sent to him by a friend in Bergamo.
"My friend informed me that it was shot in Via Sudorno, and I must admit it the road looks similar," he said.
"However, I'm absolutely horrified to learn that it was shot Liguria before this pandemic broke out. There's nothing I hate more than fake news, so I've just posted a reply to my original tweet correcting the error."

Woodshaw has not removed the tweet with the video, though, which has 900,000 views, many times more than the number who will see the correction.
"If this were fake news about a potential cure, for example, I'd delete it immediately," Woodward told BuzzFeed News. "I think we need lighthearted material such as this to help us through this ordeal."

Twitter's "embed video" function helps something like this to spread quickly, as other big accounts share the same video, perhaps adding their own commentary or joke in a push to get more retweets and followers.
These Ligurian boars aren't the first animals in the past few weeks to have gone viral when shared on social media with an inaccurate caption.
One tweet supposedly showing swans returning to Venice has over 1 million likes — but the photos are from Burano, another Italian town.
Many people have pointed out the inaccuracy, but Kaveri Ganapathy Ahuja told National Geographic "the tweet was just about sharing something that brought me joy in these gloomy times".
"It's a personal record for me, and I would not like to delete it."

Another tweet to have gone viral over the last couple of days concerns a civet — a nocturnal mammal — roaming the streets of an Indian city.
More than 10,000 accounts have retweeted the claim that this variety of animal has not been seen since 1990.
But according to a member of the Indian Forest Service and a wildlife photographer, the animal is likely a "small Indian civet", not a Malabar civet.
The Malabar civet is indeed extremely endangered — a helpful nugget of information to make a tweet go viral — unlike the small Indian variety of civet, which has a much healthier population and is a common sight in Indian cities.
The good news, though, is about a wild herd of 122 Kashmiri goats who usually live on rocky coastland just outside the town of Llandudno in Wales.

On Tuesday, photos went viral of the animals marching through the empty town centre, munching on hedges and flowers.
You will be pleased to hear that this absolutely did happen.
BuzzFeed News reporter Jane Lytvynenko is tracking online coronavirus hoaxes, including one viral screenshot claiming Russia unleashed 500 lions to keep people indoors, which is fake.

Most of these animal posts are not cases of malicious misinformation of the kind BuzzFeed News has reported on extensively over the past few weeks — from dodgy cures to fake rumours about martial law.

Many simply contain inaccuracies about dates and location, which help them go viral in a world where people are desperate for scraps of joy amid all the gloomy mood.