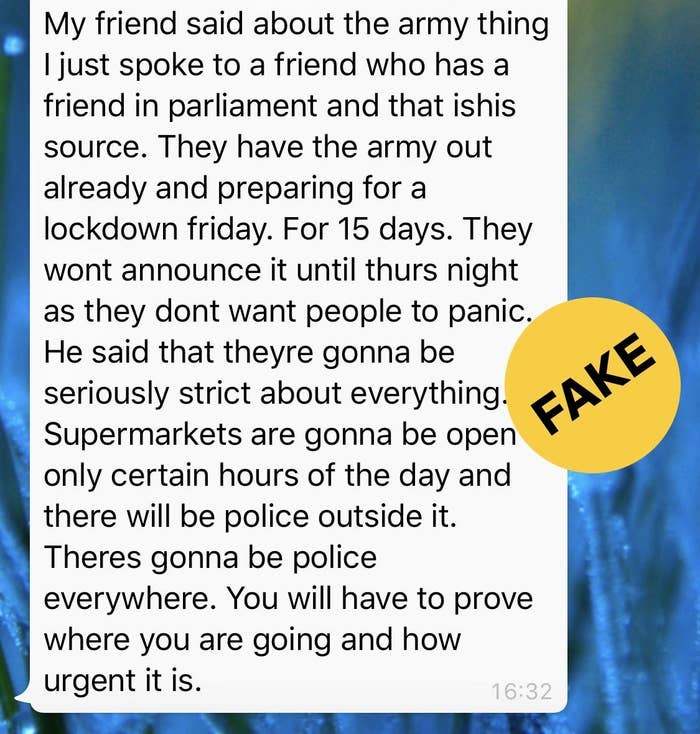 Text messages and pictures have been spreading rapidly on WhatsApp on Wednesday claiming that the British army has been deployed on the streets of London ahead of a lockdown to fight coronavirus.
However, there is no evidence of the military being used to impose a lockdown, nor are there any known plans for that to happen.
Multiple Londoners said on Wednesday that they received WhatsApp messages about the "lockdown".
Some contained only text while others were accompanied by images apparently showing "evidence that the UK military are on the way to enforce a lockdown".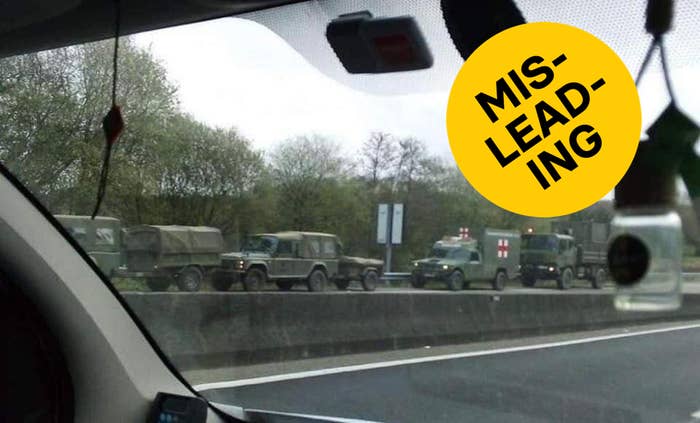 While there is no evidence to suggest an image like this is fabricated — it is not unusual for army vehicles to drive in convoy near military bases — it is being presented misleadingly and out of context on WhatsApp.
(Also, as Twitter user @tim_nicholls later pointed out, the cars are on the right-hand side of the road, whereas Britons drive on the left.)
One detail which has been circulating in some of the messages is that troops had been spotted near Clapham Junction station in south London.
But the station is very close to the London Regiment Territorial Army Centre, so uniformed troops are a common site in the area — as many Twitter users pointed out.
These posts have also had some traction on Facebook and Twitter — public platforms where journalists and researchers can easily see what is circulating.
On an encrypted messaging platform like WhatsApp, however, it is almost impossible to see how far a rumour has spread.
But this one clearly has reach — many different people, in separate social networks, informed BuzzFeed News they had seen posts like these, some of them several times.
One image being shared was from someone claiming to have spotted a military truck with "COVID-19 quarantine team" written on the side on the M25 motorway around London.
An identical image has also been circulating on YouTube, where the truck was supposedly spotted in the US state of Ohio, and on Twitter, where it has been shared by followers of the far-right conspiracy theory, QAnon.
The misleading and fake messages came as prime minister Boris Johnson said he would not hesitate to take stricter measures to stop the spread of coronavirus as ministers considered a lockdown in London, where the number of cases far outrstrips the rest of the country.

BuzzFeed News understands that further proposals for how to enforce social distancing in London have been under discussion at the top of government on Wednesday, but no final decision had been taken.
Although there are no signs of an "army lockdown" in the UK, the rumour is not a totally wild one — other European countries have implemented similar measures in a bid to contain the spread of the virus.
France is under a 15-day lockdown, with police patrolling the streets and issuing fines for people who are outside without a written declaration to explain why.
With the world gripped by a deadly pandemic and more drastic measures being announced by governments every day, it is increasingly hard to tell between facts and hoaxes.