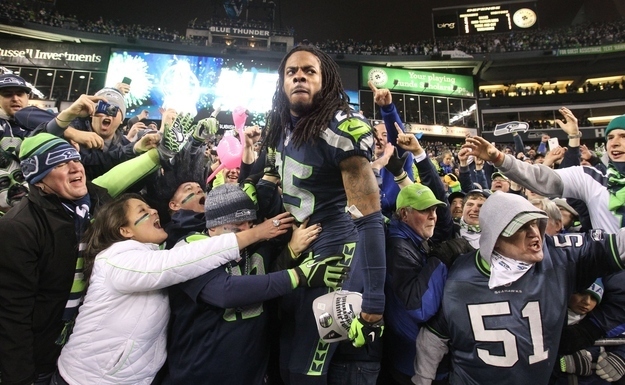 The NFL has fined Seattle Seahawks cornerback Richard Sherman $7,875 for unsportsmanlike conduct and taunting in the final seconds of the NFC championship game against San Francisco.
Sherman was penalized for making a choking gesture toward the 49ers bench that he later claimed was meant for quarterback Colin Kaepernick. "Why? Because he decided he was going to try the guy he was avoiding all game, because, I don't know, he's probably not paying attention for the game-winning play. C'mon, you're better than that," Sherman wrote in a post for Sports Illustrated's Monday Morning Quarterback site on Monday.
Moments before the gesture, Sherman had deflected a pass intended for Michael Crabtree in the end zone that was intercepted by linebacker Malcolm Smith and clinched the Seahawks' 23-17 victory. He ran to Crabtree, patted him on the bottom and attempted to shake his hand, to which Crabtree responded by shoving Sherman in the facemask. That's when Sherman turned around and made the choking gesture.
That postgame celebration was later punctuated by an audacious TV interview with Fox sideline reporter Erin Andrews that provoked a nationwide discussion about sportsmanship.