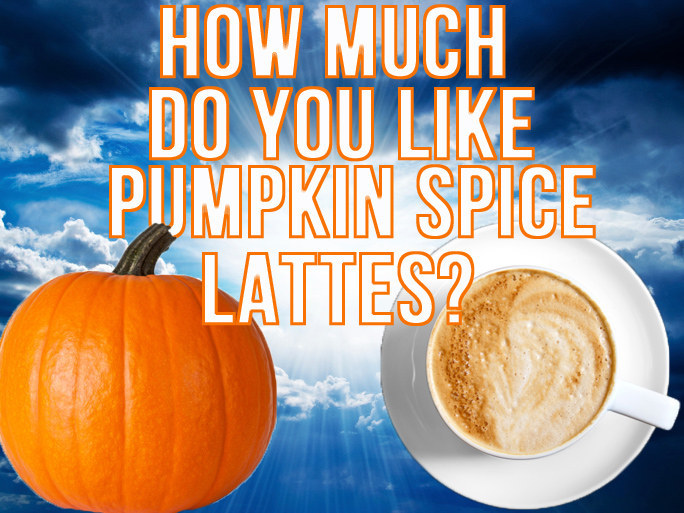 I would willingly drink a pumpkin spice latte.

I would pay money for a pumpkin spice latte.

I think coffee is enhanced by the flavor of a big orange gourd.

If someone was giving out free pumpkin spice lattes, I would take one enthusiastically.

I look forward to pumpkin spice latte season.

I think pumpkin spice lattes should be available year-round.

Pumpkin spice lattes are my special reward to myself.

I drink more pumpkin spice lattes than my doctor would recommend.

Pumpkin spice lattes are my favorite drink.

I have made my own pumpkin spice latte at home and felt like I beat the system.

Sometimes when I think about pumpkin spice lattes I get so excited it's like my body is on fire.

I love pumpkin spice lattes more than some people.

If pumpkin spice lattes were eliminated, I would be so upset that I would probably need to be hospitalized.

I'm drinking a pumpkin spice latte right now.

I liked pumpkin spice lattes before they were cool.

Drinking a pumpkin spice latte transports me to a special place where I'm no longer inside my body.

I have consumed three or more pumpkin spice lattes in one day.

If someone called me a "Pumpkin Spice Latte Warrior" I would feel good about it.

I have a reputation for my pumpkin spice latte consumption.

If someone said a pumpkin spice latte was "gross" I would seriously consider slapping their face.

I actually have slapped someone before in a pumpkin-spice-latte-related dispute.

Pumpkin spice lattes have changed my life.

I feel like pumpkin spice lattes are a part of my personal identity.

I wish there was a way I could thank the person who invented pumpkin spice lattes. Like really thank them for changing my life.

If I go a long time without a pumpkin spice latte I turn into an unpleasant person to be around.

Pumpkin spice lattes are my main source of happiness.

If I was on a deserted island, the one item I would bring would be a pumpkin spice latte.

If I could only have one super power, it would be the power to make pumpkin spice lattes instantly appear.

I have created pumpkin spice latte fan art.

When someone speaks ill of pumpkin spice lattes, I feel personally attacked.

I have done a dance or sung a song in anticipation of a pumpkin spice latte.

If someone doesn't like pumpkin spice lattes, I find it hard to respect them.

Nothing makes me feel truly alive quite like drinking a pumpkin spice latte.

I enjoy pumpkin spice lattes so much that sometimes it frightens me.

Pumpkin spice lattes make me feel like nothing else in life matters.

Pumpkin spice lattes fill a void deep within my soul that cannot be satisfied by any other thing.

Pumpkin spice lattes give me a feeling comparable to sexual arousal.

I know deep down in my heart that a life without pumpkin spice lattes is simply not an option for me.

A world without pumpkin spice lattes would be a dark place full of anguish and infinite pain.