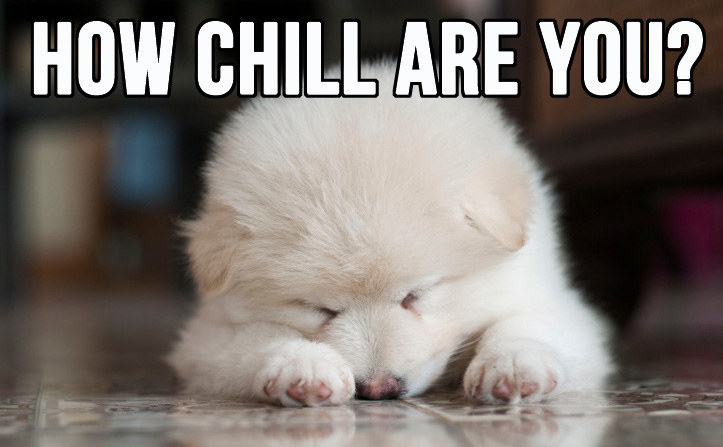 People have described me as "pretty chill."

I'm willing to wear pajamas in public.

I don't mind not having social plans on the weekend.

I pretty much never lose my temper.

If I spill food on my shirt I don't feel humiliated.

I will eat at absolutely any restaurant. I don't care.

I'm pretty good at dealing with annoying people.

I can't remember the last time I yelled or screamed.

I've never once yelled "Whooo!"

I don't mind waiting in a long line.

When plans are changed at the last minute it doesn't bother me.

I get along well with most people.

I don't mind not having a plan.

When people complain about dealing with "too much drama," I can't really relate.

If a restaurant has bad service it doesn't bother me that much.

I've never gotten upset after losing a board game.

I am willing to walk in the rain without an umbrella.

If I saw a celebrity walk down the street I would ignore them.

I don't get antsy when people borrow my things.

I rarely find myself in the middle of an argument.

I eat food off the floor.

If someone spilled water on my computer, I wouldn't be upset.

When there's a loud noise I don't immediately look to see what it was.

I have an easy time relaxing.

I don't often care what other people think of me.

I have dealt with the tragedy of running out of TV shows to watch because I watched them all.

I have trouble holding grudges. Sometimes I want to be mad, but can't.

I don't care if someone takes some of my French fries.

I don't care if someone ends up eating most of my French fries.

No one has ever yelled "Relax!" at me.

If I lost my phone, it wouldn't be the end of the world.

I've never once had a five-year plan.

I could see myself living on a house boat.

If someone screamed right in my face I would remain perfectly calm.

if I was suddenly in a room full of snakes, I would be fine with it.

If a strange man approached me and smashed a pie in my face, I would probably just continue going about my day like nothing happened.

If thousands of hotdogs started raining from the sky I'd be like, "Cool."
Looks like there are no comments yet.
Be the first to comment!