When US president-elect Donald Trump posed for pictures with UKIP leader Nigel Farage on Saturday night, he was accompanied by major UKIP donor Arron Banks, a handful of aides associated with the Leave.EU campaign group, and Raheem Kassam, the 30-year-old editor of Breitbart London and an occasional UKIP leadership candidate.
Now Kassam, a former Farage aide who dropped out of the contest to lead the British political party last month, has said he has his eye on a bigger prize: a job in the White House under Donald Trump.
Speaking from New York, Kassam said he would be looking for a job at 1600 Pennsylvania Avenue "probably not in the short term but maybe in the long term".
"The White House will need a special assistant on European affairs, so I will be pushing for that."
Relations between the UK and the US governments are strained, with few key British politicians having strong connections with the team around Trump.
By contrast, figures around Breitbart and UKIP have been making overtures to the new president's team for months. Downing Street has already been forced to insist it will not rely on Farage as a go-between for any discussions with Trump.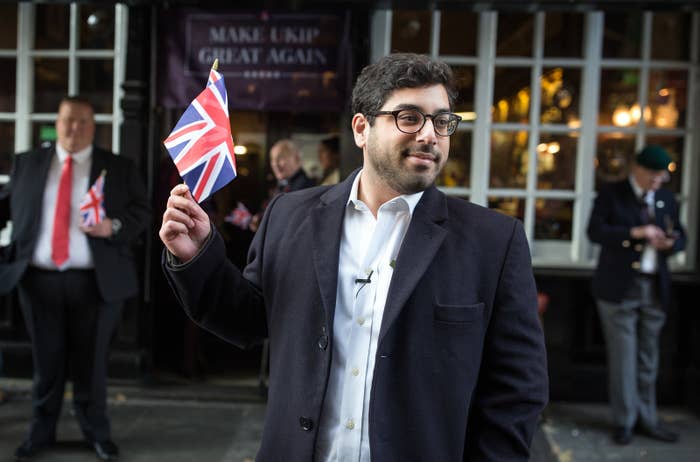 Kassam said he had been in touch during the summer with Breitbart chairman Steve Bannon, who had been on leave from the right-wing news website to serve as Trump's campaign chief.

Bannon, who has been accused of anti-Semitism and promoting white nationalism, took an active interest in Kassam's short-lived run for the UKIP leadership and has previously called the Briton "a huge piece of manpower".

The Breitbart boss has now been made the president-elect's chief strategist, putting him at the heart of key decisions. This opens up the not entirely fanciful prospect that Kassam, who 18 months ago was ghostwriting newspaper articles for Farage during the UKIP leader's failed attempt to win the constituency of Thanet South, could find a job somewhere in the presidential administration.
There could be stumbling blocks: Kassam previously described Trump as a "magnificently flawed character" and said the future president was "really, really boring" after their single previous meeting.
In the short term, though, he will return to Breitbart London ahead of any potential job in US politics: "What I want to do is set up our French and German operations and then leg it."