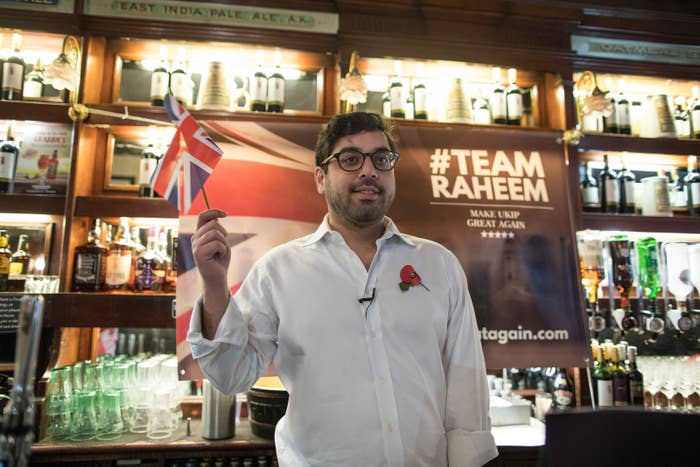 Breitbart's UK editor has pulled out of the UKIP leadership race, citing "disgraceful treatment by the media" as one of the reasons for quitting the contest to replace Nigel Farage.

Raheem Kassam, who previously worked as chief of staff to Nigel Farage, had run a campaign under the Donald Trump-influenced slogan "Make UKIP Great Again" but pulled out shortly before the deadline to submit formal applications.
"I am tough and I can take it, but when Times journalists show up at my elderly parents' house at dusk, intimidating them, I draw the line," said Kassam, the UK editor of the right-wing news site, before pledging to bring a harassment complaint against a newspaper journalist who had visited his family home.
Kassam said he was not convinced about the integrity of UKIP's second leadership election in as many months, while his fundraising efforts were not enough to allow him to campaign around the country.
Major UKIP donor Arron Banks, who runs the Leave.EU campaign group, tweeted in support of Kassam but the candidate told BuzzFeed News that Banks had refused to put money into the leadership campaign.
Donald Trump's campaign chief Steve Bannon had been keeping an eye on Kassam's role in the contest, according to a source on the Trump campaign, but Kassam's online-only campaign – which included a pledge to hold a referendum on banning the niqab – stumbled under press scrutiny. Old tweets attacking female political figures resurfaced, while his backing for Trump and decision to host his campaign launch in a pub allowed him to be presented as a shock jock rather than a serious candidate.
"He seemed to think Nigel was all about the proper fucking lunches. But you don't get to have a proper fucking lunch unless you've achieved something," a UKIP source told BuzzFeed News. "Nigel works his fucking socks off. Nigel was always deadly serious but had fun. Raheem is all about the fun."

Douglas Carswell, UKIP's only MP and a longtime opponent of Kassam, responded to the leadership election news by tweeting a sunglasses emoji.
Kassam's decision to withdraw leaves four candidates in the contest: former deputy leader Paul Nuttall, former deputy chair Suzanne Evans, London assembly member Peter Whittle, and former parliamentary candidate John Rees-Evans, who was recently forced to clarify why he had claimed a "homosexual donkey" raped his horse.

All nominees are required to submit 75 signatures and a £5,000 deposit by midday on Monday. The deposit will only be returned if a candidate receives more than 20% of the vote, meaning Kassam avoided a potentially expensive election, if it turned out he had limited support.