It's an October morning in a Westminster greasy-spoon café and UKIP leadership candidate Raheem Kassam is tucking into a bacon sandwich as he explains how his Muslim parents feel about him campaigning to replace Nigel Farage while calling for a national referendum on banning the niqab. "They're obviously confounded by it all," he says. "Here is their little boy who wanted to own a sandwich shop, now running to be UKIP leader."

Kassam, whose leadership bid is being run under the Donald Trump-inspired slogan "Make UKIP Great Again", stands out as a particularly divisive figure in a political world not short of divisive figures. Trump's campaign manager is a fan and has called Kassam "a huge piece of manpower". A leading Brexit campaigner described Kassam to BuzzFeed News as "a fucking genius", before admitting that he has "obviously got a few backs up in his time". Meanwhile, a former business partner described him as "a psychopath and a crook" who poses a "danger to British democracy".
Currently on leave from his job as editor of the UK edition of right-wing news outlet Breitbart, Kassam has spent his career flitting between political activism and commentary, with a short diversion into party politics as chief of staff to outgoing UKIP leader Nigel Farage during the 2015 general election.
It's one of the more striking aspects of Kassam's UKIP leadership bid: It represents another stage in the growing cross-pollination between the media and politics, blurring the lines between campaigning, online activism, and real-world politics. Kassam can speak as an ex-Muslim at a Pegida rally, advise Farage on strategy, appear on Newsnight, jump back to being a reporter writing inflammatory news stories at Breitbart, then run for leader of a political party and receive favourable coverage from Breitbart.
It's what happens when advocacy mixes with reporting and all pretence of a church-and-state division between straight reporting and comment is lost in the name of reaching for a political endgame. Ultimately it's a recognition that one way to get ahead in modern politics is to grab attention through any means, keep that attention through any means, and then attempt to deploy it for electoral success.
"You've seen how media and politics has merged, this is where this thing is going," says Kassam, a 30-year-old in a smart suit, setting out his plan to reach ordinary UKIP members through social media. In this he's echoing the view of Breitbart US chief Steve Bannon, who helped build up right-wing anger – and Trump – through highly partisan reporting and pro-Republican commentary before taking leave to work as Trump's campaign manager.
The influence goes both ways: Despite Bannon's central role in Trump's presidential campaign, a source there told BuzzFeed News that he is keeping an eye on Kassam's UKIP leadership bid.

Confrontational and abusive on Twitter (Kassam once asked whether Labour MP Angela Eagle was in "the special needs class" and criticised the BBC for "tranny-pushing" when it showed an advert about gender fluidity), he sent out a press release stating the number of people who had added a pro-Kassam twibbon to their Twitter avatar. That number included many of UKIP's young activists – and English Defence League co-founder Tommy Robinson. But he has already raised £5,000 in campaign funds and is backed by major UKIP donor Arron Banks, although Banks has not yet put money into his leadership bid, despite Kassam's best efforts.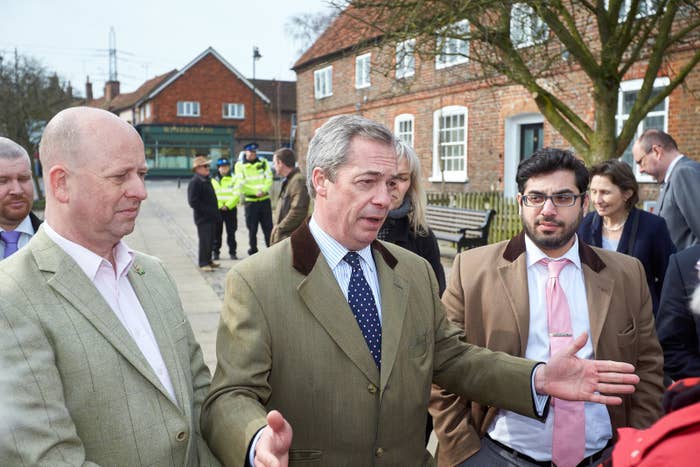 "This [leadership election] is probably the last roll of the dice for UKIP," says Kassam, who wants to position the party on the frontline of an international political conflict. "This comes down to this fight between globalists and nationalists. I believe that a country needs borders, a country needs culture, a country needs values."

Raheem Kassam was born in 1986 to Indian Muslim parents who immigrated to the UK from Tanzania. His father studied at the University of Bristol before applying for a work permit to stay behind in the UK, where he built up a chain of fast-food shops. Life was good, with a large home in the London suburb of Hillingdon, until the family lost it all and bailiffs seized their restaurants in the night.
"Everything was going well, we lived in a big four-bedroom detached house with a couple of Mercedes in the drive. And then in the early '90s we lost everything in the crash."
The Kassam family moved to a rented house in Uxbridge, where Kassam spent his youth with few plans other than running a sandwich shop and attending mosque once or twice a week – a practising Ismaili Muslim, he became much "more religious in my mid-teens".
"All my friends went to the mosque every Friday," he says. "It was almost like if you didn't go to mosque you didn't have a social life."
After heading to the University of Westminster to study politics, he retained his faith, although this began to waver after reading Carl Sagan and Richard Dawkins.
He recalls being torn between trips to the pub and Islamic society meetings: "These Somali guys in my class came out of my building and said, 'Brother, are you coming to the Islamic society meeting?' I was walking up the stairs when this guy walks out and says, 'Don't go in there, they're showing videos of 9/11 with people clapping and laughing.' I just turned around."
Really?
"I only know because of what the guy told me, I have no reason to believe he wasn't telling the truth," he says. "The University of Westminster was a hotbed for radical Islam. … Jihadi John was two years below me at my campus."
Kassam says he began to politicise after university following a meeting with Uxbridge Tory MP John Randall, who gave him guidance on getting ahead. He became a Conservative campaigner, delivering leaflets and going on the campaign trail for by-elections and spending time with other young Tories. Soon he was on the endless Westminster circuit of events and drinking and campaigning, where a small group of would-be activists and journalists constantly try to gain one up on each other.

His big break came with a trip to the Young Britons' Foundation (YBF) conference, which later became notorious as the "Conservative madrasa", a forum for radicalising young Tories using the tactics of the American right. (The YBF is now largely inactive after the parents of a young activist who committed suicide called the programme "a cult".)
While at a YBF event he convinced Alan Mendoza, boss of the neoconservative Henry Jackson Society, to pay for him to be a full-time campaigner on UK campuses against Islamic extremists ("the enemy", as Kassam calls them), and Kassam worked for several years as the head of a front group called Student Rights, providing stories to newspapers on the supposed infiltration of universities by extremists.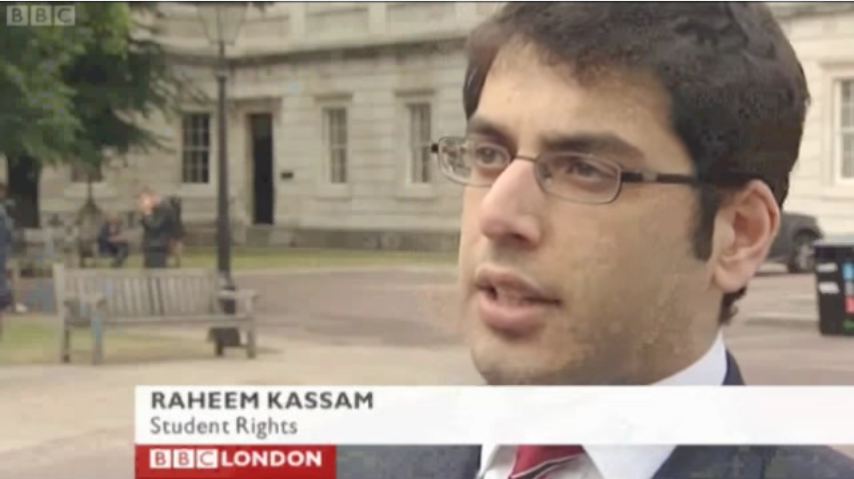 The National Union of Students went to war with him, and Muslim organisations decried him. One awarded him with the title "Islamophobe of the Year", which he pledged to celebrate with "wine, scotch, and women". He still says he feels concerned when he sees British Muslim women wearing a niqab and is pledging to campaign for a national referendum on the issue.
"I feel terrified," he says. "Not for me, but for them. I feel absolutely mortified that they have grown up in an environment where they are taught that they have to cover their faces. Naturally, you don't cover your face. They have been indoctrinated.
"Don't forget, I know how it feels. I grew up in Islam. I know how the guilt feels when someone asks if you're going to mosque this week. It really hits you."
Are your parents bothered by criticisms of Islam?
"I'm sure they are, we just don't talk about it – it's better that we just don't talk about it. They're getting older, becoming more spiritual."
So why spend so long campaigning on the issue?
"I really want to keep this country as the country that my parents like, for the sake of my theoretical children. How can I shirk the responsibility of being somehow who intrinsically knows the enemy?"
By this point he had become a pundit, and sought funding from "pro-Israel, anti-Islamism" American neocons to run a blog called The Commentator with fellow activist Robin Shepherd. The pair split in incredibly acrimonious circumstances in 2013.
"Working with Raheem Kassam was a nightmare," Shepherd said when contacted by BuzzFeed News this week. "I formally reported him to the police on suspicion of fraud. Since I had never before reported anyone to the police, perhaps a reasonable observer might wonder why that seemed necessary. Kassam is a psychopath, and a crook. Kassam is a nasty piece of work, and prides himself on being so. Being a 'wrong 'un' is something he relishes, as do the shabby characters who associate with him.
"Raheem Kassam is a danger to British democracy, and the rule of law. I saw at first-hand behaviour that was so appalling it was, and remains, difficult to internalise."
In response, Kassam says Shepherd wrongly accused him of taking thousands of pounds from the blog when the business venture collapsed: "We never codified the relationship between us. When we had a bust-up he said I was sacked."
Kassam said he went back to the American donors. "I said, who do you want to keep the money? Me or Robin?" He says the donors chose him, much to the anger of Shepherd, who struggled to deal with this and has written furious posts about the situation ever since.
Next up was a brief initial stint at Breitbart, where he edited future alt-right pro-Trump troll star Milo Yiannopoulos, then a fringe figure on UK politics looking for a home. Kassam says he doesn't get on with Yiannopoulos: "We see the world in two very different ways. … He has a certain belief system and knows how to get the attention so that people are reading about his belief system. I could do that and pour pig blood over myself in a New York museum, but it's just not me." Yiannopoulos declined to comment.
But it was a 2014 trip shadowing Nigel Farage in New York that gave Raheem his break. The UKIP leader was appearing on Fox News (Kassam is not a fan of the channel's opinionated stance: "I like my news to be newsy") when staff there asked the pair called up to see "the boss". Initially Farage and Kassam thought they meant the producer of the show, but quickly realised they meant Fox's owner, Rupert Murdoch.
"We were whisked upstairs, they thought I was [Farage's] bag carrier, and a doddery old man comes out and says, [adopts Australian accent] 'Hello, mate.' Then the two of them disappeared into a private room. I've never liked the Murdoch papers, so it was a bit belly-of-the-beast."
He was hired as Farage's chief of staff, providing advice while writing columns for the Daily Express and running his social media. In a last-ditch attempt to get Farage into parliament after they realised his campaign to take the seat of Thanet South was going wrong, the pair ended up sharing a flat in the Kent town and indulging in lengthy "PFLs" – their code for "proper fucking lunches", involving multiple bottles of wine.
The 2015 general election turned out to be a disaster for UKIP, which won 3.9 million votes but took just one seat, and Kassam was left directly in the firing line. The party descended into civil war, with UKIP MEP Patrick O'Flynn openly blaming the result on the "tea party, ultra-aggressive American influence" of advisers such as Kassam.

Kassam's website includes a prominent thank you to Farage for "for helping me become the man I am today", and he's confident of the current UKIP leader's support: "I wouldn't put words into his mouth, but I would say he thinks I can do a lot more with the party than the other guys. You'll have to ask him – I don't want to betray a confidence."
One of his first challenges as leader would be fundraising to solve the party's dire financial position, including finding a way to earn a living, given that the party does not currently set aside funds for a leader's salary. He suggests he might seek permission from the party to earn money by giving after-dinner speeches.
Kassam has pledged to run a clean campaign against main rivals Paul Nuttall and Suzanne Evans. "I don't do negative background briefings," he says. "Swear to god. I'm not doing it."
Would you quit the race if anyone caught you doing that?
"I'm not going to do it."
Would you quit the race?
"I'm just not going to do it."
So would you quit the race if you were caught doing it?
"Jim, to put me in that box means that if the race gets truly really nasty and I have to start doing it, then you're putting me in a position where I can't. But I'm dedicated to not doing it. I have things that could kill off the other candidates, I have leaked emails, I have all that stuff. But what's the proper way to go about that? I will give it to the party chairman and let him deal with it internally."
Andy Wigmore, head of communications at the UKIP-associated anti-EU group Leave.EU, said Kassam was "fucking clever, there's no question about that, and he gets stuff", although "he's obviously rubbed a few backs up in his time".
Wigmore said that once again Kassam benefitted from blurring the lines between reporter and participant during the EU referendum, helping out the anti-EU campaign group when it got off the ground: "He understands social media brilliantly and from the referendum point of view he certainly helped in the early stages. He was one of the first people who looked at Trump who worked out how Trump was doing things by bypassing the media."
Otherwise Kassam's positions fit with some of the key UKIP stereotypes. He laid a wreath outside Margaret Thatcher's house when the former Conservative prime minister died, wants to slightly reduce the legal term on abortion, sees some room for shifting gun rights, and says Trump is a "magnificently flawed character". His journalistic hero is Rod Liddle, although he insists he has little admiration for Putin's Russia or the nascent alt-right movement.
He also says the Muslim Council of Great Britain is a "fifth column" and is also in favour being racially profiled to reduce the risk of terrorism: "I get worried when I'm not profiled in an airport. … The majority of people in this country are suspicious when they see someone with a niqab, when they see someone with a big beard. We need to get rid of that by tackling the problem at its root."
Now he declares neoliberalism to be dead and is running on a platform of renationalising the railways and cutting immigration to 90,000 people a year – a policy he admits could cause trouble for the modern equivalent of his parents. PoliticsHome uncovered a recording from January going even further and appearing to endorse a call to curb Muslim migration to the UK and "pull up the drawbridge", although Kassam insists that is not his policy.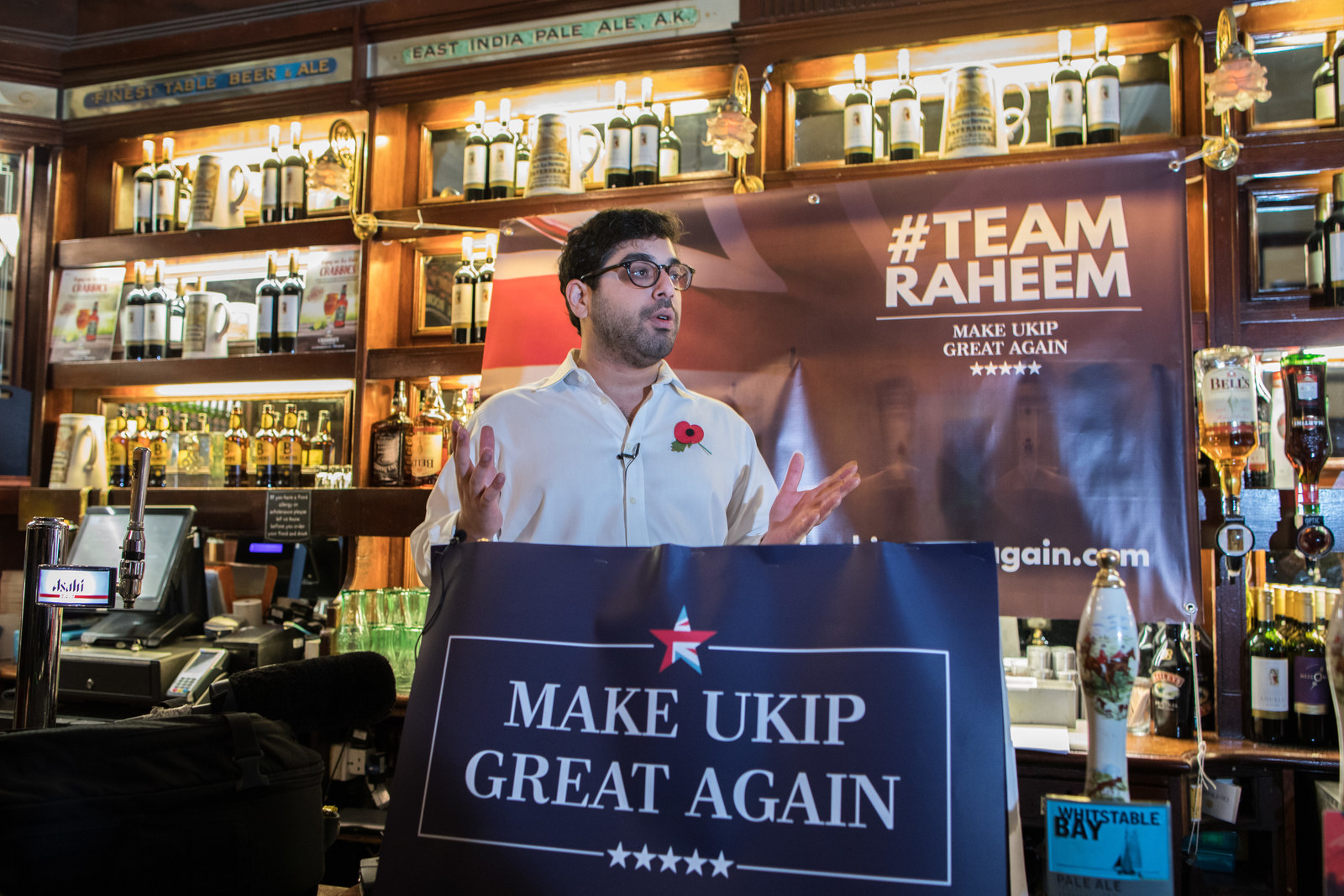 The first line of Kassam's website biography says he is no longer religious, and he admits it's possible his background "might" count against him among the ordinary UKIP members who will choose the next party leader.

"It's always the white converts to Islam who are the nuttiest," he says, while insisting his stance on the religion is real. "If I were overcompensating I could easily stop now. I would have proved my point."
Amid the anti-immigrant bombast, the campaigns against the niqab, and the calls for himself be racially profiled, there are occasional moments of self-reflection. At one point Kassam admits he has sometimes pushed his public persona too far and picked too many fights in a desire to get attention: "That is where I've overcompensated. That's what comes from being a brown person in the Conservative party and trying to get heard."
Later, while talking about his reputation for getting into every photograph of Nigel Farage he could, he says being in the media used to make him feel good, though he says he now turns down media opportunities: "Honestly, no one's ever shaken my hand in my life and said 'job well done'. It's a way of getting credit. As much as I love my parents, I always grew up being told what I needed to do more of, not appreciating what I'd already done. That's probably the psychological thing there."
As an ex-Muslim son of immigrants who is willing to wage a cultural campaign against radical Islam and high immigration, he says he's been called "a coconut" by left-wing opponents: "Those sort of things really do cut deep, because it's like saying I'm shunning my roots to be someone else. I don't shun my roots, I love my roots.
"It's the most racist thing in the world to say that a brown man cannot come to the conclusion by himself that he is a patriot, a nationalist, proud of Britain. That is what this country has allowed him to be."
What if it doesn't work out? "I would love to work in American politics. Who knows, if Trump wins maybe I could go and work in the White House!"