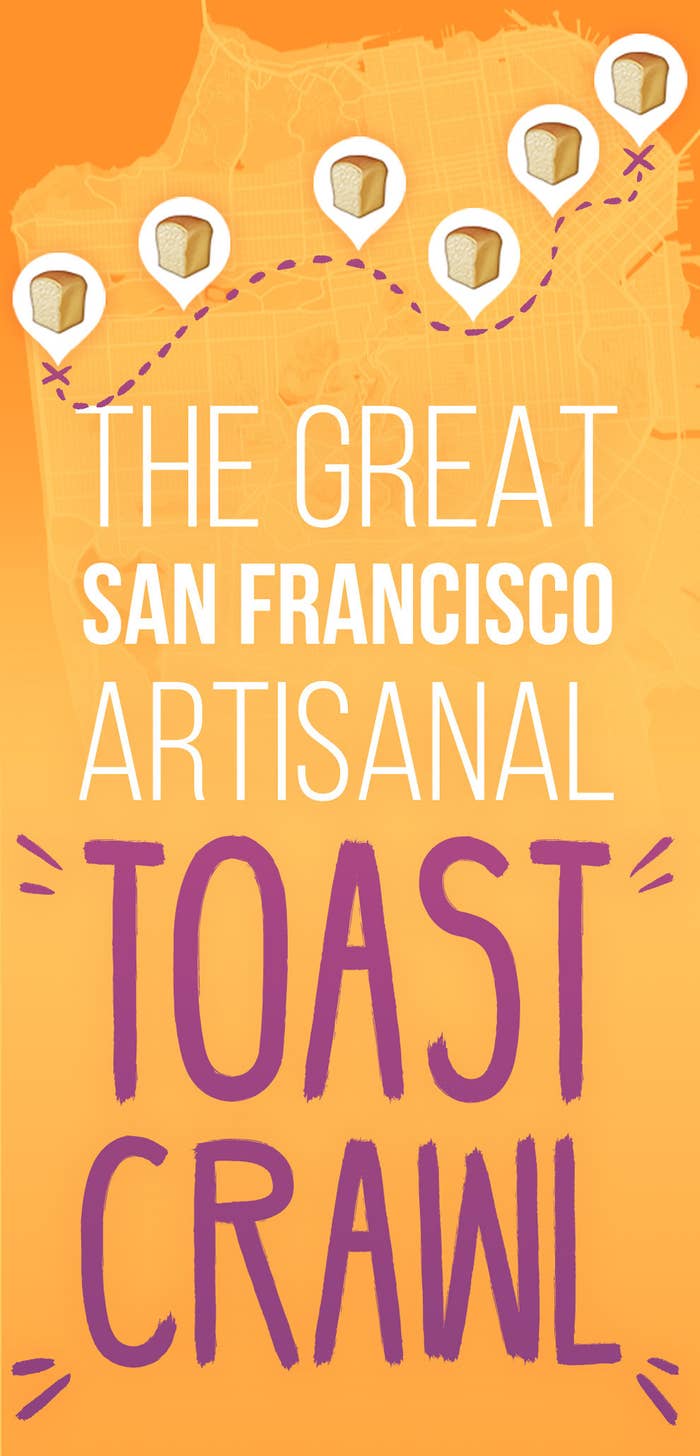 In case you haven't heard, toast costs a staggering amount of money in San Francisco.
I mean, not if you just buy a bag of Wonder Bread and throw it in a toaster. But we're talking about our city's now-legendary breakfast offering: artisanal toast.
If you spend $4 on a plush slice of Bay Area toast, you'll get a slab of bread that's at least an inch thick and covered with a generous amount of topping, be it some frou-frou hipster crap or just some good old-fashioned cinnamon sugar.
Tony toast has evolved from a widely-mocked trend into a bona fide breakfast staple here. Which means it's worth the high prices, right? Is it?
We set out on a gluttonous gluten binge across Frisco to find out which would be the toast with the most.
TOAST CRAWL RULES:
1. Eat as much toast as your sad human lifeform can stuff in its gaping maw.
2. Approach the toast with a critical eye, like that of Gordon Ramsay, Adam Platt or a baby tasting a lemon for the first time.
3. Don't do drugs and stay in school.
Trouble Coffee (4033 Judah St.) is a surfer-favored coffeeshop tucked in a tiny shop near the Pacific Ocean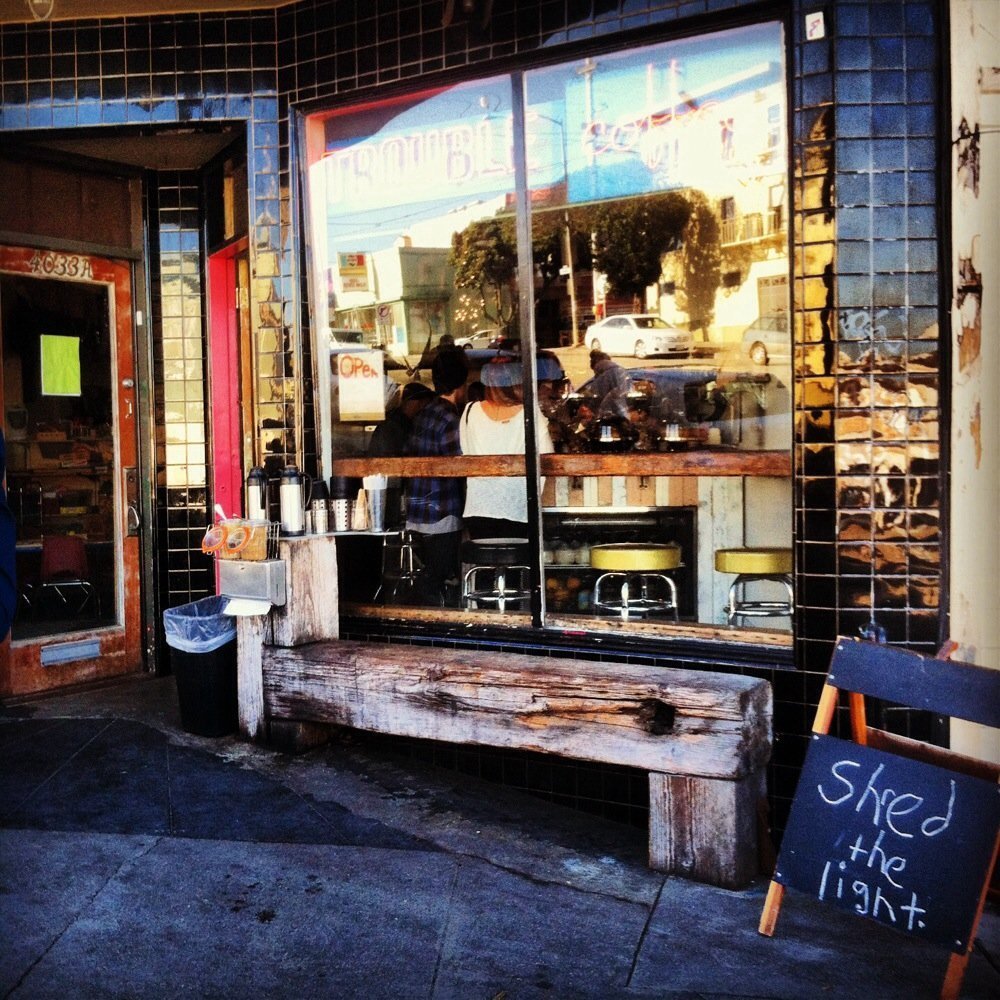 Trouble is too cool to have a menu, but regulars know to order the toast ($4), which is a generous hunk of white bread smothered in butter, cinnamon and sugar.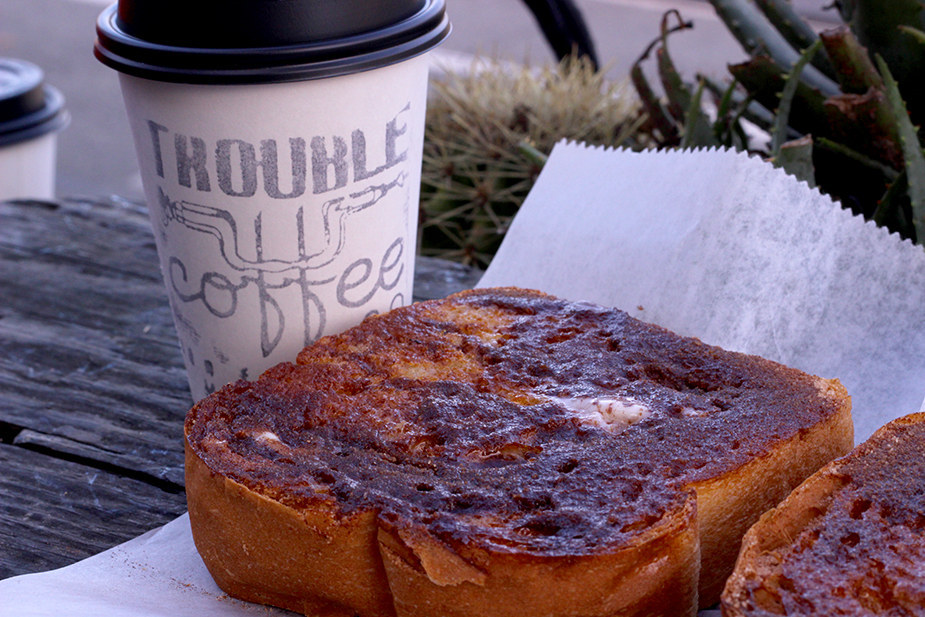 And for good reason: this is ~serious toast.~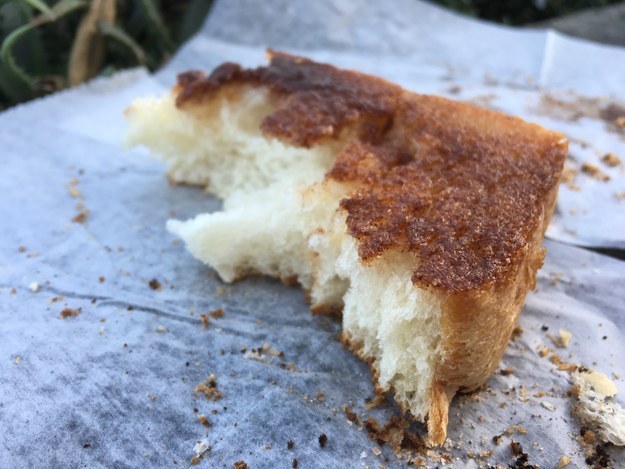 Final rating for Trouble Coffee: 3.4

Mere steps away is Outerlands (4001 Judah Street), an Outer Sunset establishment some San Franciscans will wait literal hours for.
One of these frequently photographed dishes is no doubt the acclaimed almond butter toast ($7) topped with seasonal fruits and ginger.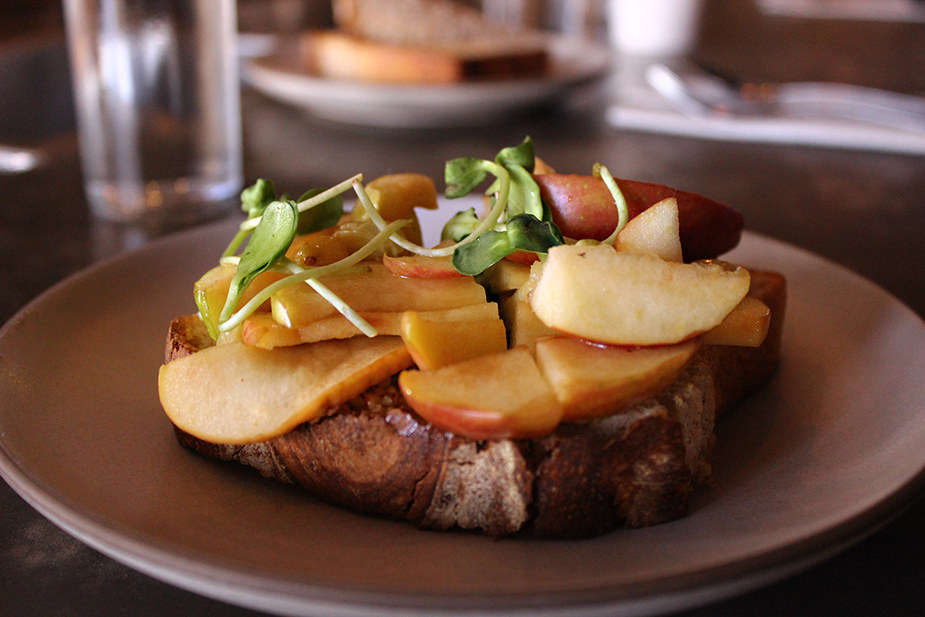 Outerlands also serves up some good ol'-fashioned "toast with butter."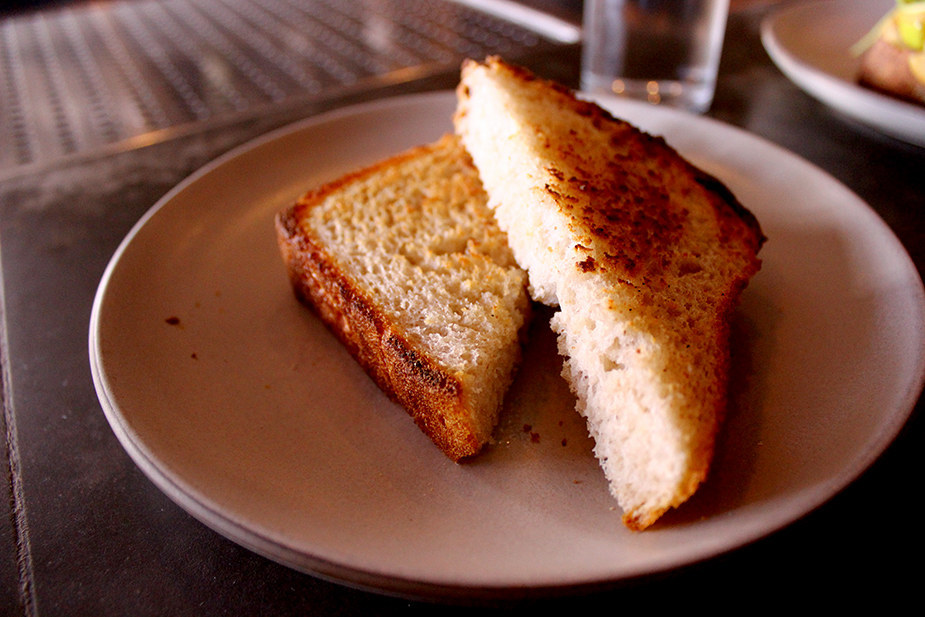 Final rating for Outerlands: 4

By now, we all felt mildly ill and would rather die than consume more gluten. But we had to head to the most famous toast shop of them all: The Mill (736 Divisadero), located near Alamo Square.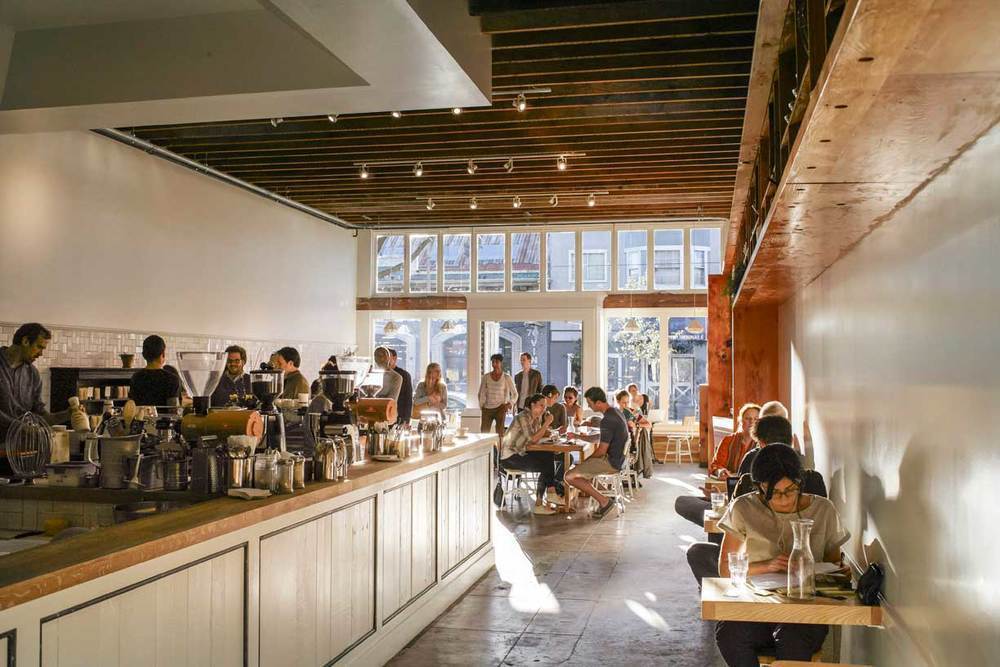 We decided to test-eat every toast on the menu, both because we had to, and because it feels super baller to say, "Give me one of everything."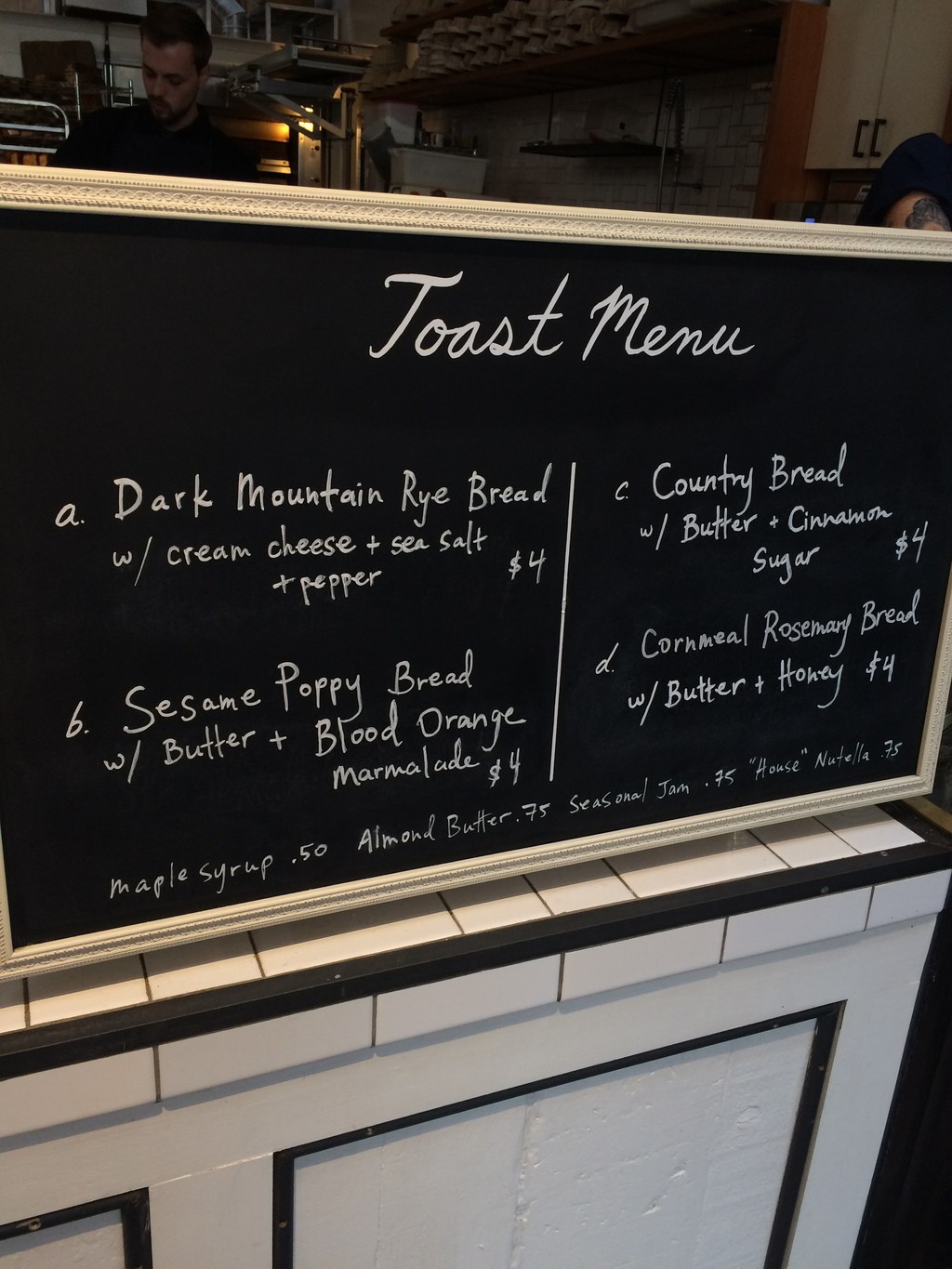 We started with this cream cheese-slathered concoction.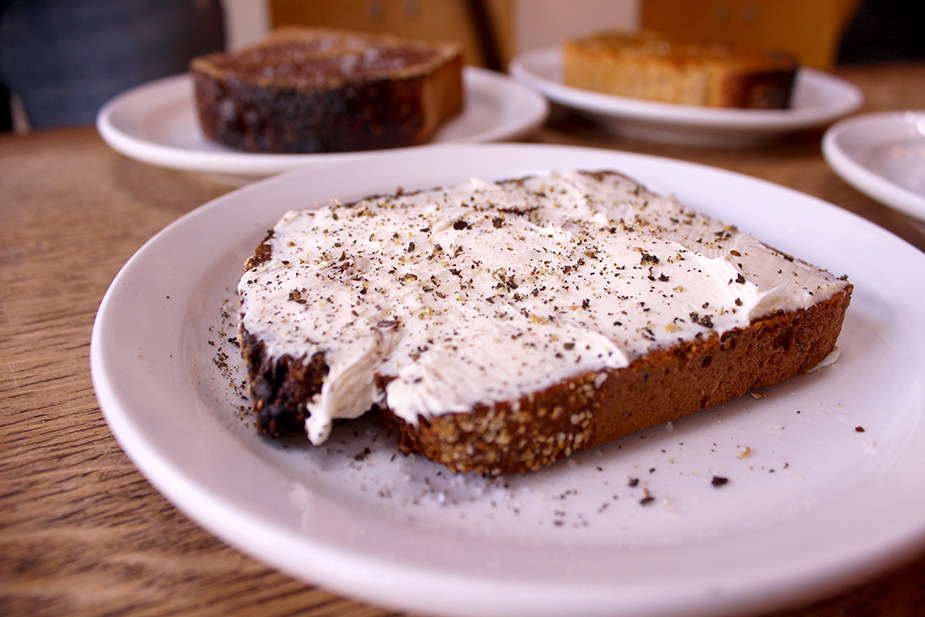 Next up was the sesame-poppy bread covered with blood orange marmalade.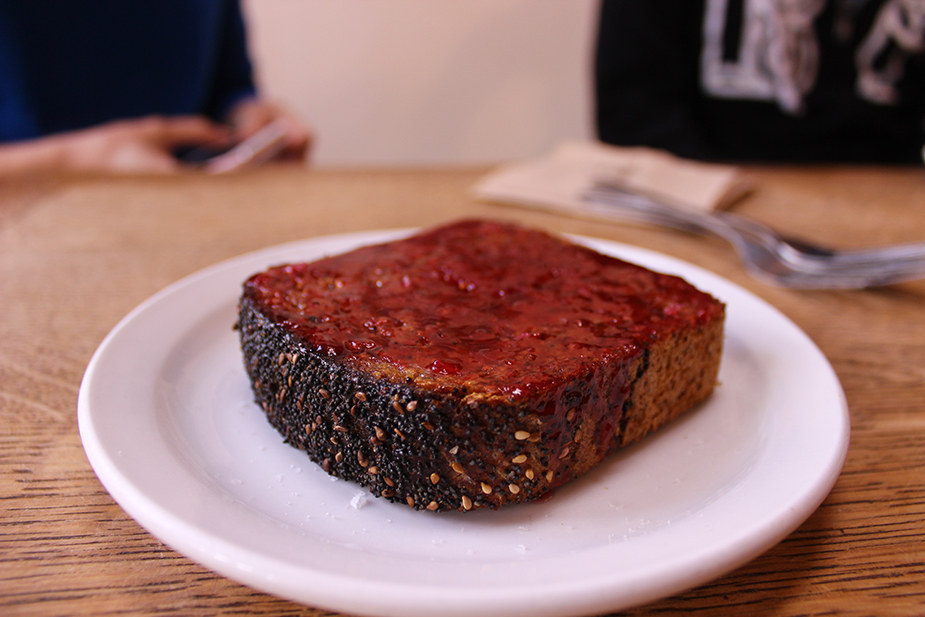 Next, we tried the cornmeal rosemary bread with butter and honey.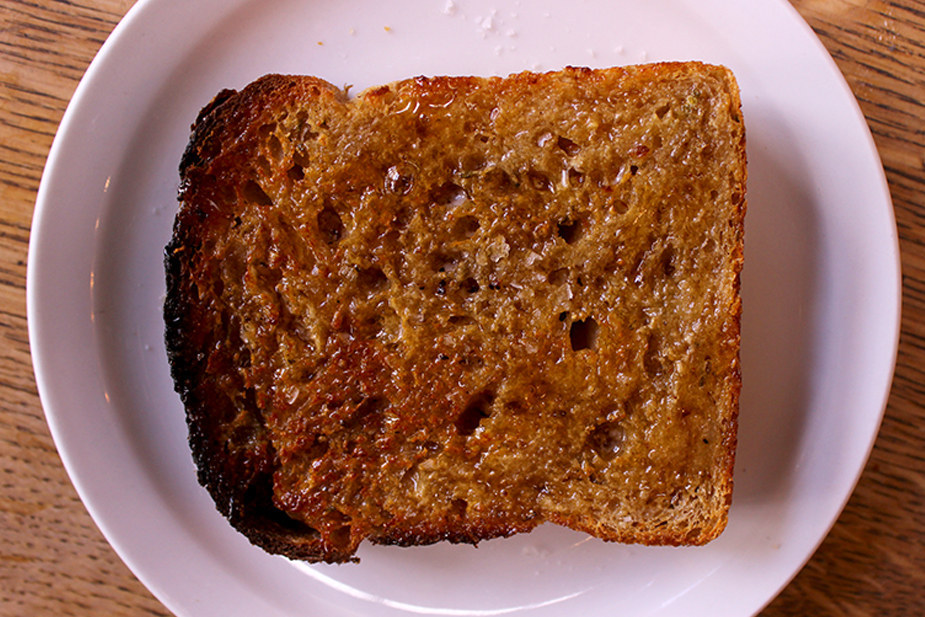 And lastly, the cinnamon and sugar toast.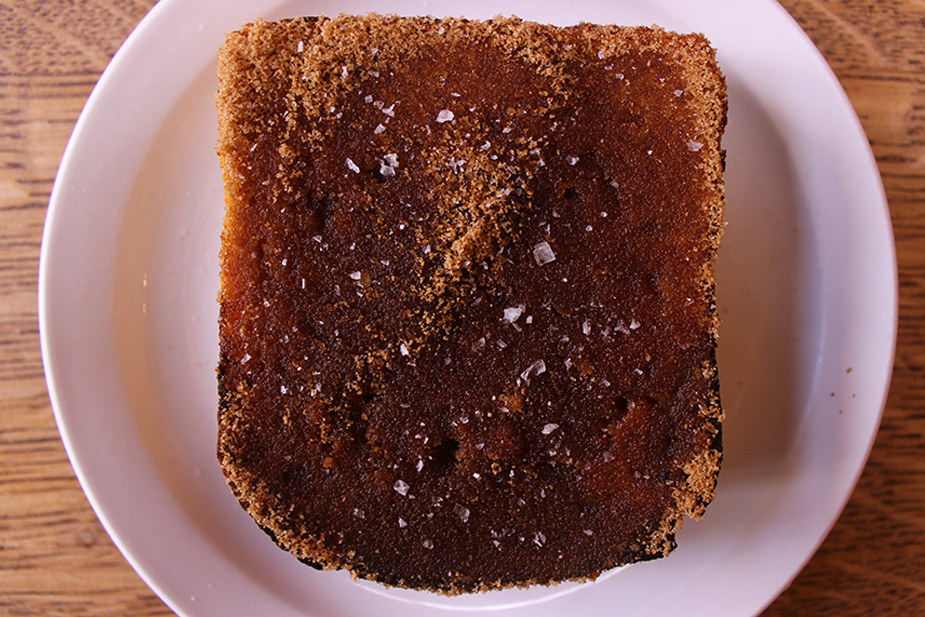 Final rating for The Mill: 3

In case you're wondering what happens to your body when you consume nothing but bread all day, the answer is: you want to take a MASSIVE NAP.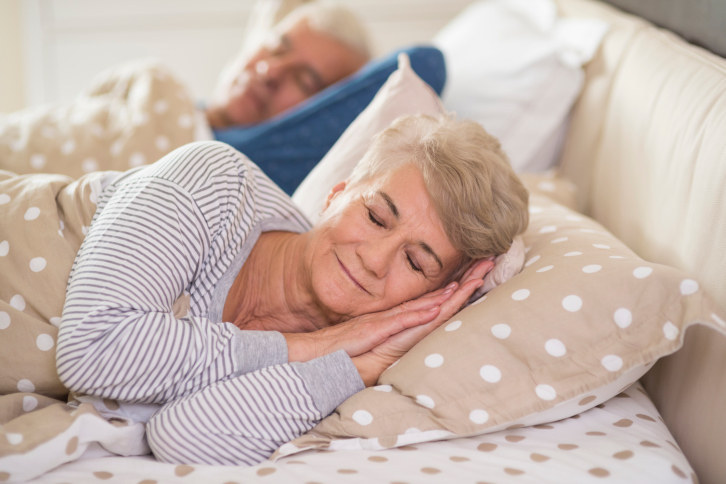 What could top the Taj Mahal of Toast Places? We decided to head to the opposite side of the city and check out Frog Hollow Farm at the Ferry Building, famous for its avocado toast.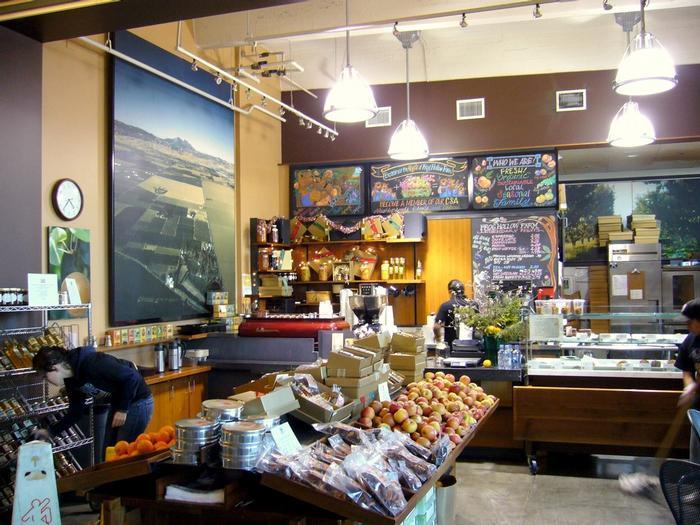 At $6.99 for a half order and $10.99 for a full, this toast will put an avocado-sized hole in your wallet.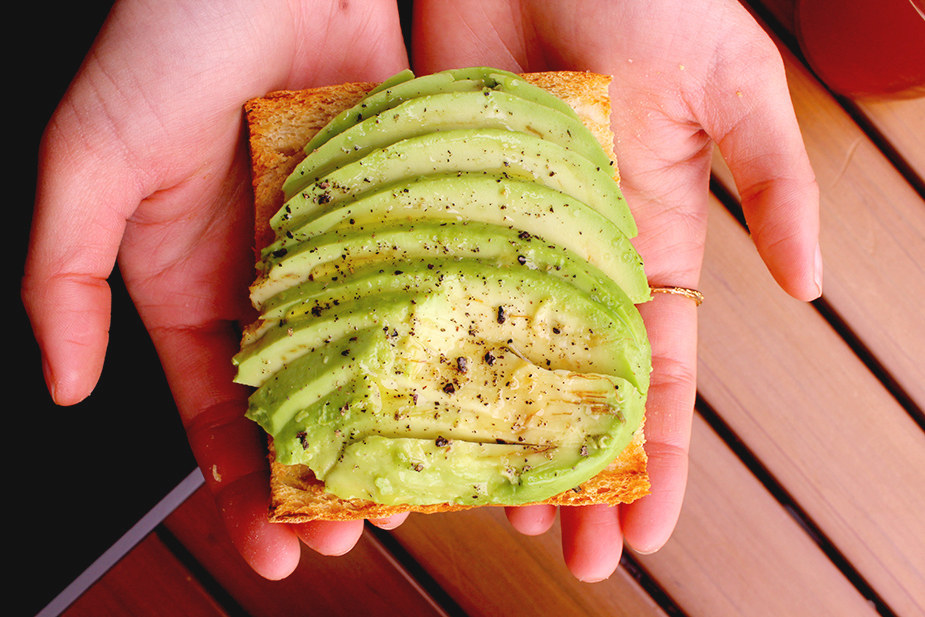 Final rating for Frog Hollow: 4 (but would've been a 5, if it were cheaper!)


Straggling and fatigued by our bread binge, we then crawled our way to the Blue Bottle Coffee at Mint Plaza (66 Mint Street), which recently debuted a breakfast and lunch menu including — YOU GUESSED IT — toast.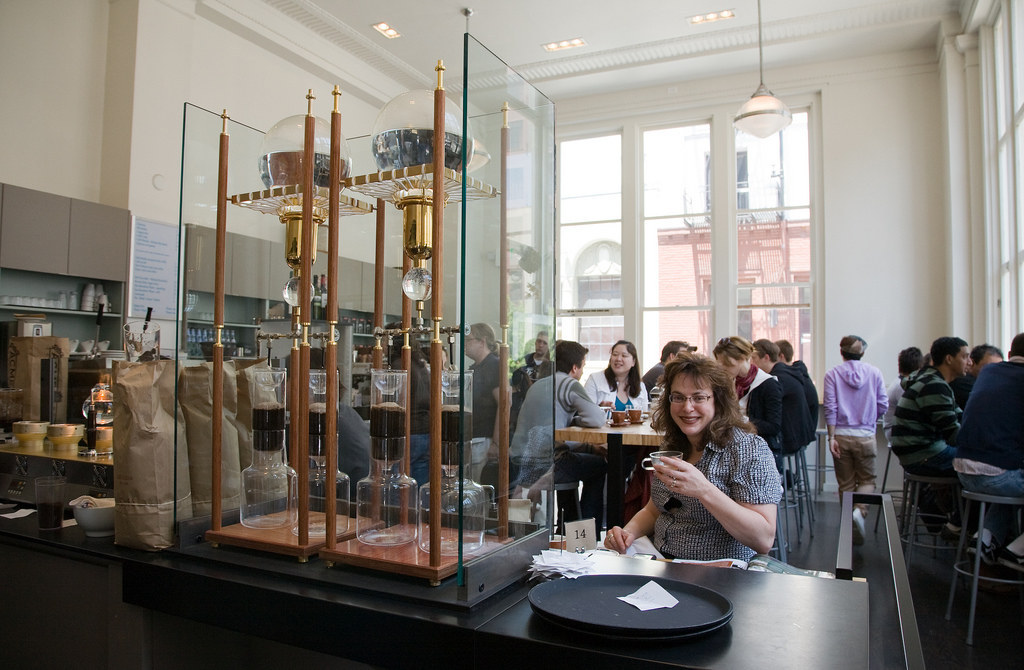 We took the thick cut Firebrand toast with two poached eggs ($8) to-go, because we were too ashamed to eat yet another toast in public.
Final Rating for Blue Bottle: 4

For our Last Carb Stand, we headed to Mazarine Coffee (720 Market), which looks exactly like what you'd think a coffee shop that sells artisanal toast looks like.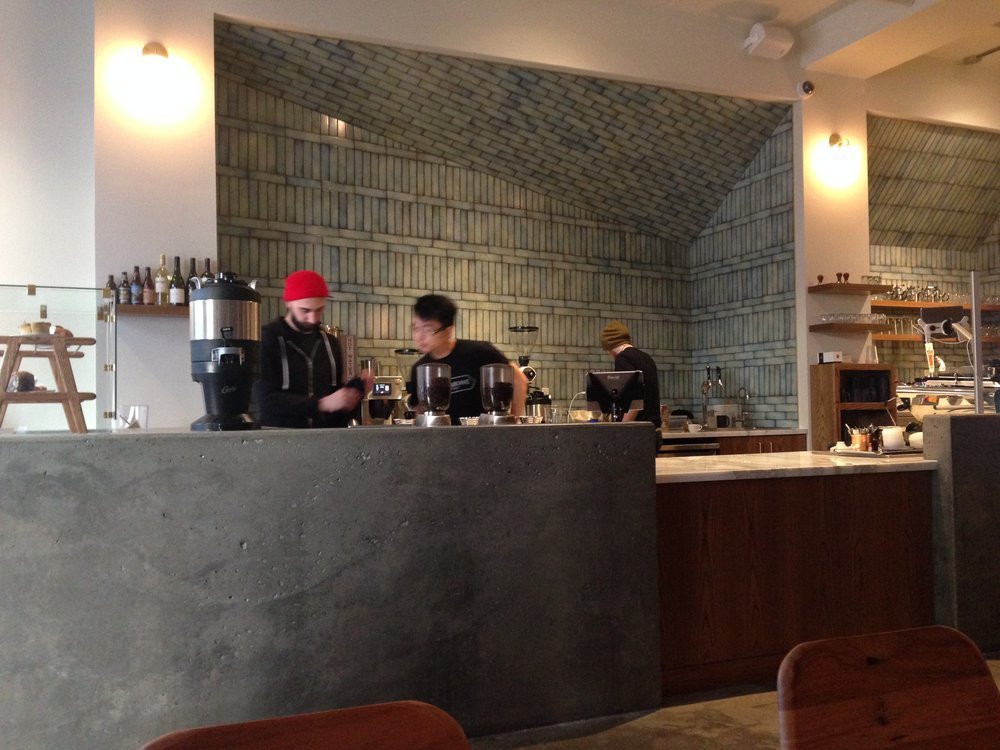 Our first toast, the avocado with goat cheese, radish, and chives, was a GODDAMN WORK OF ART.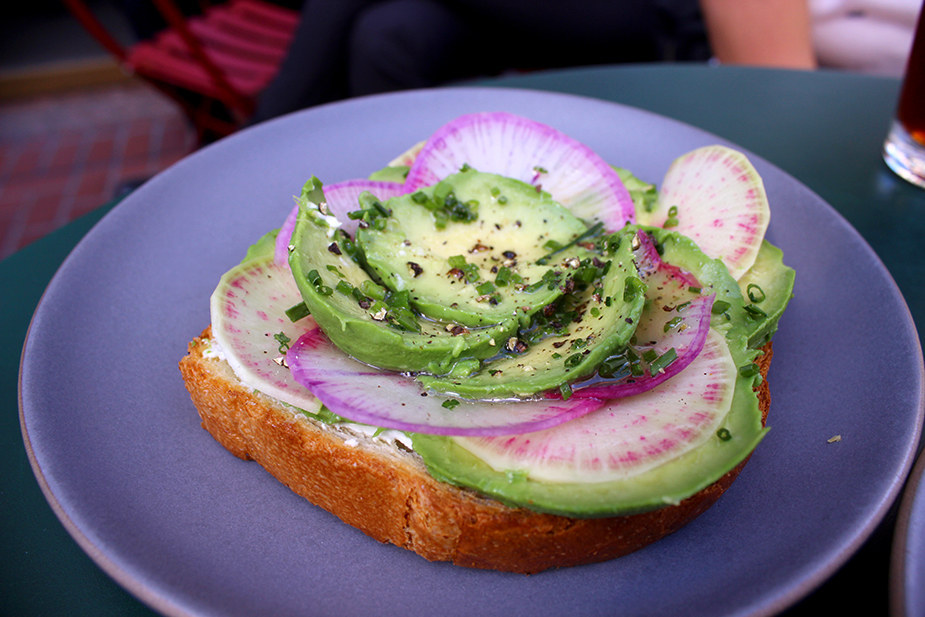 Next, we tried the fig jam and ricotta honey toast.
The pear and bleu cheese toast with walnuts was definitely more like a sandwich.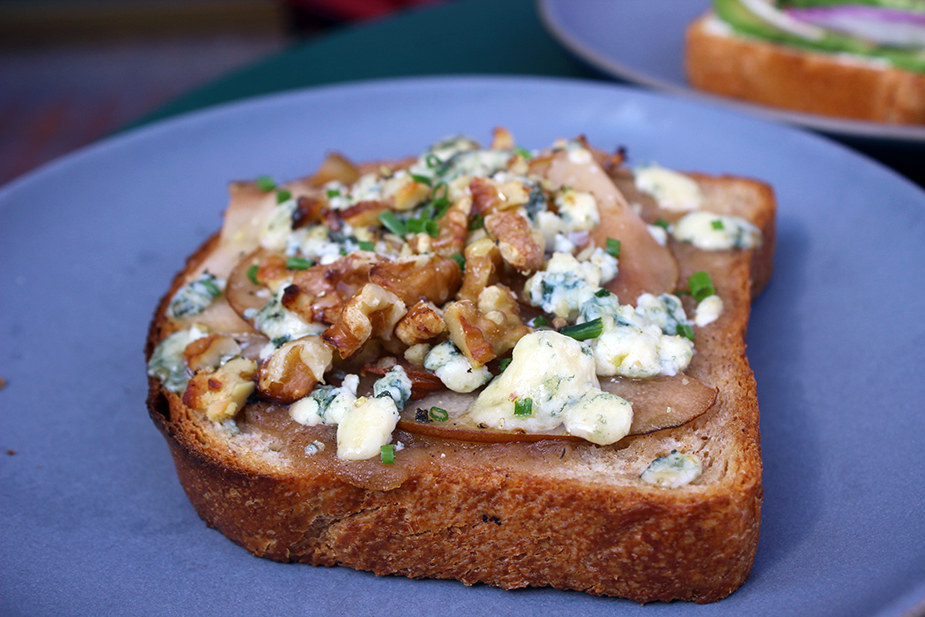 Final rating for Mazarine: 2

Though complex carbohydrates were radiating from our every pore and our energy levels had been ravaged by various artisanal sugar molecules, WE SURVIVED THE GREAT SAN FRANCISCO TOAST CRAWL.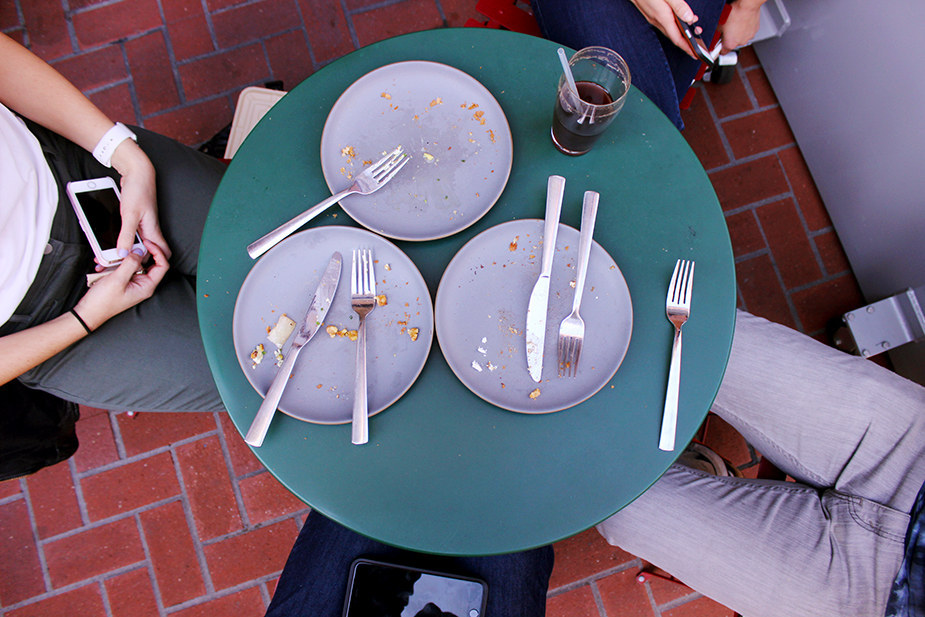 So.... is fancy toast worth the money?