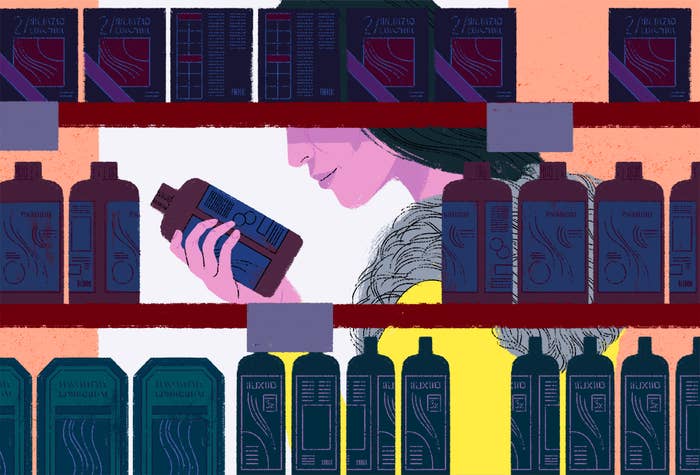 There are lots of things that I haven't been good at in my life: karaoke, finishing David Foster Wallace novels, telling a joke without cracking up like a '90s sitcom audience member at my own punchline. But I'm really good at being alone. And my absolute favorite thing to do alone is go to the drugstore.
I fucking love drugstores. I love the whoosh of the automatic doors. I love the pop music from the early '00s, the threadbare carpet speckled with mystery stains. I love the bins of travel products: tiny effigies of Crest toothpaste and Dove deodorant, waiting to join me on imaginary adventures. I love that, at the drugstore, it's OK to be alone. After all, almost everyone there is.
I shop with the tickled seriousness of someone two drinks in and bellying up to the bar for a third. Revlon ColorStay eyeliner. Sour Patch Kids. Fancy mouthwash, just because I like the packaging. Things you shouldn't really buy at drugstores: plastic measuring cups, mittens, string cheese. Often, I don't buy anything — I just take an aimless lap around the store before I have to whoosh myself back to reality.
My love for roaming drugstores started at 16, when I learned how to drive, a rite of passage that gave me the freedom to run errands by myself. As I was discovering makeup, the drugstore was my holy of cosmetic holies. The green Cover Girl compacts! Those Wet 'n' Wild eyeliners that are practically free! I'd use money from my part-time job to stock up on lip gloss and body glitter. Later, I'd buy cheap vanilla body spray to mask the scent of cigarettes I'd sneaked with my friends.
Grad school brought me to the Northeast for the first time and introduced me to two of my soon-to-be best friends: social anxiety and occasional panic attacks. Not helping was my other new chum, student loans, which I used to pay for an apartment with a clanging radiator and hot water that liked to short out on February mornings. When I'd done my frigid walks to and from class, I'd drive up to Rite-Aid one town north and indulge myself in winter "necessities": the Emergen-C flavor that tastes like hot apple cider, fuzzy socks from the clearance endcap, boxes and boxes of my favorite guilty pleasure snack, Cheez-Its (for inner warmth).
Drugstores are a safe space for not only solitude, but also a soothing detachment from the self. In a drugstore, you're not You, with all of your insecurities and anxieties and emotional whatnots. You're just a person who needs Band-Aids and some nail polish remover. And so is the CEO of your company; even the 1% need an overpriced umbrella when it's raining. In this way, drugstores, like commercial air travel, are the great societal equalizer, a refreshing pause from classist reality. Check your status at the automatic doors!
Of course, I can't help worrying that finding emotional solace in Walgreens purchases is, in a word, bad. First, the corporate pharmacy is a study in capitalist sprawl. You can go from Brooklyn to Boulder to Boca Raton, and every CVS looks and feels the same. It probably used to be a local credit union or laundromat. It might even have a past life as a quaint local apothecary, before it got steamrolled by Big Drugstore. There's now an ugly brick toiletries emporium on practically every block in America, and I'm shopping in it.
Also, spending $24.89 on random crap is not a financially prudent way to kill time or soothe wounds. Jessica, have you heard of reading books, or jogging, or phone calls with loved ones, or like, getting right with God? Do you really need a 37th lipstick that you'll be obsessed with for a week and then never use again? The problems with using shopping as a spiritual pacifier are many and fraught. As any consumer knows, the heroin-like comfort of buying new stuff is very real. And like a drug rush, it fades almost instantly.
But just for a second, I like to pretend that the solution to my problems can be found down one of these gleaming rows of Garnier products. Maybe this new mascara will be the one to turn my eyelashes into magical, man-snaring critters. This is the Mrs. Meyer's cleaner that will make my apartment resemble a Clean and Responsible Person's. This will be the conditioner that gives me flawless Beyoncé hair. And how can you be lonely when you have Beyoncé hair? When I get home with my tiny bag of things and put the new hand sanitizer on my desk, I don't feel as much like an old piece of bread on the side of the road. I bought important stuff I needed for life! I'm the head of this household (of one). I am keeping. It. Together.
After all, nothing else is helping. Maybe I just haven't found the right face wash yet.
Two years ago, I moved across the country, to San Francisco, by myself. It was a Friday night in early January, that post-holiday doldrums that stretches out like molasses. I had nowhere to go and no one to see. The stillness of my tiny apartment felt like a jail.
Itching with loneliness, I put on my puffer coat and walked 10 blocks in the damp fog. No one else was around; the Chinese restaurants that lined my neighborhood were blinking closed.
Through the mist, Walgreens glowed its happy, sterile glow. Duncan Sheik was singing about barely breathing over the sound system. I bought Dove soap and some Swiffer dusters and hurried back, my boots making staccato jabs into the night air.
I came home and put the new body wash in the shower and stashed the Swiffers under the kitchen sink. And for a second — just for a flickering, gross, consumerist second — I felt content.