Like many of tonight's nominees and guests, Debra Messing just arrived at the Golden Globe Awards in all black to support the Time's Up initiative and the #MeToo movement.
When Debra began her interview with host Giuliana Rancic, Giuliana explained that this year she was asking "Why are you wearing black tonight?" instead of the usual "Who are you wearing?"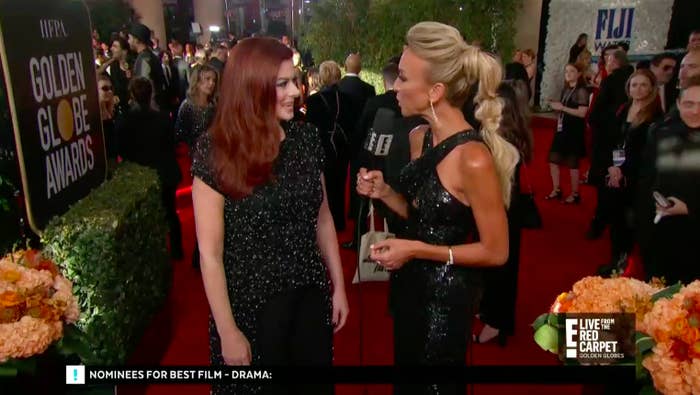 Debra started out by explaining her outfit choice: "I am wearing black to thank and honor all of the brave whistleblowers who came forward and shared their stories of harassment and assault."
But after that, Debra boldly decided to call out the network over their wage inequality: "I was shocked to hear that E! doesn't believe in paying their female cohosts the same as their male cohosts. I miss Catt Sadler."
People on Twitter were losing their minds over Debra's decision to use her interview time that way:
Debra wrapped the big moment with the following statement: "We stand with her — that's something that can change tomorrow. We want people to start having this conversation that women are just as valuable as men." Well, that's one iconic way to get the conversation started. 👏 👏 👏