If you're a fan of the book, rest assured that it's faithful to the spirit of the original, while also adding unique touches that make the narrative feel fresh and different to previous adaptations.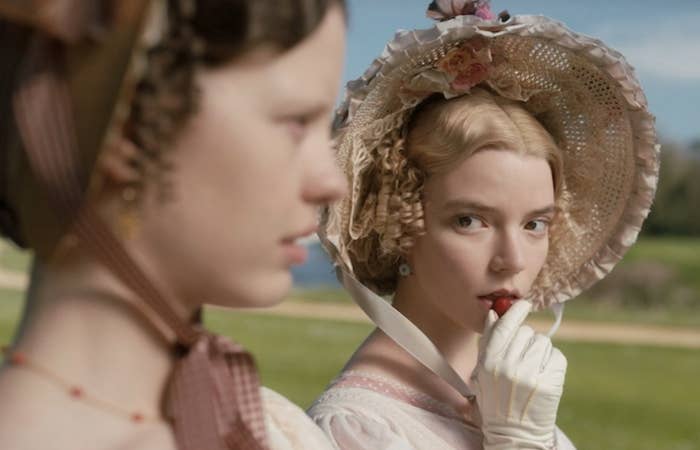 Emma is one of Austen's most ~controversial~ heroines because, well, she's a privileged, meddling snob. But she's also complicated – something which the movie highlights well.
Johnny Flynn, meanwhile, brings his best yearning-for-your-best-friend energy to Mr Knightley, and is pretty irresistible in the role.
The chemistry between Emma and Knightley is great – particularly when it comes to their dance scene, which is honestly one of the hottest dance scenes in the history of period dramas.
The supporting cast are fantastic, with Bill Nighy's Mr. Woodhouse is a particular highlight.
Miranda Hart as Miss Bates is also wonderful – she will definitely make you laugh, but also tear your heart out come THAT scene at Box Hill.
While the movie has a lot of heart, Autumn de Wilde's direction really teases out the comedic elements of the original story, while also adding new ones.
To top it off, Emma is a visually stunning movie, with gorgeous landscapes and set design...
Not to mention the loveliest costumes.
Basically, if you need to escape the dumpster fire that is the real world for two hours – this is a really good place to do it.